Dec 25 - It's Christmas Day. Happy Holidays.

Dec 23 - How to Outrun the Winter Blues - Temperatures are dropping—and so might your motivation. Stay on course and keep your spirits high with these four tips. more (from Active.com, Jayme Otto, Runner's World)

Dec 16 - The first four-minute mile. You may have seen this before. I remember our track coach at UNC showing this to the team each year. On our sabbatical in Oxford, we often drove by the track where this took place. Grover Everett


Dec 12 - The Kansas Orienteering Championships were held on the KU campus Sat, Dec 10. Mark Everett (Tucson AZ, formerly of Lawrence) posted the fastest time on the 3.0 K course. Erin Binder (Afton MN) was the top female finisher. Results
(right) Sharon Crawford (Frisco CO, and for many years, a national champion) starts in front of the Kansas Union. She'll punch in at this last control marker before she finishes.
Dec 11 - Here's a nice thank you note from Jeanne Fridell, the principal at Woodlawn School. The school was the recipient of proceeds from the Thanksgiving Day Run.
Again, our deepest heart-felt thanks! Not only for the dollars, but for the incentive it has brought to our school community to get moving! We are to begin a marathon club with our students in March. The PTO is working to coordinate it to be after school on Wednesdays and Fridays. Yeah!!!
Dec 9 - Aging Well Through Exercise - Is physical frailty inevitable as we grow older? . . .Until recently, the evidence was disheartening. A large number of studies in the past few years showed that after age 40, people typically lose 8 percent or more of their muscle mass each decade, a process that accelerates significantly after age 70. Less muscle mass generally means less strength, mobility and among the elderly, independence. It also has been linked with premature mortality.
But a growing body of newer science suggests that such decline may not be inexorable. Exercise, the thinking goes, and you might be able to rewrite the future for your muscles. more (Gretchen Reynolds, from the NY Times, Nov 9, 2011)
Dec 6 - Why the High Fee for Online Race Registration? A question posed to Runners World, May 1, 2009:
"I'd like to know why the fee is so high to register online for some races. It only makes life easier for the race organizers when I register online, yet for some races, they charge an extra $6 or more to register online. I don't mind paying a small fee for the convenience or if I were to pay a convenience fee online that went directly to the charity, but when I'm already paying $80 for the race I will fax or mail my entry in if the fee to register online is more than $2. Can you offer any justification that will change my mind?" answer
Dec 4 - Researchers at the University of Sydney in Australia reviewed dozens of recent studies of stretching, hoping to determine whether the practice prevents people from getting sore after they exercise. The authors found 12 studies completed in the past 25 years that looked directly at that issue. Most were small and short-term. But each produced essentially the same result, the review authors write, showing that "stretching does not produce important reductions in muscle soreness in the days following exercise." more (from the NY Times, Nov 16, 2011)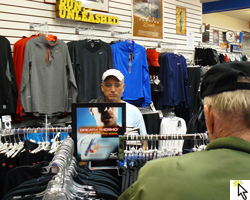 Dec 3 - RunLawrence members took advantage of a Mizuno Breath Thermo promo to test run some of the gear at the Garry Gribbles store as well as an additional discount for the day. Still time today to check out the specials today; another benefit of club membership. Have you renewed or joined for 2012? photos
Dec 2 - Runners over the age of 60 are the fastest-growing group in the sport and their running can remain fast as they age, too, according to a new study more
Dec 1 - Check out this Cold Weather Clothing Matrix from the Greater Mankato (Minn.) Multisport Club.
Brad Trimble took a lot of nice photos at the Sanders Saunter Trail Heavy 10K on Nov 19. See his Flickr page.