Feb 28 - Less than 5,000 entries remain for the 2011 Bank of America Chicago Marathon and registration is expected to close before the end of the week. If you want to be a part of the 34th annual event on Sun, Oct 9, register now to secure your spot in the field. Registration will close when the 45,000-participant capacity is reached. For more information on the race and to register, go to chicagomarathon.com.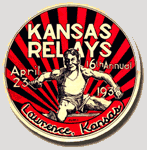 Feb 23 - Would you like a 16 lb shot with that Green Peppercorn Crusted Duck Breast? On Apr 20, the Kansas Relays will host an elite-level shot put event right in front of Pachamama's Restaurant. This creative promotion of the Relays is reminiscent of the days when Phog Allen hosted a rodeo and feast of barbecued buffalo in the 1930s.
The downtown promotion continues on Thur, Apr 21 with two more events: the long jump and the mile race. More from the Journal-World.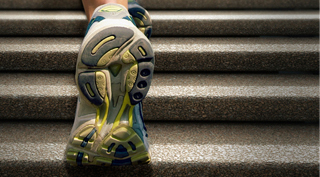 Cincinnati - Carew Tower Climb vertical mile results: "Raced Sunday morning (Feb 20), can hardly walk today; what a brutal leg pounding. Thought I would get in top three, Keep forgetting that I am 56 and top three were under 40 years old. Oh well." - Keith Dowell
Feb 22 - For those who enjoy watching track on television, the US National Indoor championship meet is coming up on Sun, Feb. 27, 3:30 PM on ESPN (channel 33 in Lawrence).

Feb 21 - Running can be intimidating. But with a little consistency, and a lot of determination, even the out-of-shape can train to run a 5K. A 5K race is 3.1 miles, and it's a great distance for people who want to edge into running with a shorter race.
According to experienced runners, nearly everyone, barring injuries or disability, can run a 5K eventually. For some, it might take as little as four to six weeks of running to finish a 5K at a decent pace. (from today's Lawrence Journal-World) more
Feb 16 - For decades, endorphins have hogged the credit for producing "runner's high," that fleeting sense of euphoria and calm that many people report experiencing after prolonged exercise. Who among us, after an especially satisfying workout, hasn't thought, "ah, my endorphins are kicking in." Endorphins are the world's sole celebrity peptide. . . . Now an emerging field of neuroscience indicates that an altogether-different neurochemical system within the body and brain, the endocannabinoid system, may be more responsible for that feeling.
more (Gretchen Reynolds, NY Times)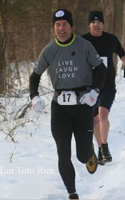 Feb 15 - Eric Buckley (St Louis) did the Psycho Wyco/Run Toto Run 50K last year and decided he wanted to be a Mud Stud this time (run under 5 hours). Did he make it?
read more
Feb 13 - The Lawrence Love 2 Run race went well, however a mile was cut off of the course due to the ice that froze over from the day before. It ended up being between 3 and 3.1 miles. Only one person complained. Most of the people let out a quiet cheer when we announced it was shortened. We did have a marriage proposal at the awards ceremony. We knew about it ahead of time, and the couple ended up winning their age group so the guy had a great excuse to come to the front and grab the mic. - (D J Hilding) - results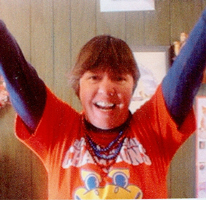 Feb 12 - The local running community is mourning the recent loss of Brenda Reed. She died on Jan 30th of a stroke. Brenda ran local races, including several marathons and volunteered at Lawrence and KC races. Her family is requesting donations to the Humane Society in her memory. - (Marcia Riley)
memorial video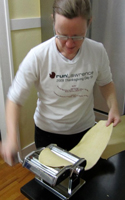 Feb 8 - Before the Super Bowl, Paige Nichols makes pasta from scratch in the latest culinary garb (Eric Struckhoff photo)
Feb 7 - The Road Runners Club of America (RRCA) has selected the following four Kansas events as State Championship events for 2011.
Brew to Brew solo 43.5 ultra event, Sun, Apr 3, 2011, 6:00 a.m., Kansas City to Lawrence, KS.
Run for Life 10 mile, Sat, Apr 9, 2011, 8:30 a.m., Topeka, KS.
Johnston's Wichita Half Marathon, Sun, May 1, 2011, 7:30 a.m., Wichita, KS.
Miracle on Kansas Avenue 5k, Sat, Nov 26, 2011, 5:00 p.m., Topeka, KS. more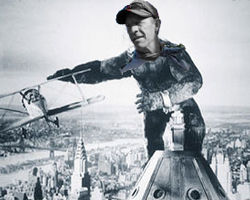 The urban stair race at Carew Tower in Cincinnati has an upward climb of one mile — and racers are given just three hours to finish. Lawrence resident Keith Dowell plans to use only two of them to complete the task. more
(Lawrence Journal-World)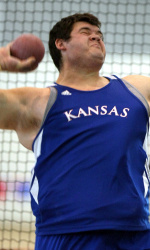 Feb 6 - It was another great day in the New York City Armory Track & Field center for several members of the Kansas track and field team on Saturday. Six Jayhawks finished in the top five of their individual events while 12 set personal or team bests in the 14 events they competed in. This came just a day after KU had six members place in the top five of their events with seven marking season bests, making this meet one of the more successful competitions the team has participated in this year.
Shot putter Mason Finley was honored as the Male Athlete of the Meet for his record setting performance at the New Balance Collegiate Invitational. more
Feb 4 - The Trail Hawks, a Lawrence-based club of trail and ultra runners elected a new board last weekend. New officers are Laurie "Pixie Hawk" Euler, president; Coleen "Lil Big Hawk" Voeks, vice president (2nd term); Karen "Sassy Hawk" Collier, treasurer (2nd term); Julie "PAL Hawk" Toft, secretary; and Nick Lang, webmaster. PR director is Gary Henry.

Renewing members for
Feb 2011
Sean Cailteux
Cooper's Cause Foundation
Kyle Gerstner
Brenda Groskinsky
Janet & John Huchingson
Justin Maresh
Stephanie & Scott Unekis Family
Susan Washburn
Molly Wood
Brett & Deb Young Family