July 31 - If you check out page 17 of the Sept issue of Runner's World you will see a story about a fantastic program at the Topeka Correctional Facility. The Sunflower Striders in Topeka is actively involved with this group. Kudos to the Striders and to those helping these women to change their lives in a positive way! - Janice Woolery, RRCA Kansas State Rep
July 27 - Wichitan Tony Clark ran the Badwater Ultra this month. Here's the report from Wichita KSN News 3.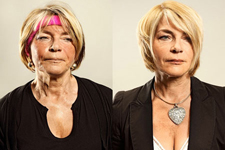 July 26 - Last summer, Sacha Goldberger decided he would take on a very interesting project. He assembled a team who helped him create an outdoor studio at Bois de Boulogne, a park located near Paris. He stopped joggers, asking them for a favor - would they sprint for him and then pose right after for his camera? Many obliged. Out of breath, these joggers showed an overwhelming amount of fatigue on their faces.

Goldberger then asked these same people to come into his professional studio exactly one week later. Using the same light, he asked them to pose the same way they had before.

"I wanted to show the difference between our natural and brute side versus how we represent ourselves to society," Goldberger tells us. "The difference was very surprising." more photos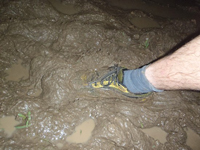 July 18 - Gary Henry's report from the July
15th Lunar Trek: A savage storm with pounding lightning and thunder, and great torrents of rain delayed by about 80 minutes the 9 pm start of the 4th annual Lunar Trek 100-kilometer night run, Friday and Saturday. The race is a benefit for the Pike Valley High School Cross Country Team. read more
(right - Gary's photo of the Pollywood Bog)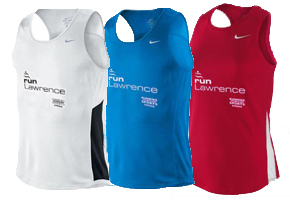 July 17 - RunLawrence is offering new club singlets. They are Nike Miler singlets. Three color options: red, blue or red. Men's and women's styles vary, see the order form. Price: $15 if pre-ordered.
Stop by Garry Gribble's Running Sports and ask to try on a basic Nike Miler. Don't delay. Deadline: Thur, July 28, 2011. You do not need to be a club member.
July 16 - Here is a video from one of the shady controls from the Sprint Orienteering event on the KU West Campus, Sat, July 16 (M Eglinski). Don't be fooled by the shade; it was hot and
mostly in the open.
July 15 - In anticipation of 100 degree temperatures for the next week - the Road Runners Club of America wants to remind the running community about the importance of following our hot weather running tips. Running in the heat of summer can be dangerous if proper precautions and preparations are not followed. read more (special thanks to Dick Ross for the link)
July 9 - Photos from the USATF Region 16 Junior Olympics track and field meet held at Lawrence High School - one of the girls 400m heats and two competitors from the shot put.

July 7 - We need your help! I am conducting some running related research with KU Med and we need area runners of a variety of ages. For information on the study, go to the Personal Best Website. Participants will receive a free functional movement screening. Thanks for you help. Here is to healthy, lifelong running!

Amy Parkerson-Mitchell, MSPT, Director and RRCA Certified Coach, Personal Best Running and Fitness, kcrunning.com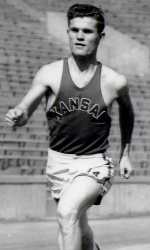 July 6 - Former Kansas cross country and track star Herb Semper died last week. He was 81.
Semper was a member of the Kansas cross country program under coach Bill Easton from 1949-52 and became the first Jayhawk to win an NCAA championship, prevailing in 1950 and then again in 1951. Semper, a member of the Kansas Athletics Hall of Fame, remains the only runner in KU history to win two cross country individual national championships.
In track and field, Semper was a four-time Big Seven Conference champion in the two-mile run and a two-time outdoor All-American after back-to-back third-place finishes in the two-mile run at the NCAA championships.
Semper's silhoutte is one of the seven legendary Jayhawk runners that line the cross country course at KU's Rim Rock Farm.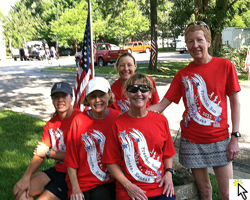 July 5 - The Endurance Amino Acid - Of the 21 amino acids, leucine has a special place in endurance exercise. Although amino acids are the building blocks of protein, leucine, in its free state, has a major impact on endurance as well as muscle recovery. more (from Nutrition Edge, Jeff Galloway, 7/5/11)
July 4 - (right) Fast Freedom Runners: Mianne Irick, Celeste Leonardi, Becky McClure, Diane Waltho & Sue Washburn at the July 4th Lenexa Run. (Becky McClure photo) more photos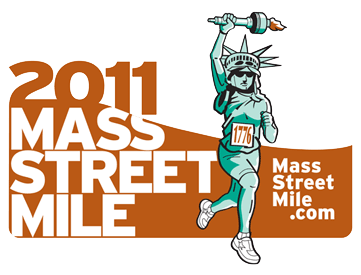 July 3 - Playing in the streets: This was the second year that the Mass Street Mile was held in downtown Lawrence preceding the criterium of the Tour of Lawrence's final day of bicycle races. It was a great opportunity to race on completely closed-off streets. Don Wasinger (Lawrence) and Cindy Cameron (Westwood) were the top male and female winners. The top three in the under 18 race (boys & girls ran together) were Jackson Kurtz (1st M13-15), Jacob Bailey (Baldwin City, 1st M10-12) and Madeleine Stegman (Lawrence, 1st F13-15). photos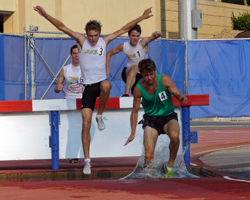 July 1 - (right) Boys steeplechase at the AAU Region 11 Junior Olympic Qualifying Meet.
June 27 - Coming this weekend: The Area 11 AAU Junior Olympic National Track & Field Qualifier June 30 - July 3 with most events at the Lawrence High School track. The event was originally scheduled in Joplin, MO. A chance to see some the area's best young athletes.