June 27 - Coming this weekend: The Area 11 AAU Junior Olympic National Track & Field Qualifier June 30 - July 3 with most events at the Lawrence High School track. The event was originally scheduled in Joplin, MO. A chance to see some the area's best young athletes.
And on Sunday (July 3) anyone can run the Mass Street Mile. With the Tour of Lawrence bicycle races downtown for the second year in a row, runners have a chance to run on a completely closed street race.
Then the following week, Lawrence is hosting the USATF Missouri Valley Junior Olympic Trails (Region 16 Championship), July 7-10. Those who qualify will compete at the national chamipnships in Wichita at the end of July.
If you haven't been following youth track and field, there are two organizations - AAU and USATF. Why the two?
AAU vs USATF, In my opinion this argument is purely demographics, From my experience the AAU is more East Coast and Southern States where the USATF is stronger in the West, Southwest and some Midwestern states. If you live in a region where the majority of meets are AAU, then you more then likely run AAU the same is for USATF.There is one aspect the AAU clearly dominates the USATF JO's they do however attract more athletes, but with similar competition at both is more truly better? There has been arguments on the competitive nature of both events and there have been years that the USATF JO's are more competitive then AAU and vice versa. You honestly cant go wrong which way you go both meets are highly competitive and both meets have their pluses and minuses. Also either way your child slash athlete will be on a national stage and can lay claim to a National Championship (from Track Mom)
June 25 - Mill Valley javelin thrower Macauley Garton was recently named Gatorade Kansas Boys Track & Field Athlete of the Year, the first time a Jaguar track athlete has been chosen for the award. more (from the Lawrence Journal-World)
June 23 - The US Track & Field Championships are this weekend, with TV coverage beginning Friday night. Here's the TV schedule from the USA Track and Field website. (info from Dick Lipsey)
| | | |
| --- | --- | --- |
| Date | Time | Network |
| 6/24/11 | 10:00 PM | ESPN2 |
| 6/25/11 | 12:00 PM | ESPN2 Re-air |
| 6/25/11 | 2:00 PM | Universal |
| 6/25/11 | 4:00 PM | NBC |
| 6/26/11 | 2:00 PM | Universal |
| 6/26/11 | 4:00 PM | NBC |
The Jayhawk men's and women's track teams will send a strong contingent to the USA Senior and Junior Championships this week in Eugene, Ore. The meet will exhibit hundreds of the nation's tops athletes at both the junior and senior levels and will include 10 athletes from the University of Kansas. more

June 20 - Here are some thoughts from a 65-year-old on his run up Mt Washington last Saturday by one Peter Gagarin, former editor of Ultrarunning and five-time national orienteering champion. In years past, sometimes a cyclist would post the best time; other years it was the runner. more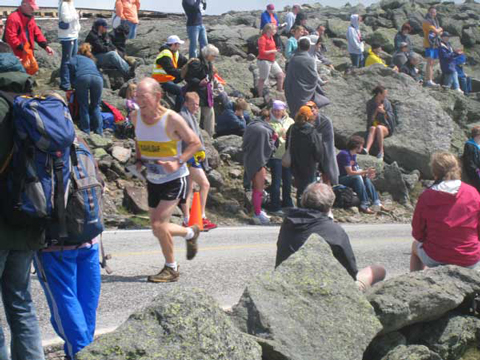 June 17 - I love to run. But I'm not sure I would if I hadn't gotten started with mentors—my grandfather and later my high school coach—who taught me that running was supposed to be fun and fulfilling. When I began, I couldn't have imagined that running would take me to the World Championships and the Olympics and to the other great love of my life, my husband, Adam. more (from Active.com - Olympian Kara Goucher's Top Running Tips)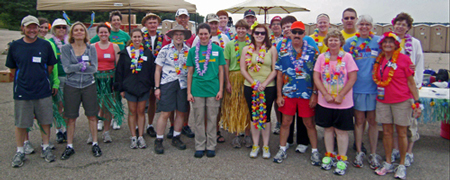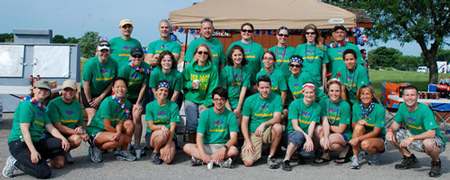 A couple of the volunteer groups at the Ironman 70.3 Kansas Triathlon: (top) Ellen Young's Dog Days group, (bottom) the Lawrence Trail Hawks.
Flickr photos
June 16 - Volunteers are an integral part of any successful race. The Lawrence Trail Hawks and several groups from Red Dog's Dog Days helped with last weekend's triathlon around Clinton State Park. Thanks to Chris Wristen, Keith Meyers and Ellen Young for their photos. Consider volunteering especially if you've enjoyed the support at the last race you entered and want to give back. One upcoming opportunity is the Red Dog Run Aug 6; contact the race director, Ellen Young. Other race officials are welcome to send us your volunteer details.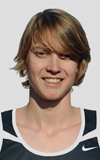 June 15 - Last Saturday in New York, as Lukas Verzbicas gave the last of his interviews following his 3:59.71 Jim Ryun Dream Mile at the adidas Grand Prix meet, the Kenyans and Ethiopians who'd just finished the men's 5000m filed past him in the mixed zone. These men with hollow cheeks and sharp bones who dominated distance running dripped with sweat as the baby-faced Verzbicas said again how he didn't think a sub-4:00 was possible until he saw the clock on the home straight and, in the rain and wind, went for it. There was more than a touch of symbolism in the congregation of runners grazing shoulders under the tent at Icahn Stadium. more
(by Marc Bloom, Running Times)

June 8 - At a recent symposium of the American College of Sports Medicine's annual meeting in Denver, cutely titled "Barefoot Running: So Easy, a Caveman Did It!," a standing-room-only crowd waited expectantly as a slide flashed up posing this question: Does barefoot running increase or decrease skeletal injury risk? "The answer," said Dr. Stuart J. Warden, an associate professor of physical therapy at Indiana University, "is that it probably does both." more
(article by Gretchen Reynolds, from the New York Times)
For Has-Beens: For those of you that have moved away now is your chance to earn a Dog Day T-shirt through Red Dog's Dog Days Has-Beens Program. Due to requests from many former participants, this new program allows those outside of the Lawrence area to continue being part of the Dog Days family. Sign up and you'll have the opportunity to complete real Dog Days workouts and work towards earning a 2011 summer "Has-Beens" T-shirt. To sign up, see the Has-Beens section on the website or email has-beens@reddogsdogdays.com.

June 6 - The organizers of the Joplin Boomtown Half Marathon had to make the decision to cancel their June 11 run due to the recent tornado. Runners continued to ask event organizers if and how their registration fees could assist in the relief efforts. As a result, online registration has remained open for individuals who would like to donate to the United Way of Southwest Missouri and Southeast Kansas, with all dollars being allocated to tornado relief efforts.
If you would like to make a donation by "registering" for this year's Boomtown Half Marathon event, registration is still open at www.boomtownrun.com until midnight on June 12th. Please help us show our support to the city of Joplin and their local running community.
In addition, runners and non-runners have been invited to the original starting area at Memorial Hall for a brief memorial service on race morning. Following the service, individuals will also be given the opportunity to assist with the cleanup efforts.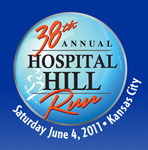 June 4 - At the Hospital Hill Run, several Lawrence area runners won their age categories along with one top 10 finish. In the half marathon: Nicholas Caprario (Lawrence) 8th male overall, Brett Klosterhoff (Lawrence) 1st M18-19,
10K: Grant Catloth (Lawrence) 7th overall & 1st M20-24, Debbie Galbraith (Lawrence) 1st F45-49, Ken Johnson (Lawrence) 1st M60-64.
5K: Teri Hatfield (Lawrence) 1st F60-64, Robert Kloepfer (Lawrence) 1st M65-69, Patrick Smith (Topeka) M40-44. half marathon results

June 3 - Good news! Red Dog's Dog Days have been given permission to use the stadium for the morning sessions this summer starting Mon, June 6th at 6 am. Meet at Memorial Stadium on the east side. The 6 pm session will continue to be at Robinson (east field).
Saturday "Fun Run" will start June 11 at the Lied Center - two times: 7 am & 7:45 am.
June 1 - There exists a large and soothing body of scientific literature suggesting that regular exercise can improve someone's mood and fight anxiety. And then there is this experiment from Germany, in which researchers placed running wheels in the cages of a group of laboratory mice and let them exercise at will. more (Gretchen Reynolds, fom the New York Times, Apr 27, 2011 & thanks to Dick Lipsey)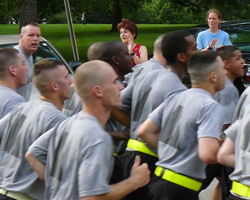 May 30 - The Amy Thompson Run partnered with Ft. Riley this year in an effort to show support of individuals living with brain injury. Brain injury is the signature wound of the current conflicts. Ft. Riley (the Big Red One) sent 100 soldiers to run in formation this year.
(right) Sandi Weston and Stephanie Amman review the troops.
full results | Flickr photo