Mar 31 - Four state age group records were set at the Dam Run on Sat, Mar 26. In the 5K: Paul Heitzman, Eudora, ran 27:33 breaking the M80-84 record by over 5 minutes.
In the 12K:
Becky McClure, Lawrence, broke the F50-54 record by running 1:05:46.
Molly Wood, Lawrence, broke the F55-59 record by running 1:11:21.
Diane Otte, Overbrook, broke the F60-65 record by running 1:17:02.
Mar 29 - Francis Sporting Goods is having its annual Asics Days Sale April 2-10 offering 20% off all Asics shoes. Receive a free gift with every Asics purchase. You can also register for prize drawings during the sale. "I hope you are able to attend. Thanks." - Jon Francis

Mar 28 - The 22nd edition of the Kansas State Road Records and Honor Roll with results from 2010 races are now complete and ready for viewing. Jack Crook of Mulvane, the 82 year old statistician for the state, reviews all certified events each year and updates the records - a task that Jack has diligently pursued for many years as a volunteer. If you have a chance, tell him "thanks." the state records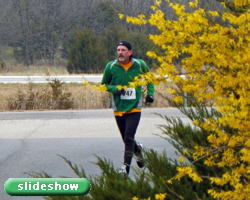 Mar 26 - The weather forecast was
for wet, windy and maybe snow, but
it held off until the 2011 Dam Run 12K & 5K runs were completed. Awards were given out, but no times or official results yet.
Plans for next year may move the race back by the Clinton Lake dam and on an April date. The event, hosted by Lawrence Parks & Rec, had been using the Clinton Lake Softball Complex for the start/finish the past three years. Right: Jay O'Neill, Winchester, rounds the last corner by the forsythia bush before the finish.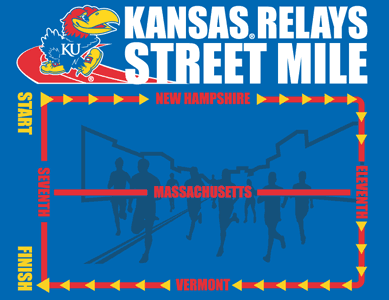 Mar 22 - The Kansas Relays downtown events on Thur evening, Apr 21 have added a citizens category to the mile race. Runners of all levels are now invited to participate in the downtown mile. World-class professional milers will be in the same race, so you'll be able to say, "I've ran against the world's best." Participants will receive a T-shirt and the admittance button to the Relays events at the stadium. info
Mar 21 - This pretty much sums it up.....got to love the pain...then the high.
- Keith Dowell.
Flight Club from Greg Mushen on Vimeo.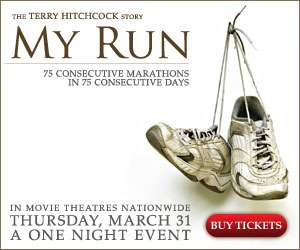 Mar 20 - Together with Indiewood Pictures and Destiny Pictures, NCM Fathom presents the award-winning and documentary MY RUN in more than 500 movie theaters nationwide for an exclusive one-night event on Thurs, Mar 31 at 7 pm. Narrated by Academy Award winner Billy Bob Thornton, MY RUN is the inspirational story of Terry Hitchcock, the 57-year-old widower and father who ran from his home in St. Paul, MN to the opening ceremony of the summer Olympics in Atlanta, GA.
Tickets to MY RUN Premiere Event are available at participating theater box offices and online at www.FathomEvents.com. A portion of proceeds will benefit the LIVESTRONG Foundation. more
Mar 19 - What inspired the Pi-Day River Rotation half marathon at the Kansas River trails? Many things, one including the movie, "Pi". See more photos at SeeKCRun.
Kelly Carlton on lap 2 meeting runners finishing lap 1; gorgeous pies for the
Pi-Day Run.

(photos: Gene Wee, Shawn Walters)
Mar 18 - Last November, I was on my way to the New York City marathon when I got word that my father had two clots on his brain and needed emergency surgery. My family urged me to go ahead and run anyway. . .
During my father's recovery, I teetered on that ledge we all encounter when the curtain drops on our main event before it ever goes up. Without a challenge ahead or a beat-down still smarting behind, there's no urgency to snap back into serious training. . .
Just about the only time I pushed myself was every other week or so, when I met a band of local trail runners who are have an absurd mail-carrier ethic when it comes to snow, rain and gloom of night. No matter how dark or cold, they never cancel, bobbing along by headlamp through ice storms, face-whipping branches and far too uncommon self-doubt. It's not the punishment they love, I eventually realized; it's the goofy thrill of banding together in the face of slippery awfulness. more (Christopher McDougall, from the Mar 18, 2011 New York Times)
Mar 15 - Inspired by barefoot running, many runners are switching to minimalist shoes, which help alter a runner's style into a more forefoot striking or 'natural running' gait. This running style has been associated with a reduced likelihood of injury and increased speed and efficiency. What many runners fail to realize is that a rapid change to minimalist footwear often causes injury. more (press release from inov-8)
Mar 8 - Update on the Apr 17 Kansas Half Marathon races - looks like it's all starting at Haskell Indian Nations University. The half marathon, 10K and 5K are all new courses. Check the event web site. Much flatter courses.

Mar 3 - When you're the fastest woman our sport has ever seen, you have lots of choices when it comes to picking races. Citing the "unique, vibrant atmosphere and amazing community spirit" she's enjoyed at K-Swiss Ironman Kansas 70.3, Britain's Chrissie Wellington will return to Lawrence to go for her third straight title. more


Two more Empire State Building racers. "This is way to much fun." - Keith Dowell (from Good Morning America)

Mar 1 - For the 2013 Boston Marathon, qualifying times are more stringent, and must be run on or after Sept 24, 2011. Like the 2012 registration process, the acceptance of official race entrants will be based on qualifying time, with the fastest qualifiers (in relation to their age and gender) being accepted first until the race is full. All qualifying times are subject to review and verification.
2013 Qualifying Times (effective Sept 24, 2011)
Age Group
Men
Women
18-34
3hrs 05min 00sec
3hrs 35min 00sec
35-39
3hrs 10min 00sec
3hrs 40min 00sec
40-44
3hrs 15min 00sec
3hrs 45min 00sec
45-49
3hrs 25min 00sec
3hrs 55min 00sec
50-54
3hrs 30min 00sec
4hrs 00min 00sec
55-59
3hrs 40min 00sec
4hrs 10min 00sec
60-64
3hrs 55min 00sec
4hrs 25min 00sec
65-69
4hrs 10min 00sec
4hrs 40min 00sec
70-74
4hrs 25min 00sec
4hrs 55min 00sec
75-79
4hrs 40min 00sec
5hrs 10min 00sec
80 and over
4hrs 55min 00sec
5hrs 25min 00sec

*Unlike previous years, an additional 59 seconds will NOT be accepted for each age group time standard.