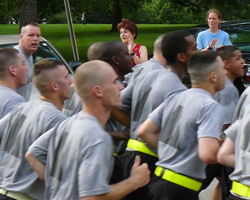 May 30 - The Amy Thompson Run partnered with Ft. Riley this year in an effort to show support of individuals living with brain injury. Brain injury is the signature wound of the current conflicts. Ft. Riley (the Big Red One) sent 100 soldiers to run in formation this year.
(right) Sandi Weston and Stephanie Amman review the troops.
full results | Flickr photos
May 23 - The Boomtown Half Marathon was scheduled in Joplin for June 11th. With the recent disaster from the tornadoes, first priorities are on recovery. From the event website: "Thank you for the e-mails of concern for us and our city. At this point, all emergency personnel are involved in search and rescue efforts. We have no idea when we will be able to meet with city and medical officials regarding the feasibility of proceeding with the run. We will keep you updated. For now, please keep our city and those families that have lost loved ones in your prayers."
In the March 2011 PTO News, the Deerfield Marathon Club thanked runLawrence for its contribution in support of their school running program.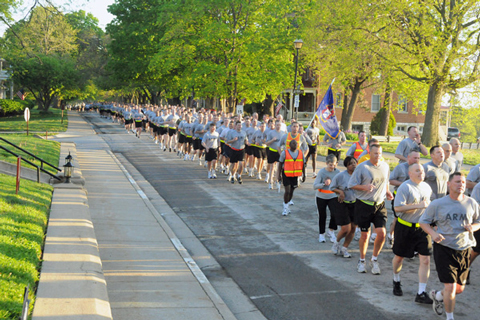 May 21 -This was the run for the Combined Arms Center at Ft Leavenworth. It took place on Fri, May 6 at 6 am. We ran a 4 mile course in formation. I work as a
contractor for the Mission Command Center of Excellence. I'm the only gray
haired lady in this pic! - Arlene Slocum (Can't find Arlene? Click on photo)
Flickr slideshow
May 19 -Top three finishers at the Mufundi Orphans 5K Run were Lori Akers, Paul Miller, Zdenko Duris, Sarah Haley, Emily Johnson, and Joshua Preut (Cathy Knight photo) results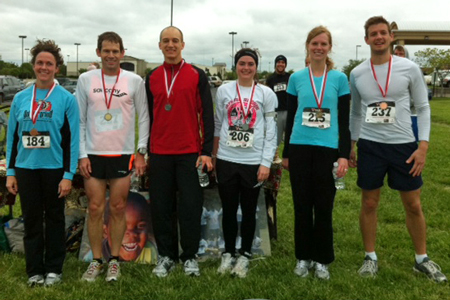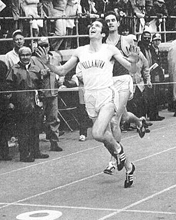 May 16 - (from the NY Times) On May 16, 1971, Marty Liquori and Jim Ryun went head to head at Franklin Field in Philadelphia in what was billed as the Dream Mile. Maybe it did not generate the overheated water-cooler conversation that anticipated Ali-Frazier two months earlier, but in an era of unusually outsize sports personalities, when malevolence of thought and deed were imputed on the slimmest evidence, the Dream Mile fueled a rousing simmer. Like Ali-Frazier, Liquori-Ryun lived up to its hype. more


The Lawrence Trail Hawks 50 Miler from Jonathan Mast on Vimeo.
May 14 - The first St John's Eagle 5K Run drew over 200 participants to downtown South Park. Spectators were exhuberant in cheering all the fnishers and along the course. Click for more photos. | results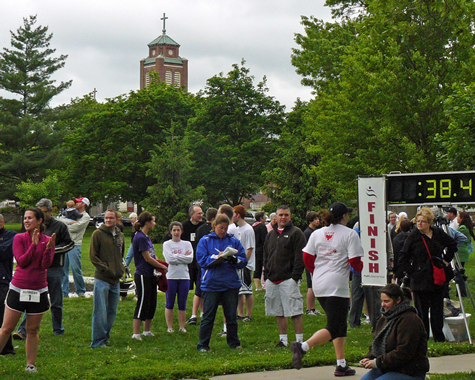 May 7 - Start of the Fun Run at the Kansas Heart and Sole Classic in Olathe: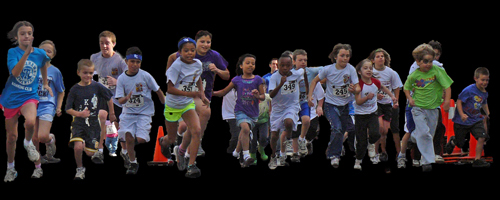 May 2 - Bob Woods ran the Illinois Marathon in Champaign this past Sat. and placed 3rd in the M60-64 category with a time of 3:37:54.