Nov 27 - Jim Hershberger, 80 years old of Bonita Springs, Florida, died on Wed, Nov 23. A Wichitan by birth, he graduated from the University of Kansas in l953, served in the Air Force and returned to Wichita where he began his career as an independent oil producer. KU named its track in his honor and in l986; Jim was chosen to appear on the Wheaties box. He was awarded the AAU All - American status at the age of 43 years. more
Nov 26 - Here's a short slideshow from Thursday's 5K. Check the SeeKCRun link to find your photo. Thanks to Frank Mance and Kevin Gray for their work.
"No gloves, no good race." - Bill Rodgers. The running gloves were a hit this year, something you can use as winter arrives. Several runners wore the headbands they got last year. Rodgers commented, "Before the $25 running glove there was the $3 running glove, the entirety of which was one glorious field for snot."
Nov 25 - Autumn Ray of Tucson, AZ was the women's winner at yesterday's 5K with a time of 18:11.6. Benson Chesang, Lawrence, KS took advantage of a warmer Thanksgiving Day to set the new event and course record with a time of 15:13.4 improving on Junction City's Tim Testa's 15:26 set in 2009.

Nov 24 - Thanksgiving Day Run Raffle - A woman had been waiting for awhile, then found Dee Boeck, the race director, to ask if the drawing for the quilt had been made. They both went into the school, Dee vigorously shook the drawing container, called the principal Jeanne Fridell to pull out a ticket and the winner was . . . Judith Smaic, from Longmont, CO - the woman who reminded Dee it was time to do the raffle. Judith and her family have been coming to Lawrence over the years at Thanksgiving to visit relatives and run the 5K.
Nov 21 - (8 pm) - Just went over 800 on pre-registered runners for the 5K. Who are they? See the list of participants.

Packet pickup for the runLawrence Thanksgiving Day Run is where on Wednesday? At Francis Sporting Goods, 731 Mass. When? Between 11:30 am and 6 pm. Francis, the presenting sponsor, is providing gift cards for all award winners.
On race day (Thurs), where is packet pickup? At Woodlawn School, 508 Elm.

And our last sponsor (but not least) to mention is Peak Performance Health Center. Rob Jones is the original provider of Active Release Techniques in Lawrence. If we get side tracked from our running, it's nice to have medical and therapy specialists in town to go to for relief.
At the Living History Farm cross country race on Nov 19 in Urbandale, IA there were 3421 male finishers and 3301 female finishers. A huge race with stream crossings and steep banks with ropes to hold on to. 24th overall female was Jennifer Forkenbrock, 36, Lawrence, KS 54:19. Scott Forkenbrock, Lawrence, KS ran a 47:17 good for 5th Master/4th M40-44). In M55-59, 2nd was Dan Kuhlman, Lecompton, KS 52:00 and 4th was Keith Dowell, Lawrence, KS 56:44. How steep were the climbs? Take a look at the photos.
Nov 20 - runLawrence member Jim Knight exceeded his goal at the Big Sur (CA) Half Marathon this morning with a time of 2:02:06 (goal was 2:05). Jim is actually rather new to running and stated that he was sure he could have done better if they'd had "pace bunnies or rabbits, or whatever you call them".
Winner was Ezkysas Sisay in 1:03.48. [Thanks to Paul Boone for catching the error when we listed Jim's time as 1:02:06. If that were true you would have gotten the news first from CBS Evening News or ESPN]
Nov 19 - runLawrence club member Elizabeth Weeks Leonard, now living in Athens, GA, placed 9th overall at the Crawford (GA) Restoration Run 15Kwith a time of 1:16:39.


HyVee has supported numerous community sports events all over the Midwest and several programs locally including the Lawrence Ironkids Triathlon, the marathon clubs for elementary schools as well as the Thanksgiving Day Run. A new sponsor this year is Free State Brewing Company; a special thank you to Chuck Magerl for sponsoring the age group awards.
Group photo by Dick Ross (SeeKCRun.com) at today's Sanders Saunter at Clinton State Park with proceeds to benefit GaDuGi SafeCenter. The 10K trail run was hosted by the Lawrence Trail Hawks. Results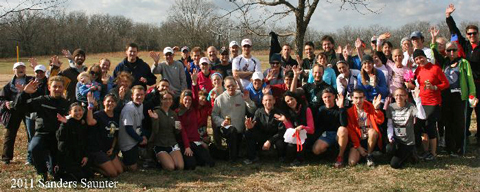 Nov 18 - Congratulations to the Topeka Striders. The Miracle on Kansas Ave Rescue Run 5K was selected for the RRCA 2012 5K Regional Championship. If you want to check out the course, you can still enter this year's state championship 5K on Sat, Nov 26. It's a 5 pm start time. link
List of National and Regional Championships.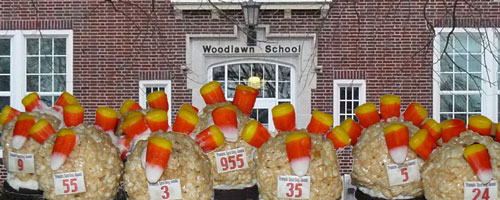 Nov 17 - The turkeys are already lined up for the Thanksgiving Day Run. You can still sign up on-line.


More sponsors to thank: It isn't Burger King anymore. At the location of 23rd & Naismith is Natural Grocers which just opened this week. They are providing the water, lots of water for during and after the Thursday race.
As of last night, 660 have signed up for the run Thursday.

Rick Renfro has been kind enough to let you park at the lot behind Johnny's Tavern over the years and we're welcome back. He's added gift certificates for a volunteer drawing. We're talking about the original location at 2nd and Locust as Rick as expanded to so many other locations around the state.
Nov 16 - The Thanksgiving Day 5K signups have been coming in slightly ahead of last year's pace. 570 signed up today, so we still have plenty of gloves and beanies to give out. It's always fun to see the family entries with members from out of state. So far, the out-of-staters include 17 from Missouri, 13 from Texas, 11 from Nebraska. Idaho and New York are tied with 4 signed up. A total of 20 states.

Nov 15 - Give thanks to The Merc for the Luna bars available after the run. The Merc Community Market and Deli is a "health food store" and also a full service grocery store owned by our community. Doing business since 1974.
Another long time supporter of the T-Day Run is Dr. Phyllis Ragley, the local podiatrist who treats your 'achy-breaky' feet. She is sponsoring the youth fun run medals this year. And Dr. Kent Dobbins, local optometrist and national caliber triathlete, is the sponsor for the EMT services. Kent was a varsity gymnast when he went to KU.
Nov 13 - Here are scenes from today's Veterans Day 5K on the KU campus. Shown is Ken Baldwin running past the Vietnam War Memorial.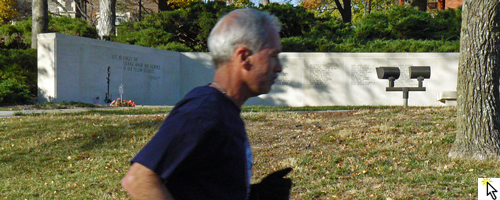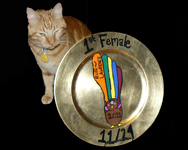 Nov 11 - T-Day sponsors:

Dr. Jean Schrader is our sponsor for the overall and masters awards this year which were designed by Marsha Odgers.

And back again this year is Great Harvest Bread Co providing fresh bakery samples.
Nov 10 - Here's a note from Dan Breslauer about Fran's mishap at the New York City Marathon on Nov 6. Fran started her running in Lawrence as one of runLawrence's first members; they both live in New York now. For those who don't know her, she's 70 years old.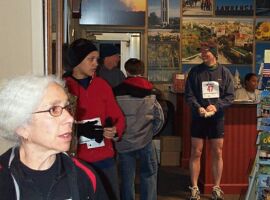 Fran was running the marathon today and doing well (by mile 21 she was on pace for a sub-10:40 pace), when she stopped at a water station. While there another runner knocked her over. She took quite a fall - very bruised in her head and face, but also three broken fingers and one dislocated finger. She has been at Mount Sinai Hospital now for over four hours--and I have been in contact only by phone, she discouraged me from coming to the hospital by subway. They have given her blankets and Motrin. They wanted to cut off her wedding ring and are still analyzing the xrays. This has been quite a shock. (photo of Fran is from the 2004 Thanksgiving Day Run).

[Later] they finally gave her a nerve blocker to straighten out her fingers and were able to take off the ring by stopping the circulation by using surgical string. She was disappointed because she was on pace to qualify for Boston; we have to go to an orthopedist this afternoon who will take off the splint that Mount Sinai put on and probably put on casts for her three fingers - Mount Sinai said that one finger might need a pin in it.

The orthopedist said that the original splint should stay in place for three weeks. After that time they will reevaluate the situation. Fran has nothing but praise for the NYPD who helped her.

Nov 9 - Here's the video report on the Ruckus Run from Fox4 News by Carey Wichersham.

Personal Record: Advanced Math - The beauty of numbers . . .
That's the way I used to think about running. The numbers contained a world, clear and precise symbols that held all meaning. The time on the clock at the end of a race was a thing apart from excuses and explanations. It was what it was.

For that reason, age-graded races have never appealed to me. Handicapping seemed impure. What mattered: the ticks on the clock. There's the elegance, the pellucid purity of running. Hours, minutes and seconds reduced to tell the story, the plot summed up in a sum. more (by Rachel Toor, Oct 2011 Running Times)


Nov 8 - Most experienced runners will tell you that one of the best ways to garner cheers of support during a race is by donning the attire of your alma mater. It's a theory that turns out to be true even if you are a Kansas University alumnus running your first marathon as far away as Ireland. more
(Christine Metz, Lawence Journal-World)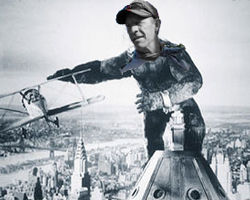 Nov 7 - Frequent flyer miler - On Sat, Nov 5th, Keith Dowell flew around the Grain Valley (MO) Ruckus Run obstacle course in 34:22 to place 6th in the 45+ category (39th overall out of 1400), hopped on a plane to Chicago and the next day flew up the Willis Tower, 103 stories, 2,109 steps in 21:16 to place 15th in the M50-59 category (129 out of 2191 overall).

One of our long time sponsors of the Nov 24th run has been Dillons, the food store chain founded in Hutchinson, KS, then became part of the Kroger Company. They have been providing refreshments for us each year.
Nov 6 - Congratulations to two runLawrence runners at today's New York Marathon: Jon King did 4:32:17 and Jim Knight did a 4:56:41. The overall male winner was Kenya's Geoffrey Mutai winning in a new record time of 2:05:05. Firehiwot Dado of Ethiopia won by just four seconds over Buzunesh Deba, an Ethiopian who makes New York City (The Bronx) her home. Deba's story was chronicled in the New York Times this week.
Turkey Trot at Haskell (left); (right) L to R are Thomas Zunie, Talissa Budder, Brannon Wallace (Rhonda Levaldo-Gayton photo)
Nov 5 - Check out the slideshow from the 36th Annual Turkey Trot at Haskell Indian Nations University sponsored by Lawrence Parks and Rec. Again, first place finishers in each of the 12 divisions got a free turkey from Checkers. Results will be available later about mid-week.

After the race was over, the MCAC Conference Championship race was held on the cross country course. Haskell's Thomas Zunie won the men's title while Talisa Budder was the women's champ.

Thomas won the mens 8K. Brannon Wallace took 2nd place behind him and was named MCAC newcomer of the year. The men's team placed 2nd overall. Talissa won the women's 5K conference race and was named MCAC newcomer of the year. The women's team placed 4th overall. All three qualified for the NAIA National meet in Vancouver.

Nov 4 - Got Milk? Many running authorities have touted the benefits of low-fat chocolate milk citing it as an ideal recovery food for runners. Welcome Logan Business Machines as the milk sponsor, their first year supporting the Thanksgiving Day Run.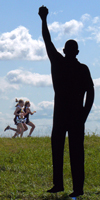 Nov 2 - Way to go Coach! - Bob Timmons, former KU track and field coach has been selected for induction into the USATF Hall of Fame. Joining Timmons in the class of 2011 are Gail Devers, Maurice Greene, Vince Matthews, and Clarence Demar. more

Nov 1 - Janice Woolery, the Kansas RRCA rep, has done an outstanding job coordinating the state championship events and getting all the state clubs to be more involved with the national organization.

For personal family reasons, Janice has decided to resign as the state rep. She felt that she just wouldn't be able to give the position the time it needs.

She is looking for a replacement and encourages anyone active in the local running scene to consider applying for the position. "We have made such progress over the past couple of years and I'd like to see that continue. Thank you [everyone] for all you do for running and for your communities."
Sincerely, Janice, janicewoolery@kc.rr.com