Oct 31 - Today we want to again thank J&S Coffee for sponsoring the coffee for the third year in a row. Open since 2003 at 6th and Wakarusa, the locally owned shop has gained a loyal following with its friendly service, high quality drinks and flavorful brews made with beans roasted in-house.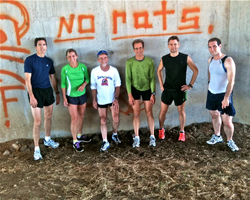 Here is a picture of the SandRats running group last week with the graffiti under the turnpike bridge. Steve Riley joked ,"I'm not sure what the significance of the 'artwork' is. I suspect the Mad Dogs or Trail Hawks, or one of the other rival gangs may have put it there. Or maybe one of those kids from the elementary school marathon clubs. I've heard they're a pretty tough crowd."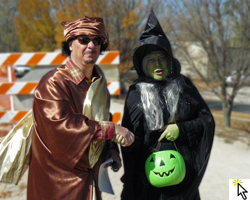 Oct 30 - The Boo! Run 5K Run was held on the Lawrence levee with a special "Ghost" appearance of Qaddafi working as the race announcer (aka Charlie Upton). The run was a benefit for the GaDuGi Safe Center. results
Oct 29 - Congratulations to the Baldwin High girls cross country tream on repeating as 4A state champs. In the boys 4A division, DeSoto was 3rd, Baldwin 5th and Tonganoxie 7th. And the girls from Lawrence-Bishop Seabury are the 1A state champ. Jefferson County North boys placed 3rd in the 2A race.

Individual standouts: Lawrence Free State's Kain Anderson outkicked Bryant Keirns (Haysville-Campus) in an exciiting sprint for 2nd in the 6A boys race. Angel Vasquez of DeSoto is the 4A state champ running a 16:30 with Baldwin's Ethan Hartzell 2nd in 16:44. Kate Albrecht paced Bishop Seabury with her 4th place finish.
Results from Wamego | Results from Rim Rock Farm

Oct 26 - Except for a strategic bit of elastic that may be required, the blue running tunic, circa Smith College 1961, still fits. It will be worn again a half-century later, this time in celebration and tribute rather than defiance.
On Thanksgiving Day, Dr. Julia Chase-Brand, 69, plans to run a 4.75-mile race in Manchester, Conn., where the presence of women will be plentiful and unremarkable. Fifty years ago, when she and two other women ran there the first time, it was a widely publicized act of civil disobedience that became a pioneering moment in female distance running in the United States. more
(by Jeré Longman, Oct 25 New York Times)

"In preparation for the December Readers Issue, Runner's World wants to know why do you run? Tell us at runnersworld.com/why or with Twitter hashtag #whyirun." (Thanks to Stephanie Ammann for sharing this video)


Oct 25 - If you check to see who has signed up so far for the runLawrence Thanksgiving Day Run from out-of-state, Texas leads with 6 people followed by 4 each from Michigan and Idaho. participants list
Join the Idahoans and Michiganders for our run on Nov 24th. entry form

One of our new sponsors is Shiney Independent, This north Lawrence custom screen printing studio is owned by Justin Shiney who has printed the runLawrence license plates and bumper stickers and will be printing the volunteer shirts this year. Two of his popular artworks are the North Lawrence and the John Brown license plates.
We'll mention all our race sponsors in the next few weeks.
Oct 24 - Neewallah has been celebrated in Independence, KS since 1919 and is the largest annual celebration in Kansas. The city of Independence will grow from a town of just under 10,000 inhabitants to 75,000 in the final days of the now 10-day celebration. The 5K & 10K races were held Sat, Oct 22. Lawrence's Stacy Riggins, who grew in nearby Howard, won the 5K F50 race. Other first place winners in the 5K were Aaron Pearson (Lawrence, 1st overall) and Jamie Didde (Topeka, 1st F30).
10K winners were Brock Roehler (Topeka, 1st M19-29) and Justin Gordon (Topeka, 1st M30).
Winners at the Run for Orphans 5K hosted by the Grace Evangelical Presbyterian Church on Sat, Oct 22 were Erik Van Kampen (17:42) and Jenny Boettcher (20:16). Held each fall, this run benefits orphans in Ethiopia through Fields of Promise, a not-for-profit organization whose mission is to minister to the physical and spiritual needs of Ethiopian people through agricultural education and direct involvement with at-risk youth and orphans (see www.fieldsofpromise.org).
Oct 23 - Several Lawrence runners were at the Rock n Roll St Louis Marathon and Half Marathon. Some of the results in the marathon - Scott Forkenbrock (3:05:07), Jenn Forkenbrock (3:12:47), Carl Specking (3:13:43), Kit Harris (Baldwin City, 3:46:40), John Dunham (4:15:04), Cindy Dunham (4:32:42); Marc Scarbrough (4:38:03), Miki Mahnke (4:51:55), Cristal Barnes (4:59:40).
In the half marathon: Benson Chesang (1:08:51), Scott McVey (1:21:28), Randy Stotler (1:33:31), Donna Evans (1:43:44), Andrea Brookfield (1:47:04), Angela Henderson (1:48:30), Ronald Fink (1:48:53), Charlie Fehl (1:49:40), Julie Kelemen (1:59:42).
Don't have all the local results, but you can search for more names in the official results.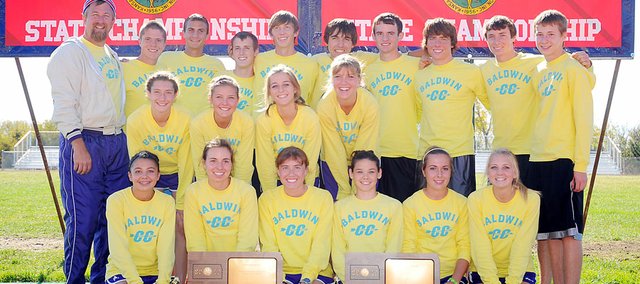 Qualifying for the state cross country championships this coming Sat, Oct 29 are the boys and girls teams from Baldwin High School. Both teams are the defending 4A champions from 2010 (see photo, right). Also going to the state meet at the Wamego Country Club are the DeSoto boys and girls teams and the Tonganoxie boys in 5A, Jefferson County North boys in 2A and the Bishop Seabury girls team in 1A.
The girls teams from Lawrence Free State and Washburn Rural are the two local teams in the 6A race at Rimrock Farm.
More - on the state meets and the individual qualifiers whose teams did not score in the top three.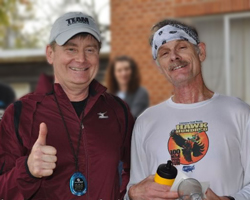 If you are interested in trail running and ultras in the Lawrence area, you will certainly meet Ben Holmes (KC Trail Nerds) and Gary Henry (Lawrence Trail Hawks). Both are shown at the Lake Perry Rocks trail runs on Oct 22. Ben was the race director this weekend for 50K, half marathon and 5K. Gary ran the half marathon this weekend. Results
More photos at SeeKCRun.
Oct 22 - Dee Boeck won the Mankato (MN) Half Marathon F60-69 category for the second year in a row with a time of 1:54:33.
Oct 16 - The day after the marathon (a YouTube video from 2007):
A big thank you to everyone renewing their runLawrence club membership for 2012 and a hearty welcome to our new members. On the members page, we try to rotate photos of our members. If you haven't yet been posted, feel free to send a photo, preferably while running or at a running event.
Oct 15 - The latest TrailRunner magazine has a story from the Hawk Hundred by Chris Wristen - Mom Goes Army Strong and does battle at Kansas' inaugural Hawk Hundred -
" When Coleen Voeks, 38, of Kansas City, Kansas, glanced over her shoulder and didn't see her friend Debbie Webster, 51, of Gardner, Kansas, right behind her, Voeks didn't think much of it.
"The rocky, rooty trails at Clinton State Park in Lawrence, Kansas, were taking their toll on all of the runners at the inaugural Hawk Hundred 100-Mile Trail Run, as was the sauna-like humidity in the woods. Maybe Webster had paused to pop some salt or take a sip of water, or perhaps a nagging left ankle sprain or raging right IT band was slowing her down, figured Voeks." more (scroll down to story)
Oct 13 - The Lawrence Trail Hawks will host the 3rd annual Sanders' Saunter "Heavy" 10K Trail Run, Sat, Nov. 19 on Clinton Lake's North Shore Trails. "Heavy" means the course is slight longer than an official 10-kilometer race – about 6.5 miles. The race is a benefit run to raise money and awareness for Lawrence's GaDuGi Safe Center for victims of sexual violence. The marked course includes difficult rocky, root-bound trails; smooth, flat, easy trails, scenic lake views; long stretches through old-growth forest; and two traverses of Sanders' Mound, for which the race is named.
More info at www.Lawrencetrailhawks.com, or by e-mailing Race Director Raven Rajani at ravenrajani@gmail.com.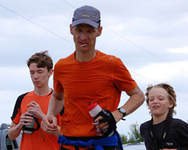 Oct 11- Kristi Mayo took some great photos at the Heartland 100 Spirit of the Prairie Ultramarathon, October 8-9. The 100 mile and 50 mile runs were held around the Cassoday, KS Flint Hills.
(left) A close-up of Lawrence's Mark Inbody.
Results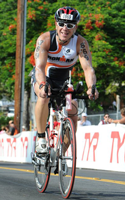 Oct 10 - Lawrence's Triathlon King - on Oct 8 Jon King completed the Ford Ironman World Championship in 12:39:27 held in Hawaii.
Comments: "Mile 7 legs feel okay, swam w 6 dolphins!"
" ...first race ever I finish below avg finish time. By a lot. It is world championship. Avg finish time 11:14 hrs. Mine was 12:39 hrs."
Oct 8 - The Kansas men's and women's cross country teams turned in another strong performance on a windy morning at the Haskell Invitational Saturday. Five of the Jayhawks' six competitors placed in the top ten of their respective races with three notching personal bests. more | slideshow
Haskell Invitational Oct 8; nearing the finish of the Oct 9 Nash Dash.

(gmw)
Oct 4 - For those who've never tried orienteering, you can get a good idea of a competition by watching Michael Eglinski's run with a headcam at Ruth Stocksdale Park (Liberty, MO) last Sat. He put together a video of his run and included the map showing where he was in relation to the video. You will need Google Earth on your computer to view the whole presentation. No sound (it would have been hard breathing of a runner anyway).
There was one special rule: you could only run on the trails in the forest. The rule made the orienteering more interesting (and it kept you out of the thick forest). If you're not running the KC Marathon on Oct 15, you can try orienteering at the Double Ogg Dare at Shawnee Mission Park.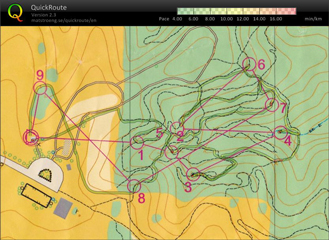 Oct 3 - Congrats to John Frydman on his St George Marathon run.
"I just got back from Utah. My legs are sore (especially quads), but very elated from the run and travel action (Las Vegas craziness mixed with beautiful landscapes). I ran my fastest Marathon (3:26:27) and my first Boston qualifier. There were some elevation rises but much of the race, and basically the entire second half, was downhill." - John
On Mass St, then by the boat ramp near 8th & Oak.

(gmw)
Oct 2 - Two for won - Yes, Tim Testa (Junction City) ran the Head for the Cure 5K at 8 am and won it, then made it to the 8:30 start for the Sandrat Trail Run on the river trails and won that 9.3 mile race, too. Figure it out; if you run 5K in 16 minutes, you have time to get to John Taylor Park in north Lawrence. Or, Scottie beamed him up.
See results from the Head for the Cure 5K and the Sandrat Trail Run.
Oct 2: En masse on Mass for the Head for the Cure 5K and later that
morning runners at the Sandrat Trail Run.

(gmw)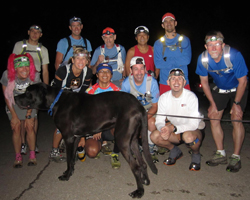 Oct 1 - Gary Henry's report on the Hawk Hundred 100-mile Trail Run on the Clinton Lake North Shore trails, Sept. 10-11.
Some of the impressions I carry with me from completing the 32-hour race in 29:49:47 –
Gathering with spouse, friends, runners, crews, volunteers pre-6 a.m. start in Shelter 4, in the dark, cool, humid morning. Crescent moon sinking in the west behind the trees. Shelter lit with low light from hanging strings of dangling electric light beads. Nervous talk and laughter. Intermittent camera flashes. Putting on the hydration pack.
Running the rocks of the white trail by headlamp with Coleen "Lil Big Hawk" Voeks and Debbie "Hot Mama Hawk" Webster in the first dark hour of the race. Feeling good. Feeling happy. No spiderwebs in my face for the first time all summer! Joking around and dancing over the toothy trail. more (photo by Chris Wristen)