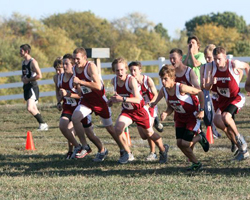 Sep 30 - The Eudora XC Invitational was held Thur. evening, Sept 29 at the Fall Leaf Farm, privately owned land north of Eudora. It was a beautiful setting, the teams had a cookout afterwards, and it it was generally a fun time.
Photo by Dick Ross.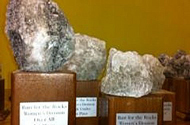 Sep 29 - Keith Meyers (Lawrence) took 19th overall and 2nd in his age group at the inaugural Salt City Run for the Rocks Half Marathon in Hutchinson this past Sunday morning with a time of 1:37:26. The trophies were a chunk of rock salt mounted on a pedestal. Results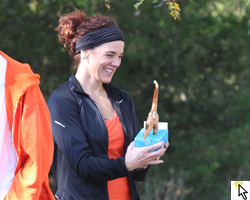 Sep 26 - Raven Rajani (Lecompton) holding the Clintie, the sea serpent, award at the 3rd Annual Shoreline Shuffle, the 5K trail race at Clinton Lake last Sunday.
See the slideshow, photos taken by Brad Trimble and Deb Johnson.
Winners were Grant Holmes and Erika Gray.

Sep 19 - Junior High Cross County Program - Dave Ramsey and the Brocaw Blazers Team in KC have recruited some former runners of his program to coach a team in Lawrence.
Practices will be held at 5:30 pm on Wednesday and Thursday at the CC course at Haskell University. Sunday practices are at 4:00 pm. For more information on the Brocaw Blazers and the meets that will run: http://www.brocawblazers.org/. People can also call Jim Beiter, 785-766-2098 or Dave Ramsey, 816-365-7938.
Sep 18 - National Orienteering Day was held around the country today and Orienteer Kansas hosted their event at the Robinson Gym fields. more photos
Sep 16 - Thanks to Vanessa Heit for sharing this YouTube video for the locals about the Howard Family Challenge. Can an office-working southerner beat his dad in the English sport of fell running? The video was part of the Kendal Mountain Film Festival short film selection 2005.
Sep 13 - Trail Hawks host Lawrence's first-ever hundred-mile trail race -
Seven finishers of 11 starters completed Lawrence's first-ever 100-mile ultra-marathon, the grueling Hawk Hundred Trail Run, Saturday and Sunday on the North Shore trails at Clinton Lake.
Lawrence native Norman Decelles, 27, won the race in 23 hours, 15 minutes and 30 seconds. The women's winner, Coleen Voeks, Kansas City, Kan., completed the rocky, root-bound course in 29:23:06.
Runners had 32 hours to finish the race, starting Saturday, 6 a.m.
The race was run "old school" with minimal support for the runners, and so was open only to experienced 100-milers. It consisted of four 23-mile laps on the North Shore trails, with an eight-mile out-and-back at the end.
The Lawrence Trail Hawks, Lawrence's original trail-running and ultra-marathon club, hosted the event.
Results: 1. Norman Decelles, 27, Lawrence, 23:15:30; 2. Elden Galano, 53, Wichita, 28:36:00; 3. Robert Murphy, 53, LaVista, Neb., 29:19:41; 4. Coleen Voeks, 38, Kansas City, Kan., 29:23:06; 5. Gary Henry, 55, Lawrence, 29:49:47; 6. Kevin Guest, 42, Rea, Mo., 30:28:02; 7. Debbie Webster, 51, Gardner, 31:36:11
See photos by Chris Wristen.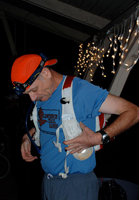 Sep 10 - Here's Gary Henry getting ready for today's Hawk Hundred (Old School) at Clinton State Park which began at 9 am.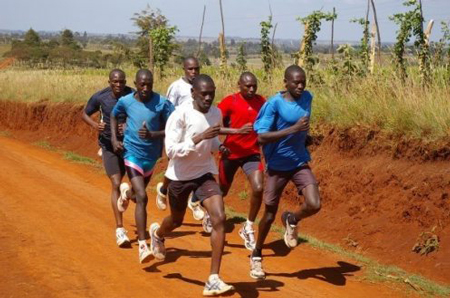 Sep 7 - Read Kiplimo
Chemirmir's Its not easy to be a Kenyan runner. Thanks to Mark with the Lawrence Trail Hawks for sharing the story.
From today's Lawrence Journal-World: Lawrence has received a number of designations: "Best Small Art Town," "Bicycle Friendly Community," "Tree City USA" and "Best College Town." Now, it can add "Runner Friendly Community" to its list. It recently received the recognition from the oldest and largest distance running organization in the nation, Road Runners Club of America. more & comments
Sept 3: The women's 5K at the Bob Timmons Classic leaving the Oak Holler covered bridge at Rim Rock Farm, Sep 3

; Kat

hleen Johnson & Henry Bergin passing the gate into Leawood Park at the Labor Day Run

(gmw)

;
Sep 3 - Scenes from the North Shore Trail Run at Clinton Lake hosted by the Trail Nerds. (Dick Ross photos)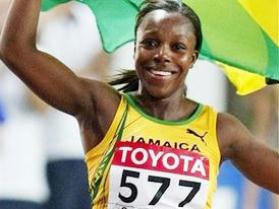 Another former KU Relays performer wins gold at the world champs. Veronica Brown-Campbell (Jamaica) out-dueled Carmelita Jeter and Allyson Felix for gold in the women's 200m final. VBC ran for Barton County Community College around 2005. You can catch videos of all the event finals at Flotrack.
Sep 2 - A great day for U.S. track at the World Champs in Daegu, South Korea. During a 32-minute span, LaShinda Demus set an American Record in the women's 400m hurdles, Jesse Williams ended a 20-year drought by Team USA in the high jump by winning gold, and Jenny Simpson won the first American gold medal in the women's 1,500m since 1983. more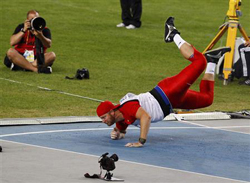 Scott Russell of Canada (& KU alumnus) falls as he competes during the men's javelin throw qualifying event at the IAAF World Championships Sept 1, 2011. REUTERS/David Gray
Sep 1 - The KU cross-country team has a home meet this Sat, with the first race starting at 9:00 am. The meet is at Rim Rock Farm, the course created by Bob Timmons. It's a challenging course for the runners but laid out in a way that is very friendly for spectators. The 1998 NCAA championship meet was held there and many of us remember an exciting race won by Adam Goucher over Abdi Abdirahman.
If you're considering the Dr. Bob Run 5K on Sept. 17, this would also give you a chance to preview the course. Map to Rim Rock - Dick Lipsey