Apr 30 - Lawrence Memorial Hospital is starting a new sports performance program. Here's a blog about reducing the risk of running injuries.

RUNNERS….looking to improve your efficiency, increase your mileage, and stay on the road (i.e. keep injuries at bay)? As runners, we love to run, and we crave those natural endorphins provided by each outing. We can get our "runner's high" by running anywhere from 2 to 50+ miles. We each know how our own body responds to training from the inside-out. We carefully plan our courses and mileage to perfect our training for the ultimate performance at our upcoming 5k, 10k, ½ marathon, marathon, and even ultras. But sometimes a training program can lack a crucial piece of the puzzle for improving running efficiency, endurance, and injury prevention.
What is this crucial piece of training that some runners miss? - HIP STABILITY more

Apr 26 - Nikki King, Health Care Access executive director, reported today in the LJW that the Kansas Half Marathon raised a record $63,000 Sunday, which had nearly 2,400 participants. The amount of money raised was 133 percent more than last year's event and will help provide medical care for low-income, uninsured residents of Douglas County.

Apr 25 - How to Recover After a Half Marathon (from Active.com by Trisha Reeves) . . .It's great to be prepared, but what you do after your race is just as important as what you've done before. Good race recovery is essential to bouncing back quickly after the substantial effort of a half marathon. And being able to bounce back is great for your morale. more

Erika Gray wrote a nice summary of the Kansas Half Marathon in the LJW WellCommons weblog: Cloudy skies with intermittent sun and a chilly wind greeted runners Sunday morning for the Kansas Half Marathon & 5k in downtown Lawrence. Approximately 2,000 runners braved the cooler temperatures and KU campus hills to benefit the Health Care Access Clinic. more

Apr 24 - More photos from Sunday's Kansas Half Marathon. It's Tuesday evening and are you wondering if there's going to be a report or stories in the Journal-World or the event website? Probably needing time to sort out results and figure out much the race benefited Health Care Access and the community. Looked like a great, maybe greatest, crowd for the event; would be nice to know the totals. Results and some photos are out. Action ImagesPhotographic should have their offerings soon. Windy, but near perfect temperatures. Former KU runner, Paul Hefferon (Overland Park) was the overall male winner in 1:12:56.7 and Megan Earney (Olathe) was tops among the women in 1:26:17.2.

Not a bad route considering it was redesigned when road construction closed the portion to the Haskell campus. Everyone ran through nice neighborhoods, some streets were cobbled (older runners didn't care for the historic feel), up and down West Campus twice but sort of broke the course into thirds with a mostly downhill finish. The out-and-back stretch along Clinton Parkway was crowded and could be improved. Everyone at the finish was having a good time - a post-run party with plenty of food by Hy-Vee.

Apr 23 - from ESPN Olympic Sports, Game Changers: Julie Foudy talks with Desiree Davila about the Olympic marathoner's road to the London Games and sudden rise to prominence. more

Apr 22 - The results from today's Kansas Half Marathon and 5K are now available.
| half marathon | 5K |

Apr 18- Scenes from the KU Relays downtown shot put competition:

Apr 16 - Patriots Day results: Congratulations to all the local runners who completed the hot and sunny Boston Marathon today. full results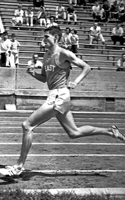 Apr 14 - Former Olympian, Congressman, and Kansas track and field legend, Jim Ryun, will be speaking and signing autographs at Garry Gribble's Running Sports at 839 Massachusetts St. in Lawrence on Thursday, April 19th from 6 pm to 7:30 pm. (gmw photo from May 15, 1965 - Ryun's 3:58.3 on the WSU track at the state high school meet)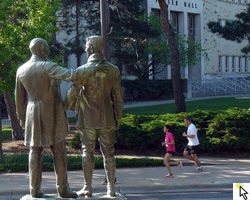 2 runners going by the Uncle Jimmy Green statue at the Race Ipsa 5K on April 14th

(gmw)
Apr 7 - Registration for the 2012 Sunflower State Games Governor's Cup (July 13) & Cross Country Race (July 28) is now open.

Apr 6 - Kathy Martin (Long Island NY), 60, is going after a new set of running records for her age bracket. She is breaking them one by one. (New York Times video, Apr 1, 2012)
Mar 31:(left) Leane Wistuba (DeSoto KS) was the female winner 5K at the Dam Run 5K

(gmw

); Apr 1: (right) Dick Lipsey starts his solo Brew to Brew Run

KCRun photo)

more photos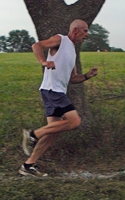 Apr 1 - Dan Kuhlman celebrated his birthday last Monday by running from his home in Lecompton to Eudora (29 miles),taught school, then ran home after school - another 29 miles.58 miles for his 58 years. A birthday treat for any ultrarunner. Dan says he's not planning to do 60 when 60.