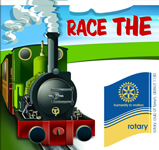 Dec 30 - Got a wish list for 2013? Keith Dowell and Brenda Harrington are thinking of Racing the Train in the UK (Tywyn, Mid Wales ) in August. See the video.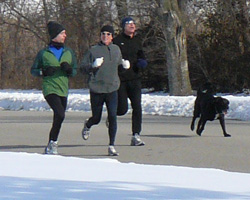 Dec 27 - Various club members and groups are holding runs to start the new year. One tradition since 2006 which Jon King has continued is the 13 mile run from Haskell. On Sun, Dec 30 (close enough to new year's eve) meet on the north side of the stadium between 7:15 - 7:30 am. It's a group run; a social with a visit to the Burger Stand afterwards. The course is mostly the old Lawrence Half Marathon route. Several pace groups and shorter routes as well. May see some Dog Days people, too. Anyone is invited. Faith Ross will have a waiver for you to sign. If you plan on attending, please let Jon know (helps with stocking the aid stations, jonking@sunflower.com. The photo is from the December 2007 run with Scott McVey, Jack Hope, John Frydman and Timmy.
Dec 22 - Congratulations to Ellen Young on becoming the latest RRCA certified coach. Ellen, the former runLawrence club president, was certified earlier this month. Other Lawrence, KS, RRCA coaches include Ann Andersson, Gary Henry and Ben Holmes. Besides Gary, the Lawrence Trail Hawks also has Coleen Voeks (Kansas CIty, KS).
When people think of a running coach they may think elite athletes, but today coaching services are not just for elite athletes. In fact, most RRCA certified running coaches do not coach elite athletes, but they do work directly with recreational athletes looking to improve their time, increase their race distance or to get back into running after a break or after recovering from an injury and some are just looking for extra motivation to keep them on track. Whatever it is that you are looking for, there's a coach out there for you.
Dec 13 - They really dressed up for this year's Red Dog's Jingle Jog -
a short fun run in downtown Lawrence

(Bobbi Lynn Riley photos)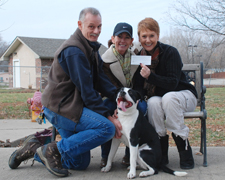 Dec 11 - Lawrence Trail Hawks Sherrie Klover (center) and Gary Henry (left) present a check Saturday for $1,830 to Lawrence Humane Society Executive Director Dori Villalon at the shelter's headquarters. The Trail Hawks raised the money for the donation via the club's fourth annual Sanders' Saunter 10K Trail Run, held at Clinton Lake, Nov 17. Also shown is B.W., one of the shelter's dogs awaiting adoption. B.W. ran in the race, and finished second dog. (Chris Wristen photo)
Dec 10 - Thur, Dec 13 is the 10th year for Red Dog's Jingle Jog. "We will meet behind Kizer Cummings at 6 pm for a group picture prior to our run/walk. Decorate yourself with battery powered Christmas lights and bells and join us for a fun time downtown. We will run down Mass to 6th then 11th and back to Kizer Cummings. Ellen Young will be providing us with cookies after our run. Please be sure to thank her for all the work she does baking cookies. Once everyone has enjoyed cookies we will then head down to the Dynamite for a time of mingling.
"Remember this is a family event so bring the kids and decorate the strollers. Walkers are more than welcome.
"The Christmas tree at the Dynamite could use some more ornaments so if you would like to bring something for the tree please do. The tree is decorated in the Dog Days theme.
"This year the charity that we will be collecting for is the Boys and Girls Club and Just Food. If you would like to bring a canned good for the food pantry this would be great. Kizer Cummings will make a cash donation for each can of food donated. Also if anyone would like to bring old blankets or towels for the Humane Society we will deliver those to the dogs & cats that are in need." - Don & Bev Gardner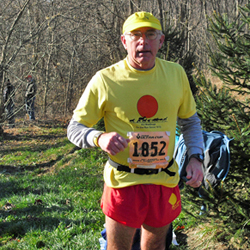 Dec 3 - Dick Lipsey's JFK 50-mile run on Nov 17, from Boonsboro to Williamsport, Maryland.
"This has been my goal race since I got a cardiac pacemaker three years ago, and actually since the 50-mile runs started when I was in high school. Finally got to it.
"It was a hard race with the first 15 miles on a very rocky course on the Appalachian Trail, much of it in the dark since I was in the 5:00 a.m. early start and was still on the road after sundown that evening.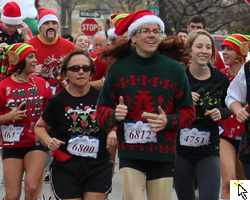 "I was in pretty good shape until the last 5 miles. I had more than two hours left (to meet the time limit) with 5 miles to go so walked in rather than risk not finishing. The pounding on the Appalachian Trail the first 15 miles took a toll, and I had a sore arch and swollen foot that I couldn't run very well on by the last stretch on the road."
Dec 2 - (left ) The Ugly Sweater fun run on Sat, Dec 1st meandered through Old West Lawrence and drew 3000 people.

Dec 1 - A reminder that 2012 runLawrence memberships expire Dec 31st. Please continue to support the running club and the local news provided by this web page. Here's the application.

There good news from Garry Gribble's Running Sports that beginning this Dec 1st, our members will now receive a 20% discount off regular retail price shoes, clothing, accessories, and food! No exclusions!

"We appreciate your business and hope to continue serving you in the future.
Have a safe and happy holiday season!" - Lauren Daley