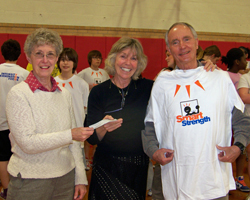 Feb 24 - Janet and John Huchingson presented a check to Michel Loomis, organizer of the Smart Strength program at Liberty Memorial Central Middle School - a fitness and nutrition after school program. RunLawrence donated $300 from the proceeds of the Thanksgiving Day 5K. The presentation was in the same gym where Janet had phys ed in high school. Her parents also graduated from the school in 1937 & 1938.
Feb 20 - Because of numerous street repairs around Lawrence, the Apr 22 Kansas Half Marathon course has been rerouted and will start from 9th & New Hampshire. A 5K course will be offer, but the 10K has been canceled. Both the half marathon and 5K courses will be certified. more entry info
Feb 13 - Here are a few photos from Sat's Psycho Wyco Run Toto Run Trail races. Alex Beecher (Lawrence) was 16th overall in the 50K in a time of 5:10:39; Andrea Greenhoot (Lawrence) did the 10 Mile in 1:46:19. Scott McVey (Lawrence), running his first trail race, took 3rd overall over the hilly 10 mile in 1:17:48.
More photos at SeeKCRun.
Eric Buckley, St Louis ultrarunning, cycling, adventure and orienteering racer, wrote a nice report on his race in finally breaking the 5 hour barrier.
Feb 10 - Diamond Dixon is KU's latest Big 12 champ and All American having won the 400m race last summer in Oklahoma City and 3rd at the NCAA Championships in Des Moines. In this video she talks about her journey to and through KU.
Feb 9 - Here are the Empire State Building Run Up results, with Chrissie Wellington placing 3rd overall female in her first climb ever (Chrissie is listed as being from New York, NY). - Keith Dowell
Here's the YouTube video of this year's race. Melissa Moon of Wellington, New Zealand, and Thomas Dold of Stuttgart, Germany took top honors on Wed. He won the race for a record 7th straight time, and she won it two years ago.
Feb 7 - The KU Running Club met on Jan 17 and elected officers for the spring semester: Garrett Jones, President; Alex Cushing, Vice President; Bridget Hogg, Treasurer; Nikki Koppers, Secretary. They also discussed their meeting times for this semester, Monday and Wednesday @ 7:30am, Tuesday and Thursday @ 5:30pm (meeting at the Ambler Student Recreation Fitness Center). For more info, contact Garrett, runku@ku.edu.
Entry information is now available for all 2012 Sunflower State games events including the Governors Cup 5K and 10K, track & field fevents, cross country, and adventure racing. link
Feb 6 - From Brad Zeigler (KC Running Company), "Yes, the courses for the Kansas Half Marathon, 10K and 5K will be impacted, because the 23rd Street bridge is being torn down, but the courses will be certified. Just not sure where they will be quite yet!"
Feb 5 - A new review article published this month in the journal Sports Medicine suggests that for sore muscles, ice is not always the panacea that most of us believe it to be and that, in some instances, it can be counterproductive.
more (Gretchen Reynolds, Jan 4, 2012, NY Times)