Jan 29 - Happy Kansas Day! Results are posted from this morning's Groundhog Run in Kansas City.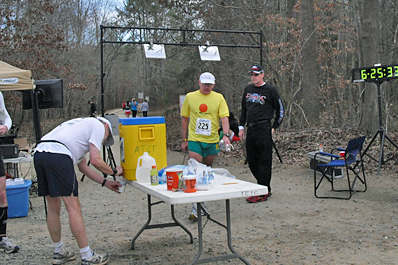 Earlier this month Dick Lipsey, the Mad Dogs guru, went to North Carolina Jan 7th for the Salem Lakeshore Frosty 50K after he did the Dec 3rd Baton Rouge Beach Marathon.
"I came through the marathon point about 10 minutes ahead of my time at Baton Rouge, and slowed quite a bit after that but made it OK. I was only 104th
of 114 ... but there were 149 starters. But it's mentally tough to be that far in the back." Next run: soloing Brew-to-Brew.
Jan 16 - Keep Pace with RRCA members and supporters by enjoying videos posted at the RRCA's YouTube account. Here's a recap of the 2012 Women's Olympic Trials Marathon.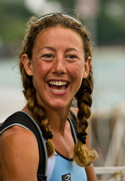 Jan 16 - It's been a treat for Lawrencians to see Chrissie Wellington compete the last three years at the Kansas Half Ironman. However, she has announced she'll be taking a break from competing in Ironmans during 2012 to explore other opportunities, including the forthcoming publication of her autobiography, A Life Without Limits. more

Jan 14 - Not just in the state, but the nation - Baldwin High's Ted Zuzzio was named the national coach of the year this week. His girls teams have been state champs the past two years.
20 coaches from across the country have been selected 2011 National Coaches of the Year by the National Federation of State High School Associations Coaches Association. The NFHS, which has been recognizing coaches through an awards program since 1982, honors coaches in the top 10 girls sports and top 10 boys sports (by participation numbers), and in one "other" category that is not included in these 20 categories. Winners of NFHS awards must be active coaches during the year in which they receive their award. This year's awards recognize coaches for the 2010-11 school year. (Jimmy Gillispie photo)
Jan 12 - Outstanding area coaches - At the KCCTFCA Winter Coaching Clinic held Jan 6-7 in Junction City, Christi Douglas of Bishop Seabury (1A Girls XC) and Tim Savage of Wellsville (3A Boys XC) were recognized as cross country coaches of the year. For the same school year, Baldwin's Ted Zuzzio (4A Girls) was named one of the track & field coaches of the year.
| complete XC list | complete track list |

Jan 10 - It's official, there's a KU Running Club again. Garrett Jones, Lecompton architectural engineering student is the president with William Skorupski as the faculty advisor. Just registered this week, the first meeting is Tue, Jan 17, 5 pm at the McCook Room, Burge Union. The Running Club will be a Great Plains member of the National Intercollegiate Running Club Association (NIRCA) and compete with other college clubs and teams. For more info, contact Garrett, runku@ku.edu.
Jan 8 - For Saturday's Jan 14 Olympic marathon US team trials, here are the 12 favorites to watch, according to Mario Fraioli, running.competitor.com.
Galen Rupp, the U.S. record-holder in the 10,000 meters, said Saturday he was withdrawing from the U.S. Olympic Marathon Trials. more
Jan 7 - Sunny and temperatures in the 30s and 40s. What a great day to run. Lots of people on the trails at Clinton as well as bike paths and streets around Lawrence.
Jan 6 - The movie "Girl with the Dragon Tattoo" opened Dec 27 presents a dark and sinister side of Sweden. A more pleasant Swedish experience in the dark is the Tiomila - one of the most popular Nordic orienteering races. It draws 8,000 runners each year. North American orienteers more often experience the loneliness of the distance runner. It's another experience competing with thousands, keeping your cool as you press to do your best for your relay team, still stick to the basic skill of reading your map, running without getting lost. . . and do it in the dark.
Here's a video from the 2008 Tiomila with good English explanations of the event and sport.


Notes:
a runner runs a course and has to punch in (with the tiny dipstick, the "chip" system) at required points (those orange & white markers).
finishing your relay leg, you come into an exchange area, find your team mate's map and hand it to them before they go out.
note how fast the good runners read on the run in the dark.
Jan 5 - "It's that time again -- Olympic year. The Olympic marathon US team trials are set for January 14th in Houston: http://www.houston2012.com/
The men's race starts at 8 am and the women's race 15 minutes later on the same course.
The good news is that the course is spectator-friendly with a 2.2-mile out-and-back followed by three 8-mile loops. The bad news is that the only way to see it live is to go to Houston.
Unfortunately, it appears that the trials won't be televised live and won't even be streamed live over the Internet. NBC has broadcast rights and will withhold coverage until a delayed TV broadcast later that day (3-5 pm eastern time).
I suppose NBC assumes that the afternoon broadcast will draw a wider audience than a live morning show, but it's unfortunate that USATF and the US Olympic Committee permitted this. They should be promoting the sport, and a delayed broadcast is unlikely to appeal to serious fans who already know the outcome.
(For that matter, a marathon in Texas in January could well have been scheduled for a noon start for TV purposes.)" - Dick Lipsey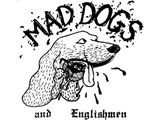 Jan 4 - Congratulations to the Mad Dogs - 2012 marks their 40th year as a more or less organized group, having begun sometime in 1973, when a few guys started running occasionally at noon. According to Dick Lipsey, it was all guys initially, but the first woman joined them within a year. The main competitive events the first few years were inter-university competitions by mail, at distances from 440 yards to 10 miles. Link to their web page.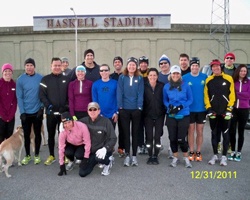 The New Year's Eve half marathon group

(Jon King photo).

Jan 2 - Happy New Year's Monday and enjoy the holiday break for those who get the day off. Hope you've already got your first run in to start the new year.
A very big thank you to everyone who renewed their membership to runLawrence; the response for the start of 2012 has been the best ever. We will continue to provide reporting and news links in support of your running goals. Share your stories and personal successes with us by E-mailing runLawrence or posting on Facebook.