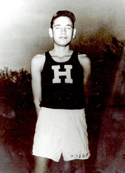 July 30 - Q & A with Billy Mills; Remembering Haskell Institute, Olympic Race and the Future.
Mills grew up on the Pine Ridge Indian Reservation for the Oglala Lakota Tribe in Pine Ridge, S.D. Growing up Mills participated in boxing and running but did not hone his skills on the track until he came to Lawrence, Kan., and Haskell Institute. Following his time at Haskell, the South Dakota native went onto star at the University of Kansas, where he was a three-time All-American and a Big 8 champion. Aside from his collegiate prowess, Mills did exceptionally well on the international stage, winning gold in the 10,000 meters during the 1964 Olympics in Tokyo, where he became only the second Native American to capture gold. more (from NDNSports.com, thanks to Rhonda LeValdo's Tweet)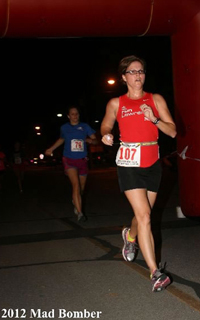 July 23 - The Charley Melvin Mad Bomber Run For Your Life is a unique 5K run/3K walk that draws hundreds of runners and walkers from throughout the Midwest to Iola, Kansas each July. It commemorates the 1905 dynamite bombing of three saloons just after midnight by a local prohibitionist, Charley Melvin.
Thought I would share this photo of me at the Charley Melvin Mad Bomber 5K. Brian and I both ran. It was a blast! (pun intended!) Great race, great course, great organization and
fun!! - LaRisa Lochner
(more photos, photo by SeeKCRun)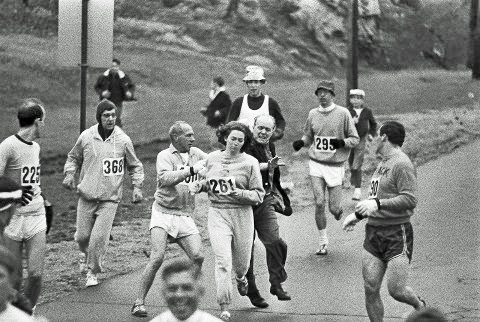 July 22 - Remember the dark ages of running? Boston Marathon race director Jock Semple tried to pull Kathy Switzer from the race that didn't allow women. That was 1967. In about every road race these days, the majority who enter are women.
July 20 - The London Olympics will be Lolo Jones's second trip to the Olympics in the 100-meter hurdles. Take a look at how she does it. read more
This is a nice interactive article on the art of hurdling by Joe Ward and Xaquin G.V, New York Times.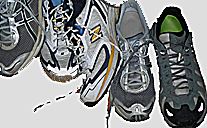 July 18 - Running in old or worn out shoes can lead to an increase in running injuries. Over time running shoes lose stability and shock absorption capacity. When this happens the stress to the feet and legs increases dramatically. Over time such added stress can lead to an overuse injury. A simple prevention strategy includes replacing running shoes when they wear out. read more
(by Elizabeth Quinn, About.com Sports Medicine, May, 2011)
July 17 - Rhonda LeValdo's first triathlon (from Wellbound Storytellers) - I finally finished my first triathlon! As I think about this event, all I can remember was how much of a mental game it really is. I had company as my good friend Marei Spaola came with me for support and to take video/pictures. We left our homes early and arrived in the darkness of the morning. read more

July 16 - A Runner's Belief:God Is His Coach - Ryan Hall rocked slightly, palms up, closing his eyes or singing softly to lyrics projected on giant screens at the evangelical Bethel Church. Other worshipers jubilantly raised their arms and swayed and jumped in the aisles... Thin and blond and boyish at 29 — flight attendants still asked his age when he sat in an exit row — Hall wore jeans and a blue shirt labeled with the shoe company that sponsored his running. At the 2011 Boston Marathon, he ran a personal best of 2 hours 4 minutes 58 seconds. No other American has run faster. read more (from the New York Times, July 14, 2012, by Jere Longman)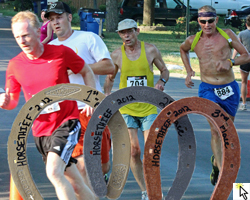 July 15 - Tough close races at the Eudora Horsethief Run on Sat, July 14. Dan Kuhlman (Lecompton) finished 7th overall but that was only good enough for 3rd palce in the masters men's race. 1st place male was Phil Hudnall (Lenexa) and top female was Katie Messer (Olathe). (left) Greg Hartman (884) is shown passing Jeff Behrens (704) on the last turn to take 3rd in the M60-64 category.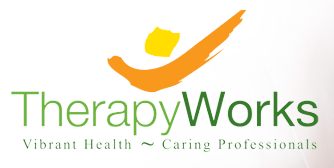 July 14 - TherapyWorks offered a free runner's clinic this morning. The clinic offered a running gait analysis, screens for those who feel that they might benefit from physical therapy treatment, chair massages and acceleration trials.
rL member, Brett Young, attended.
"It was interesting, of course I find everything interesting because I know so little about running. Here's what I liked though.
1. They videotaped us running on a treadmill for a minute from the back view and then from the side view. Then, they had a PT watch it with us and critique our form.
2. There was a person, James Findley who does advanced training and showed us what he does with clients to improve their speed and efficiency. He owns a franchise, I believe it is called "Acceleration". One of his clients is a runLawrence member (who has 175 medals). He does some of the same techniques in teaching proper form to improve mechanics.
3. I got to listen to Dr. Gaston and another PT, who has had plantar fasciitis, provide their perspectives. (I got back from Florida yesterday where I did three brief runs on sandy soil. Those were my first runs since January when I stopped due to PF symptoms.) Gaston was strong on orthonics and so was the physical therapist."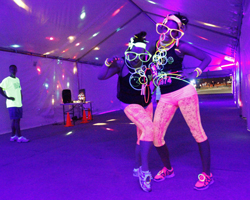 July 14 - (right) The evening Glow Run in Kansas City featured runners decked out in all sorts of illumination. Glow sticks were handed out with the competitor numbers. (photo by Action Sports Images). Results
July 3 - On June 30, I ran the Leadville Marathon in Leadville, Colorado. This course offered wind, sun, rain and snow along with 6,300 feet of elevation gain. It was one of the toughest races I've done, and quite a bit slower than a normal marathon, but I highly recommend as the town of Leadville and all race volunteers were incredibly supportive. Thought I'd share some photos. I found one other local runner (Jon
Sloan) in the results. - Erika Gray | more results |

Place Name Time
400 Erika Gray (#58) 7:09:20.32
501 Jon Sloan (#191) 8:27:17.57
(below) Start of the marathon; views going up and down the pass; and the race course profile. (Erika Gray photos)

July 1 - (left) All the McVeys - Scott, Billy and Molly, raced at the Mass Street Mile on July 1st; (right) Carl Specking (Lawrence) takes the lead after the start (gmw)