June 30 - Rock the Night Away Trail Runs were held June 29 at the Branded B Ranch, Meriden, KS and hosted by the KC Trail Nerds. In the photos (starting top left) - Gracie and Leslie Gallager (Holton KS) finish with their German Shepherd; Jaynell Nxion (Kansas City MO) also at the finish; Judith Larson at the aid station. results | more photos (all photos from SeeKCRun)
June 25 - KU sophomore Diamond Dixon ran to a fifth-place finish in the final of the 400 meters Sunday at the U.S. Olympic Team Trials at Historic Hayward Field. Dixon rounded the track in a lifetime-best and school-record time of 50.88, with her finish placing her on the 4x400-meter relay team to compete at the London Olympics.more

Stay tuned for more KU athletes still trying to qualify for the Olympics. Tonight, Andrea Geubelle in the triple jump. Keep an eye on K-State's Erik Kynard in the high jump final tonight as well. Five of the 13 finalists have a KSU connection. The KSU coach, Cliff Rovelto, had also coached the Lawrence Track Club in the past. more
June 23 - Didn't get the reminder from Dick Lipsey in time for yesterday, but here's the TV coverage for the Olympic Trials in track and field in Eugene, OR.
KU sophomore Diamond Dixon stormed down the home stretch of her 400-meter qualifying heat Friday afternoon to advance to the next round at the team trials at historic Hayward Field. Her finish earns her a spot in the semifinals, which will take place Saturday at 7:15 p.m. (CT). more
| | | |
| --- | --- | --- |
| Sat., June 23 | 7-8 p.m. CDT | NBC |
| Sun., June 24 | 6-7 p.m. CDT | NBC |
| Mon., June 25 | 8-10 p.m. CDT | NBCSN |
| Thurs., June 28 | 8-10 p.m. CDT | NBCSN |
| Fri., June 29 | 5-6 p.m. CDT | NBCSN |
| Sat., June 30 | 8-10 p.m. CDT | NBC |
| Sun., July 1 | 6-7 p.m. CDT | NBC |
June 21 - Training youth for an Ironkids Triathlon is a great way to spend time with young ones. Whether they are your own kids or not, it is amazing to see children grow learning new things. This year my own children, Winona, 10 and Hepanna,
7, signed up for the [June 16] Ironkids Triathlon in Lawrence. read more (by Rhonda LeValdo, from Wellbound Storytellers)
Hepanna's race:
Winona's race:
June 17 - Is Marathon Running Bad for the Heart? - When word circulates that a runner has died of a heart attack, as the inexhaustible ultramarathoner Micah True did last month during a solo wilderness trail run, many people begin to wonder about the healthiness of prolonged strenuous activity. Could marathon training and racing perhaps have damaged the heart muscle of the 58-year-old Mr. True, a lead character in the book "Born to Run"? And, conversely, shouldn't marathon training have made him — and, by extension, all runners — immune to heart disease?
read more
(by Gretchen Reynolds, New York Times, May 23, 2012)
June 4 - Former runLawrence president, Becky McClure, offered bicycling tips for the summer in today's Lawrence Journal World go! magazine.
"The days are getting longer, and it is the time of the year when people spend more time outside. Recreational and commuter bikers alike start to increase mileage enjoying the fresh air filling their lungs and the sun shining on their face. It is also when riders tend to ride too much too soon. Most cycling injuries are due to overuse, rather than traumatic.
"It is no fun to be sidelined by an injury especially when it can be prevented." more
June 2 - When Columbia-based Ultramax Sports did the Hospital Hill Half Marathon results today 28 Lawrence runners were listed as coming from "Lawrence, MO." See results. Unintended careless error? Except for that error, the results, otherwise, were produced quickly and appear to be accurate. Corrections were made two days later.
In any case, a huge crowd in ideal weather (55F at the start for a June race). Here are the award winners from the Lawrence area: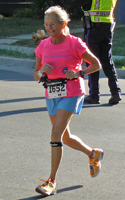 June 1 - Ellen Young is the latest Garry Gribble's Runing Sports featured runner on the store's web page. Ellen was the runLawrence president for several years. read more