Mar 27 - I just wanted to let everyone know about a 5K happening in Leawood on Sat, May 12th. It is a run to benefit the Williams Syndrome Association. The link for more info and to register is: http://www.williams-syndrome.org/kansas-city-5k-run-walk-williams.
Take some time to look at the organization and what they do. My younger brother was diagnosed with Williams Syndrome when he was 9 months old and at the time many of the doctors we talked to had knew nothing about the disorder. Awareness and research has come a long way since then, but it is a long road and a good cause to run for. - Robert Brigman, runLawrence member

Mar 26 - Going to New Orleans? My name is Justin Gilberti and I am a race director for the New Orleans Track Club. Congrats on the successful regular season for the Kansas basketball team! The City of New Orleans is excited to have the great fans of Kansas take over the city this upcoming weekend.
We will have our annual Great St. Charles Avenue Road Race on March 31 at 8 am. This beautiful half mile, 5K and 10K race will go down historic St. Charles Ave. and through prestigious Audubon Park. We will also have food, beer, and deserts for all participants.
The New Orleans Track Club will also give a $5 discount to Kansas fans wearing their school colors. Thanks for your time, and best of luck in the Final Four.
Race entry form.
Mar 22 - 7 Mistakes to Avoid on Your Long Runs - The long run is truly the bread and butter of an endurance running program. It teaches your body how to spend time on its feet, how to utilize fat as a primary fuel source and is a dress rehearsal for the big dance. The secret in perfecting your long runs is to keep it simple and avoid making these common training mistakes. more (from Active.com, fall 2011)
---
Mar 20 - Rainy week before spring and Lawrence had 2 inches of snow for one day all winter. The winter alternative for those with more snow is cross country skiing. Here's a short clip from the World Ski Orienteering Champs in Boden, Sweden. It's the prep day waxing and trying the test course to get a look at the various trail conditions. Miss the nice days when it's white. Now, out in the rain for a morning run.
Mar 19 - "I saw this in the LJWorld Online. TherapyWorks will be hosting a free workshop about foot care at 7 pm, Mar 27 at 1311 Wakarusa Drive, Suite 1000.
"Speakers will be Dr. Larry Gaston, a local podiatrist, and Cindy Johnson, physical therapist and owner of TherapyWorks. They will talk about options in foot care, orthotics and how to get ready for the walking-and-running season. For more information, call TherapyWorks at 749-1300.
"It caught my eye because I haven't run since Jan. 14th (not that I'm keeping track) due to plantar fasciitis. I'll spare the details, but offer this advice. If your heels feel bruised, seek treatment early; don't wait five months and hope that it will eventually go away on it's own.

"Here's to hoping no one needs this." - Brett Young
---
Registration for the 2012 Sunflower State Games is now open! - The 2012 Games will take place July 13-29 in Topeka, KS. The 23rd Annual event will feature a record 48 different sports for all ages and skill levels. New events this summer include Cheerleading and Girls Fast-Pitch Softball. Click here to register
---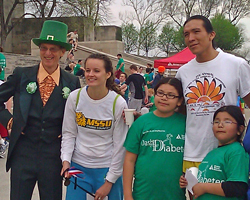 Mar 18 - BJ the DJ Taylor decked out in green with the winners from the Dash for Diabetes 5K at the KC Liberty Memorial Park on St Patrick's Day: Olga Garcia (Kansas City MO) and Denny Gayton (Lawrence KS) with Winona and Hepanna (Rhonda LeValdo-Gayton photo). results
---
Mar 17 - The Kansas State Road Running Records have been updated including results from 2011. Since December Jack Crook of Mulvane, KS has been reviewing results and adding the new names to the state honor rolls and state records. The work is now completed. Now with three years of records on-line, be sure you have the correct link: http://www.runlawrence.org/staterecords.html.

Jack, who is 83 this year (this edition of the state records is his 23rd), is looking to have someone take over the state records work; more details on his synopsis page. If you want to help, his email is: m-crook@att.com.
If you have photos of any of the state's best runners which should be included in the photo gallery, please submit them to Gene Wee, the records and honor roll web page editor.
---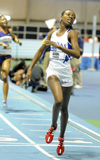 Mar 11 - NAMPA, Idaho - Diamond Dixon and Andrea Geubelle claimed NCAA titles as the two led the University of Kansas women to a 2nd place finish at the NCAA Indoor Track and Field Championships Saturday night. The finish is the highest-ever at a NCAA meet for a Jayhawk women's team in the program's history. more
---
Mar 10 - Check the results from this morning's Shamrock Shuffle. more photos
---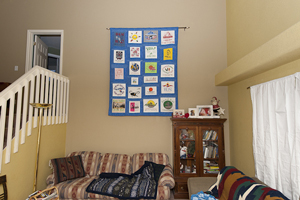 Mar 9 - I just wanted to say thanks for you guys donating the quilt for the post race drawing (from the 2011 Thanksgiving Day 5K). My wife won it and has been in love with it ever since. Just wanted to show you guys where it is proudly displayed...
our living room. Thanks again! - Dejan Smaic, Longmont CO
---
Mar 7 - It is not uncommon for even the most competitive runners to slow down, fight injuries and gain weight as they age. Many, like 50 year old Kevin Miller, have to give up running completely... What is uncommon about Kevin's return to running is how well he has competed – on the track, on the road and on the cross country course – among some of the fastest runners in the country. more
(from KCRunningCo)
---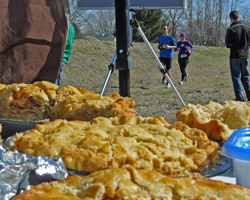 Mar 4 - (right) Pies were offered at the end of the Pi Day River Rotation Trail Run on 3/4 - that looked close enough to 3.14 to Gary Henry and got him a weekend day to host the second year of this event on the Lawrence river trails.
---
Below is the promotional video for the Oklahoma City Marathon on Apr 29th.