May 29 - Native Americans work to escape the clutches of a diabetes epidemic:
As young girls raised on Native American reservations, Rhonda LeValdo and Teresa Trumbly Lamsam grew up with at least two certainties.
One, they were born into cultures rich in storytelling.
Two — which they now hope to help change using the first — Native Americans suffer and often die of diabetes. read more | photos (by Eric Adler, Kansas City Star, May 28)
---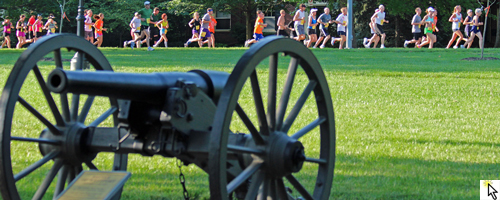 The Amy Thompson Run has always been held on Memorial Day. The 8K and 5K not only is a benefit for the Brain Injury Association of Kansas and Greater Kansas City but also a chance to come together to remember those who served our country. A Loose Park monument is the cannon that commemorates the Battle of Westport. Click for more photos. Results
---
May 27 - Nice video report from the state high school track meet in Wichita. The video highlights runners from the Wichita area. Congrats to the Baldwin boys and girls teams taking second in Class 4A and the Lawrence Free State girls team finishing second. (from CatchitKansas.com)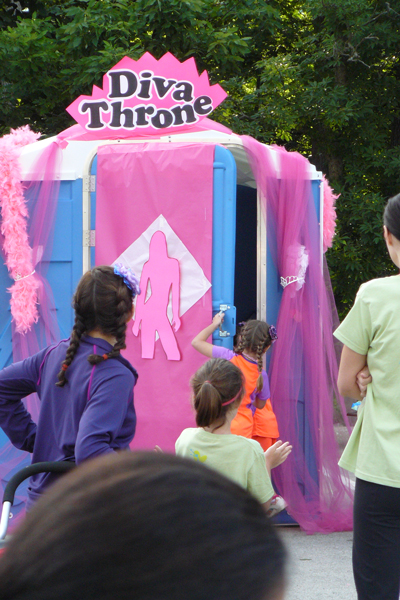 May 26 -While the porta-potties for divas were free at the Mothers Day Run at Corporate Woods, you'll get better bargains at the June 4th Diva Night at the Garry Gribbles Running Sports store in Lawrence.
Shoe representatives from Brooks and Saucony will be on hand to show the newest footwear. Drawings for door prizes. Special 20% discount on non-sale items.
P.S. Don't forget to R.S.V.P on the GGRS Facebook page. Monday, June 4; 6 pm - 8 pm
May 23 - Kevin Miller (Olathe and the KC Smoke) won the M50 title at the USA Masters 8K Championships last Sat in Williamsburg, VA with a time of 26:28. He was 16th overall and age-graded 5th. A video of the last 300m is on Kevin's Facebook page | more on Kevin
May 21 -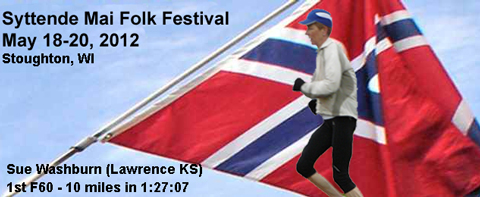 May 20 - I've been running for almost two years, ever since I lost almost 100 pounds. Another runner, Richard O'Brien, once said: "Running is not, as it so often seems, only about what you did in your last race or about how many miles you ran last week. It is, in a much more important way, about community, about appreciating all the miles run by other runners, too." more
(by Helen Lanthier, from the May 19, 2012 NY TImes, special thanks to Elizabeth Weeks Leonard for sharing on Facebook)
Becky McClure holding her award for 1st female masters in the May 19th Spring Burn 15K in Topeka; Terry Leatherman was 4th in the M50 15K and Oyin Wintoki is shown finishing the 5K. All three are from Lawrence.

(SeeKCRun photos)

Results
May 18 - From yesterday's Trail Runner Inside Dirt, Ben Holmes and Gary Henry give their advice on night trail running.
May 16 - The results from the 2012 Heartland 39.3 Series have been tabulated. Men's results | Women's results
Steve Hefferon (Kansas City KS) and Megan Earney (Olathe) were the overall winners after competing in the Rock the Parkway, Kansas and Running with the Cows half marathons. The series was sponsored by the KC Running Company.
Top Lawrence-area runners were DJ Hilding (Lawrence, 3rd overall) and Ann Andersson (Lawrence, 14th overall).
May 14 - Besides numerous road races and a long trail race at Lake Perry this weekend, check out Mike Eglinski's video of his run at the Kill Creek Sprint event complete with video (no sound) and active-map. You can follow his route with what he saw on the map and what was really in front of him. The video even orients the map for you (beginners: this is Orienteering 101). Good armchair orienteering. Next local O' event is June 10 at the Clinton Overlook Park.
Among the races this weekend, a smaller crowd at the Truman 5K in Independence, MO with no runners from the Lawrence area attending. Instead a lot of local names were at the Running with the Cows Half Marathon in Bucyrus, KS. Sunday races included Ben Holmes' Rock On trail races at Perry Lake and the KC Express' Mothers Day 5K in Overland Park - both well attended. And there were more races (check with MARA for results).
Not to be ignored is the six-ton gorilla of an event - 13,000 attended last weekend's Warrior Dash. Beware Lawrencians, Red Dog is thinking of doing a warrior dash.
May 10 - "I stopped signing up for races when I found out you can buy safety pins at the store." - from Andy Norris' Facebook page.
Thanks to Paul Shimon (Winfield) for sharing this video clip of Kenenisa Bekele's 5000m win in 2009.
May 7 - Lincoln Marathon ready to add 5,000? Nebraska's biggest marathon is on the verge of getting bigger. The Lincoln National Guard Marathon and Half-Marathon, which completed its 35th race Sunday, filled its allotment of 10,000 entries in only 21 days, then turned away more than 4,000 potential registrants.

The field is limited partly because of a narrow bike path along the race route that would be too congested to handle more runners, according to Nancy Sutton, co-director of the 2012 event. more (from the Omaha World-Herald) photos
May 6 -
From the May 6th Olathe Heart & Sole 5K & 10K: Brian Daldorph, Karen Hyde, Becky McClure, Dee Boeck and Michael Ettredge (all of Lawrence)

(SeekCRun photos)

results
Grant Holmes & Sarah Smarsh were the winners at the May 5th Shoreline Shuffle hosted by the Lawrence Trail Hawks


(Chris Wristen photos)
May 2 - Both of Kansas' track and field teams jumped several spots in this week's U.S. Track and Field and Cross Country Coaches Association rankings that were released Tuesday morning. The KU women moved up to No. 5, the highest ranking for any Kansas team – men's or women's – since the ranking system began five years ago. The men moved up to No. 23, marking their highest spot in the rankings this season. more