Nov 26 - If you were an award winner at the Thanksgiving Day 5K stop by Francis Sporting Goods, 731 Mass, to pick up your medal and gift card. Store phone: 785-843-4191.
Nov 22 - The organizers of the 5K this morning want to give thanks to everyone who ran, volunteered, cheered and protected runLawrence's annual holiday run. Happy Thanksgiving. Results | SeeKCRun photos
Nov 17 - (below left) Grant Holmes and Carl Specking, the leaders, have been up Sanders Mound. Others are still on the flat heading up and more coming and going at the top. You were supposed to "woof, woof, woof" going around the bench. The run was a benefit for the Lawrence Humane Society. Click to see the hill (gmw)
Nov 13 - (above right) Lawrence's Denny Gayton won his first marathon at the Pilgrim Pacer, Sat, Nov 10. He posted a time of 3:03:31 on a warm (76F) and windy day. Norman Decelles made it 1-2 for Lawrence with a 3:16:32. Check out the results of other Lawrence area runners. (SeeKCRun photo)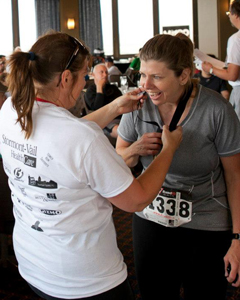 Another stair climbing race and you thought you would see another photo of Keith Dowell? He took second. Brenda Harrington (Lawrence) was the 1st overall female at the Nov 10 Topeka Tower Run.
Nov 12 - Vince Frye said he was trying to come up with a fundraising idea for Downtown Topeka Inc. when he looked out his office window. There, in front of him across the street, stood the 16-story Bank of America Tower.
Rather than having DTI sponsor a 5- or 10-kilometer race — "there were already a lot of those," he said — Frye came up with a different twist.
"I thought we could run vertically rather than horizontally," he said. Thus, the first DTI Tower Run was devised. read more (from the Topeka Capital-Journal, Nov 10, 2012)
Nov 11 - Congratulations to everyone who ran this weekend - 76 degrees and windy on Saturday and/or 40 degrees and wet Sunday. Or going 16 flights of stairs.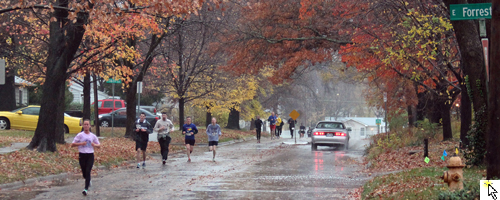 Run Forrest run - The Veterans Day Run went along Barker Ave passing Forrest Ave. on Sat, Nov 11

(gmw)
Nov 9 - Young Endurance Runners Draw Cheers and Concerns. - The race began in the parking lot of a ski lodge, and there was reason to do a double take as hundreds of men and women gathered near the starting line. In the front row, among some of America's best endurance runners, were two scrawny girls barely tall enough to reach the elbows of the others.
From afar, they looked like twin pixies, Tinker Bell One and Tinker Bell Two, though the sisters were actually two years apart. read more (from the Nov 3, 2012 New York Times)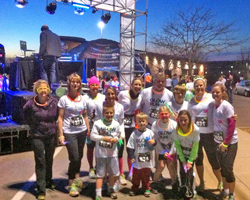 Nov 8 - The Glow Run 5K hosted by the KU School of Pharmacy took place on Sat, Nov 3rd at 7:00pm. Melissa LeBar took this photo of her group including her family, Becky McClure, Heather Krase-Minnick, Jennifer Houser and friends at the finish by the Lied Center. Results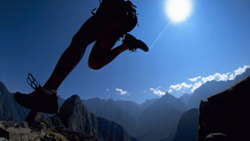 Nov 5 - The Weather Channel's toughest marathons - With the cancellation of the New York Marathon this weekend in the wake of Superstorm Sandy, thousands of runners scrambled to find alternate races to enter. They're likely to find plenty, as fall offers perhaps the year's best conditions for running – and loads of marathons on the calendar across the country. Many will seek out the flattest courses, but we wanted to know, what are the toughest races? read more
(left ) Finishing in front of Body Boutique at the Nov 3 WOW Run; (right) Audrey Smith (Blue Springs MO) & Connie Teague (Prairie Village KS) at the Cliff Hanger Run on Nov 4.

(gmw)
Nov 2 - Some people have been asking about the sizing for the Thanksgiving Day 5K run vests. Here's what a few people reported when trying them on:
female 5'2", 119 lbs - XS
female 5'4", 105 lbs - XS
female 5'5" 135 lbs - S
male 5'10" 150 lbs - M
female 5'5" 150 lbs - M
male 5'11" 165 lbs - M
male 5'10" 182 lbs, chest 47" - L
male 6'0" 150 lbs - L
male 6'3" 240 lbs - XL