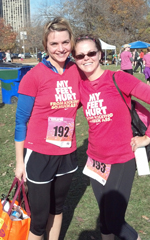 Oct 26 - More results from Up North: LaRisa Chambers-Lochner and Julie Loats, both of Lawrence, ran in the Title IX 9K in Chicago, Oct 21. 40 years ago Congress signed landmark legislation, Title IX, attacking the gender divide in sports. Today that divide has been virtually erased. In 1972, only 30,000 girls participated in high school sports. Today it's over 3,000,000. And why not run 9K, a unique distance to commemorate? LaRisa ran a 45:58 and Julie a 52:14. results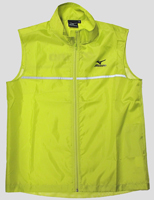 Oct 25 - They're coming from New York City and Gilroy, CA bringing with them bags bagels and garlic. Well, maybe not. Registration for the Thanksgiving Day Run is going ahead of schedule with over 200 signed up (compared to 110) a month out. So far, Ilinois leads the out-of-towners with 6 entries, followed by 5 from Minnesota, and 4 each from New York and Colorado. Nice reflective Mizuno vests for the first 1000 to keep you safe for winter running. Sign up today.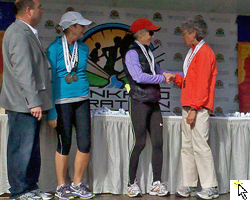 Oct 23 - More results of Lawrencians racing up north. Dee Boeck went back to her hometown area for the third year in a row and took first in F60 in the Mankato, MN, Half Marathon. The photo shows her with Joan Benoit Samuelson at the awards ceremony. A photo report with a Lawrence angle on the half marathon is on Flickr. Click on "Show info" to learn more on each photo. Check the photo from 1990.
Stacy Riggins and Joanie Starks ran the Fox Cities Half Marathon in Appleton, WI on Sept 23. Stacy's 1:51:28 was good for 11th in the F50 race while Joanie placed 4th in the F60 with a time of 2:03:36.
Oct 18 - Here is a video shot by Chris Wristen (Lawrence Trail Hawks) from the Ridgeline Aid Station at the Oct 13 Heartland 100 in Cassoday, KS. A little wetter than other years. course map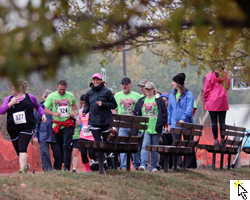 Oct 13 - Rain didn't deter runners at the Steps for the Chest 5K (Save the Boobies) on the Kansas River levee today. Race director, Judi Long, says there will be another run again in Feb 2013.
Oct 12 - While Lawrence was busy with a bunch of events last weekend, a few club members were out of town. Stephanie Ammann (left) ran the Chicago Marathon. John Huchingson (right) after a run on the Town Lake Trail in Austin with Stevie Ray Vaughn. And a bunch of Lawrence won medals at the St Charles MO' Cowbell Half Marathon. results
Oct 8 - At the Dr Bob Run, the Lawrence Bicycle Club got 20 members to run in the team competition; they took 3rd. The next day, Oct 7, two more "running" events were held. First, the Sandrat Trail Run at the river trails, then cyclocross races were held at Centennial Park. Cyclocross is where bikers have to run.
(below left) On the wooded river trails for the Oct 7th Sandrat Trail Race are Lucy Daldorph (Lawrence), Rusty Collins (Liberty MO), and Joe Wagenblast (Alma KS). Results. (right) A winding course was laid out at Centennial Park and steep hills and low hurdles forced bikers to get off and run with their bikes. Not your typical road runs this weekend. And there were cross country races at the Haskell Invitational as well.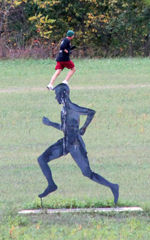 Oct 7 - Nice photos. I especially like the one with the statue of Al Frame in the foreground. I've had the good fortune to spend a little time with Al. He's a great guy and his wife is a hoot! I got to know his daugther Ann when we lived in GSP our freshman year. And Steve [Annette's husband] ran with Ann's sister's husband, Bob Garven.
- Annette (Craighead) Pierce (former KU track athlete ran at the Dr Bob Run at Rim Rock Farm Oct 6th. Al Frame is one of the seven legendary Jayhawk track athletes who have silhouettes dedicated to them around the cross country course).
Share your thoughts and memories of running in Lawrence. Send comments to the web page editor, or comment on Facebook or Twitter.
Oct 3 - Garry Gribble's Running Sports will be hosting a number of free events at the Lawrence store in the coming weeks.
Wed, Oct 10th, 6:00 pm -- Injury Prevention Clinic with Dr. Stephan Pro
Tue, Oct 16th, 6:00 pm -- Good Form Running Clinic (please pre-register at (785) 856-0434)
Thur, Oct 18th, 6:00 pm -- Graston Demonstration / Injury Treatment Clinic with Becky McClure
Tue, Oct 30th, 6:00 pm -- Good Form Running Clinic (please pre-register at (785) 856-0434)
I hope to see you at one or more of these events. Please let me know if you have any questions. Thanks and take care,
J. Jenkins
, Manager