Sep 30 - Here's the start of the Pony Express 5K & 10K in St Joe, Missouri yesterday. Photo by SeeKCRun - more photos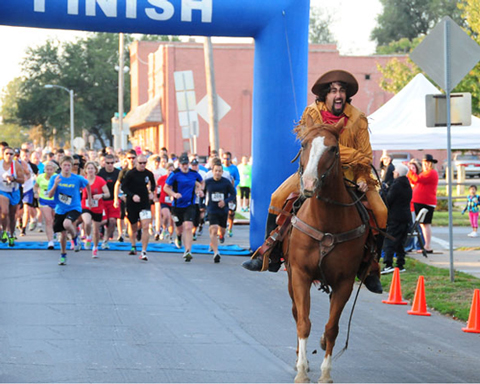 Sep 30 - He had started in on his second loop, halfway through the cross country course, and Seth Goldstein liked the way the race was unfolding.
A group of kids ran just in front of him. Many more had fallen behind. . . One of the kids in the pack dropped to the ground. The others raced onward toward the finish line. Goldstein did something altogether different. He stopped. more

Sep 30 - Geoffrey Mutai and Aberu Kebede win the 2012 Berlin Marathon. more

Sep 29 - Cramps: In high school, I was leading a cross-country race, with a pack of runners from another school right off my shoulder. I felt confident, and then with 800 meters to go, a cramp seized my calf. I stuttered for a few steps, and the entire pack flew by me as if I were standing still.
Have you ever been running along enjoying a trail's scenery, the smell of tall pines or eucalyptus and BAM—you get a nasty cramp? more (Jason R. Karp, Trail Runner Magazine, 9/27/12)
Sep 28 - This year's Berlin Marathon is set for Sun, Sept 30. Here's a video of Florence Kiplagat's win in last year's women's race. Follow the race live online at universalsports.com this Sunday, at 2 am, or watch the encore presentation on-air at 10 am.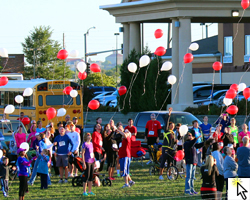 Sep 22 - Release of the balloons has been an annual tradition at the Coopers Cause 5K. The Cooper's Cause Run helps to raise funding for local families of pediatric heart patients to help with medical bills and costs not covered by their private health insurance in the unexpected and substantial financial burden related to pediatric heart conditions.
Sep 20 - Here are scenes from the 2012 Hawk Hundred 100/50/26.2 at Clinton Lake State Park held Sept 8th. The video is by Chris Wristen, the Bud Greenspan of the Lawrence Trail Hawks.
Sep 19 - "Everyone lies," he said. Really? Why? Most people who are not runners do not know the difference between one pace and another — and don't care. The last thing they want to hear is a rehashing of your race.
But runners care almost too much, eviscerating those who dissemble.
In fact, most people do not lie, said Michael Sachs, an exercise psychologist at Temple University. That is one reason athletes often are so outraged when they catch someone who fibs about his or her performance in a competition. And these lies are easily discovered now that race times are posted on the Internet. Often athletes are quite cognizant of these results, tracking one another's successes and failures. read more (by Gina Kolata, The New York Times, 9/18/12)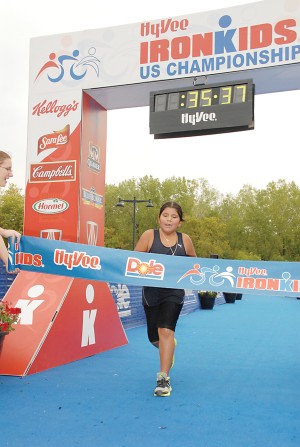 Sep 11 - Hepanna Gayton, seven years old and a runLawrence member, competed in the National Ironkids Competition on Sept. 1 in Des Moines, Iowa. more (story by Will Kie, Cibola Beacon)
Hepanna placed 35th in the 7 year old male division. The funny part, (I think he was the only one from Lawrence) when he crossed the finish line, the announcer said, "Hepanna Gayton, from Lawrence, Kansas home of the Jayhawks", that was so cool. (from his Mom, Rhonda Levaldo)
Sep 9 - Darin Schneidwind won the Hawk Hundred Trail Marathon at Clinton Lake early Sunday morning, finishing with a time of a little over 20 hours and 18-minutes. LJW video
Sep 4 - Finding Your Ideal Running Form - Many experts say runners should be taught the best form, but new research suggests that runners often improve their form just by running more. read more (Gretchen Reynolds, New York Times)
Sept 3 - Slideshow from the Leawood Labor Day 5K. (gmw)