Aug 27 - If you were to give three words of advice to a beginner runner, what would it be? Whether you're a 13-year-old starting cross country for the first time this fall or a 65-year-old trying to train for your first 5k, here's a list of (short) advice for beginners. please read on
Aug 24 - from Dan Kuhlman: We had a great first week of workouts and I wanted to thank everyone for their participation, enthusiasm, and support. We have 27 registered youth, for which I'm really excited, and look forward to all we can accomplish this season. We'll continue to work next week on individualizing workouts while pushing through our 'comfort zones'!
Aug 19 - 17 runners came to the first practice of the Middle School Cross Country Program. Coach Dan Kuhlman promptly started the practice at 4:30 and the group ran the Haskell XC course and on the Baker Wetlands. The practice ended with timed sprints.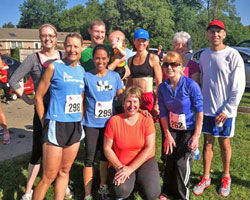 Aug 17 - (right) The LMH Therapy Team was in Baldwin for the last in the series of Small Town Big Cause 5Ks; the other two were in Eudora and Tonganoxie.
The runLawrence Middle School Cross Country Program is set to begin Mon, Aug 19. Dan and Leah Kuhlman and Grace Krause will go over the goals of the program and run the first workout. Registration will continue through Aug 26, but sign up soon to not miss a workout. Sign up page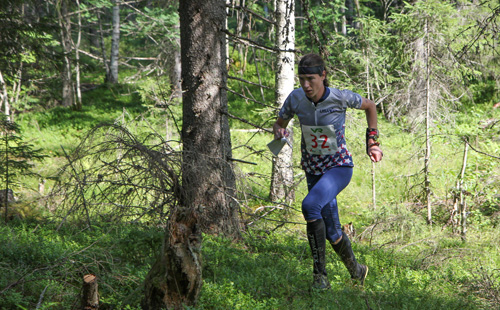 Aug 15 - From Runner's World: Orienteering: The Original Obstacle Race. The century-old sport involves natural obstacles, navigation, and endurance. more (above: Alison Crocker at the world championships in Finland, Ken Walker Jr photo)
Aug 13 - The Kansas state road running records have been updated again (through July) thanks to the team of Kevin Miller, Keith Long and Dick Lipsey. State records are noted only for races on certified road courses in Kansas. If you met or surpassed a target time for your age category, you may be on the list.
State Records
Aug 10 - Here's a story on a hike on the Great Wall. (from the New York Times, July 26, 2013) ...My family had signed up with the tour operator Great Wall Adventure Club to hike this remote part of the Great Wall because I loved the idea of actually sleeping on the wall. I envisioned drifting off to the same sounds and scents that a Mongol-fighting soldier would have experienced centuries ago. I imagined watching the sun burst over peaks crowned by ancient crenelated watchtowers in the morning. more
(right) Real horses led the runners at the start of the Aug 10 Deana Rose Children's Farmstead 5K Run (gmw)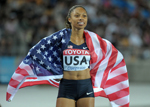 Aug 9 - Dick Lipsey reminds us the IAAF World Track & Field Championships begin tomorrow. Here's the schedule (local times) for NBC broadcasts (do check local listings). More details and info on the team are available at www.usatf.org.
.
Sat., Aug. 10 - 2:30 – 4 pm, Evening Session on NBC
Sun., Aug. 11 - 11:30 – 1 pm, Evening Session on NBC
Sat., Aug 17 - 11 – 11:30 am. LIVE, Evening Session on NBC
Sat., Aug 17 - 1:30 – 3 pm, Evening Session on NBC
Sun., Aug 18 - 1:30 – 3:00 p.m., Evening Session on NBC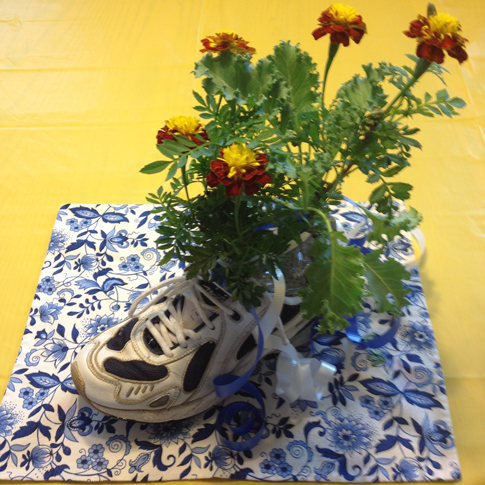 Aug 4 - Table decorations included flowers potted in running shoes at the Sunday runLawrence club picnic at the Visitors Center. Members new and old and guests introduced themselves to each other as everyone gears up for fall running. The table arrangements were made by Janet Huchingson. One especially great aspect of the picnic this year was the large number of young families present; this bodes well for the future of the club as well as making such gatherings livelier!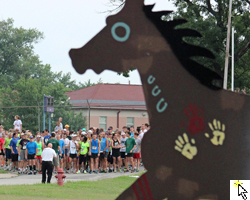 Aug 3 - Red Dog Run: Runners lined up at the north end of Choctaw Ave by the stadium for the start of the 9th Annual Red Dog Run. The 5K and 10K races were a benefit for the Boys and Girls Club of Lawrence. Results
Aug 1 - Why running is on the rise - If you think runners are everywhere, it's because they are. The sport is experiencing a boom, with participation in everything from community fun runs to international ultramarathons growing exponentially. Running is popular for several reasons - it's easy and accessible and doesn't involve an array of expensive equipment.
Anyone, anywhere, who's willing to have a go can try running at any time of day that suits them. Plus, people are busier than ever juggling family and work commitments and they recognise that the key to managing stress is regular exercise. more
(Pip Coates, stuff.co.nz, July 25, 2013)