Dec 29 - Great orienteering videos with stirring soundtracks don't just come from Switzerland or France. Check out Mike Eglinski's promo for the New Year's Woodridge Orienteering. Try something new in 2014.
runLawrence memberships expire Dec 31st; please sign up again for 2014. Keep your privileges for discounts at Garry Gribble's Running Sports and Francis Sporting Goods. Thank you if you have already renewed.
Dec 28 - The world's best long-distance runners hail from one small town in Ethiopia. See how they do it!

Long distance running is a way of life in the Arsi region of Ethiopia. In a country long associated with poverty, famine and war, world-record-beating athletes are the source of pride. Many of the world's greatest runners hail from Bekoji, a remote town in the southern Highlands. . .

TOWN OF RUNNERS is a feature documentary by an award-winning director Jerry Rothwell (Donor Unknown, Heavy Load) about the young athletes born and raised in Bekoji, who hope to emulate their local heroes and compete on the world's stage. Filmed over four years, the film follows their fortunes as they move from school track to national competition and from childhood to adulthood.
Dec 25 - Hope everyone had a Merry Christmas Day and looking to a great 2014 for running. A free, 5K fun run will be held on the levee on Sat., Dec 28 at 8 am. It is hosted by J. Jenkins (Garry Gribble's Running Sports) for his beginning runners with the RunWalk Lawrence Galloway Training Program. Anyone can come. Just a run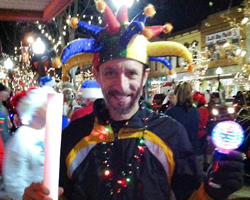 with a time clock; stick around the finish to cheer everyone in. Meet at the N 8th & Oak boat ramp parking lot.
Dec 18 - (right) John Frydman, one of the many who dressed up for the Dog Days Jingle Jog down Mass. St. (Jerry Henley photo)
Dec 16 - A recommendation by Dick Lipsey:The 1929 Bunion Derby: Johnny Salo and the Great Footrace across America is the true story of the marathon that took place between New York and Los Angeles. The book is written by Charles B. Kastner. It is published by Syracuse University Press and set to release in spring of 2014.

Dec 10 - The Kansas Road Running Records and Honor Rolls have been updated for 2013. If you're one of the faster runners in the state, you may be interested in how you stack up. The work is coordinated by Dick Lipsey and Gene Wee, and is a continuation of Jack Crook's work for many years for the entire state. Check the target times and see if you can get yourself on the honor rolls. Races must be certified in order to get a time listed.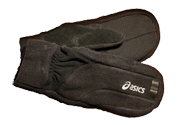 Dec 4 - Those runners who registered early for the Thanksgiving Day Run and did not get their mittens on race day may now go to Francis Sporting Goods (731 Mass.) and pick them up. The missing supply was found. Awards and gift certificates are also at the store for those who did not pick theirs up after the race.
Dec 2 - Congratulations to the following local Class 1A -4A high schoolers making the 2013 KCCTFCA Academic All State Cross Country team.
Bishop Seabury: Kate Albrecht
Baldwin: Ethan Hartzell, Hannah Hutton, Joe Pierce
Basehor-Linwood: Luke McGowan
Bonner Springs: Austin Schuler
De Soto: Meredith Wolfe, Rebekah Burgweger
Eudora: Jon Miller
Hayden: Maria Doyle
Dec 1 - Winter running can be in the woods. Around Lawrence the woods aren't as spectacular as Switzerland, but there is orienteering the KC area.
Puresive films presents an epic orienteering movie with Daniel and Martin Hubmann. Join an intense and unpredictable fight between the Hubmann brothers - two of the best orienteers in the world! Local orienteering events