Feb 25 - Ames, Iowa - The University of Kansas women's track & field team claimed the 2013 Big 12 Indoor Track & Field team title after collecting a total of 150.5 points at the two-day meet held inside the Lied Recreation Center. The championship is the first conference title in the program's history and the first for any KU team - men's or women's - since the Kansas men won the Big Eight indoor title in 1983. The KU men ended Sunday's meet with a sixth-place finish after tallying 74.5 points.
"Everyone did a great job today," said 13-year head coach Stanley Redwine. more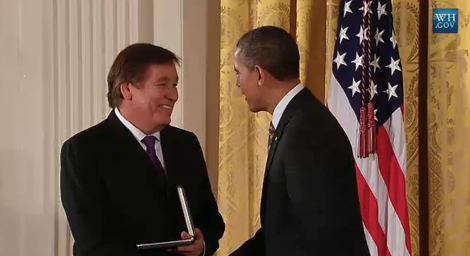 Feb 25 - In a ceremony at the White House today, KU alumnus and Olympic Gold medalist Billy Mills, d'62, received the 2012 Presidential Citizens Medal from President Obama. The medal is the second-highest civilian award in the United States, second only to the Presidential Medal of Freedom. The president honored Mills, who was accompanied by his wife, Pat, for his work with Running Strong for American Indian Youth, an organization he co-founded that supports cultural programs and provides health and housing assistance for Native American communities. more
Feb 24 - A Test Run in Mizuno shoes is scheduled for Sat, Mar 23. Meet at Gary Gribbles Running Sports at 8:30, listen to a 15 minute talk then try on shoes and run in the parking lot behind the store for about 10 minutes. Then shop, coffee, go run... Have a good day!
There will be a few of us doing a long run, starting in front of Gribbles @ 6:30 am. and returning a little before 8:30 for the Mizuno Test Run. All are welcome to join in on the long run @ 6:30 am. Questions, contact Becky McClure
---
Marathoner closes last race at age 101: With a saffron turban and a flowing white beard, 101-year-old Fauja Singh finished a 10-kilometer (6.25 mile) race in Hong Kong. Nicknamed the Turbaned Torpedo, the Indian-born runner finished the race in 1 hour, 32 minutes and 28 seconds. Singh says he will now hang up his sneakers. more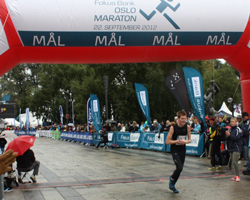 Feb 21 - Former Lawrence High runner, Nicolas Shump, ran in the Oslo Marathon on Sept 22, 2012. Nicolas placed 3rd in M18-22 with a time of 2:52:24.
"So for this race, I was going to Norway to visit one of my friends who had been an exchange student at Lawrence High my senior year, Ari Pelli-Nilsen. During track my senior year, since Ari ran for us that year and made it to state in the 3200, we planned to do the marathon in Oslo together in 2012 so I would have a year to move up from 5Ks to the full marathon. But unfortunately he was injured and unable to run. I stayed with Ari's family from the 14th through the 23rd, and was able to visit some of the main parts of the city. I did the race on Saturday the 22nd, was happy with my performance and then flew straight to Stanford the next day since classes started the 24th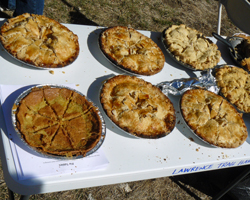 Feb 15 - The Lawrence Trail Hawks will host the 3rd annual "Pi-Day River Rotation Half-Marathon (13.1 miles) and (new this year) 5K (3.1 miles) Trail Race," Sun, Mar 10, 8 am, on the Kansas River trails.
The two races mark Pi-Day, a March 14 holiday held in honor of the mathematical constant pi, 3.14.
The race begins and ends by the Kansas River Trails trailhead, just off 8th & Oak Streets in North Lawrence.

The race features awards for the first three men and women finishers, and Pi Day running shirts for entrants.
Volunteers will serve up homemade pie at the finish line.
The Lawrence Trail Hawks are Lawrence's original trail- and ultrarunning club.
More information is available online at www.Lawrencetrailhawks.com.
Feb 14 - This year the MARA Grand Prix Series has included a trail race - the Mrs Robinson's Romp - a 5K at Wyandotte County Lake Park on Sat, Mar 2. Here are scenes from last year's event. Entry info
Feb 10 - Fast times at Misery Ridge (High) - With the expectant good weather and good footing for this year's Psycho Wyco predictions were for some fast times including breaking four hours on the 50K course. Scott Gall (Cedar Falls, IA) posted the 3:59:08 as the only one to crack four hours. Wichita's April Calaway won the women's race in the 50K with a time of 5:05:53. results | course map
Feb 3 - 3 Reasons to Include Recovery Runs in Your Training:
There have been several attempts to explain the purpose of recovery runs. One of the more popular justifications has been the idea that such runs help to clear excess lactic acid from your muscles. Since this idea has been disproved time and again (the fact is your body doesn't produce lactic acid, but clears it on its own within an hour after working out), there is little evidence that recovery runs promote muscle repair or any other healing-related benefits often attributed to these "easy" outings. So if that's the case, why bother? read more (by Greg Strosaker, Active.com)