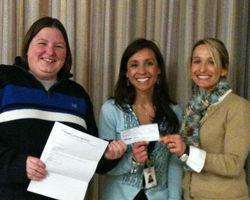 Jan 28 - Benefits from the Thanksgiving Day Run - runLawrence President, Heather Krase-Minnick presents a check to to the Deerfield School Principal Joannie Appleman and the President of the PTO Carrie Mershon for the Deerfield Marathon Club program.
Jan 26 - 5 Things I Wish I Knew as a New Runner. As I look back on over 14 years of competitive running, I would change a lot about my past training. I've made a lot of mistakes—silly decisions that resulted in overuse injuries, poor races and wasted time. Alas, hindsight is 20/20. Most of my injuries are because of impatience and carelessness. But today, injury prevention is a top goal. I haven't had a major injury in nearly four years, and my annual mileage is higher than it's ever been. read more (from Active.com, Jan 23, 2013, Jason Fitzgerald) read more
Jan 25 - The Jayhawk Classic Indoor Track Meet is today at Anschutz. With talk of a chance for a national title, below is a photo of George Byers at a Feb 1967 meet in Allen Fieldhouse when it had a 220 yd track that surrounded the basketball court. Byers was on the teams that won titles in the 60s. Photo on the right is from the Easton Classic on Jan 5 with Keith Hopkins leading in the 60m hurdles.(gmw photos)
| | |
| --- | --- |
| | |
Jan 22 - For at least the past 23 years Kansas runners have benefited from the painstaking and meticulous efforts of Jack Crook, the statistician for the Kansas State Road Records and Honor Roll. However, effective this month, Crook has resigned from this voluntary role and no one has stepped forward to replace him. Therefore, all Kansas state running records and outstanding performances established during and since the calendar year 2012 likely will not be officially recognized and recorded anywhere unless a replacement for Crook can be found. read more (by Winston Kenton, Wichita Running Examiner, Jan 22, 2013)
---
Robert Siegel speaks with Bill Littlefield, the veteran host of NPR's Only a Game, about the career and legacy of high jumper and Olympic medalist John Thomas. Thomas died Tuesday at the age of 71. Listen to the NPR story.
Valery Brumel was just beginning to find success as a high jumper in the Soviet Union when he read in a Russian sports newspaper that a 17-year-old American had jumped 6 feet 7 inches — 11 inches higher than Brumel's best leap. He said he told himself, "You're not so hot." read more (by Douglas Martin, New York Times, Jan 20, 2013)
---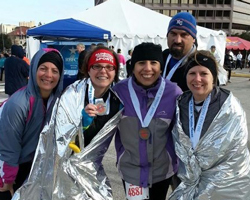 Jan 19 - (right) Brenda Harrington, Brian Lochner & LaRisa Chambers-Lochner (and friends) at the Austin 3M Half last Sunday, Jan. 13 in Austin, TX.
Cool temps, great course and a PR of 1:53:24 for LaRisa. Great goodie bag too! (3M products!)
Jan 18 - Kansas All-American long and triple jumper Andrea Geubelle concluded a record-breaking, banner season after finishing 11th in the long jump, her second of two events, at the American Track & Field National Championships hosted at historic Hayward Field. A week earlier, she became one of only nine female collegians to medal at the Olympic Trials, finishing third in the triple jump. read more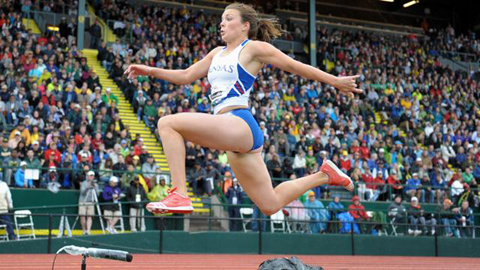 (Kansas Athletics photo)
Jan 17 - Backward running, also known as reverse or retro running, is not as celebrated as barefoot running and will never be mistaken for the natural way to run. But a small body of science suggests that backward running enables people to avoid or recover from common injuries, burn extra calories, sharpen balance and, not least, mix up their daily routine. The technique is simple enough. Most of us have done it, at least in a modified. read more (by Gretchen Reynolds, NY Times, Dec 9, 2012)
Jan 16 - Distance Running: How Many Miles Should You Run?
One of the "rules" of distance running is that you must run lots of miles. Indeed, most runners link their fitness level to the number of miles they run, inevitably believing that more is better. more (by Jason Karp, from Active.com)

Jan 15 - After 23 years, Jack Crook has step down as the statistician for the Kansas State Road Records and Honor Roll. There was no one interested in taking over, so the latest records now stand as up-to-date to Dec 31, 2011. If anyone wants to take over the work that Jack has so diligently done for all these years, please contact Jack at 316-777-1321 or jack.crook28@yahoo.com.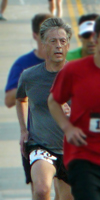 Jan 14 - Imagine running around the block. To many of us, it sounds tough, sweaty and generally unappealing. It's hard for a lot of people, but not for the Rev. Nate Rovenstine, pastor at Lawrence Wesleyan Church. He ran around every block and on every street in Lawrence, all the while praying for the community he was running by. read more (from the Lawrence Journal-World, by Rebekka Schlichting)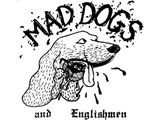 Congratulations to the Mad Dogs starting their fifth decade of running. Mad Dogs and Englishmen was started in the early 1970s by some KU professors who started running over the noon hour. For many years, the group included some Englishmen (and an Australian) who enjoyed running in the midday sun. More on the group's history. Celebrate with Noel Coward's song.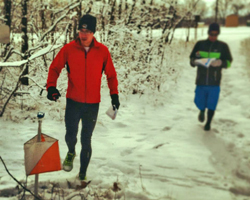 Jan 6 - At the runLawrence club meeting today, new officers were elected - Heather Krase-Minnick, president; Dan Kuhlman, vice president; Dee Boeck, secretary; Coyla Lockhart, assistant secretary; and Karen Hyde, treasurer. And a special thank you to Barry Nason, Larisa Lochner, Lori Cackler and John Huchingson for their help and leadership in 2012.
Jan 1 - (right) - Orienteering on New Year's Day at Rockhaven Park, Clinton Lake. Carl Specking approaching the 2nd control. (M. Eglinski photo)