July 29 - Free, weekly group runs from Garry Gribble's Running Sports in Lawrence. Meet at the store every Thurs night at 6 pm - for runners of all abilities. Different distances and paces will be available to choose from, so no matter how someone is feeling on a given day, there will always be someone to run with. If you have any questions, or if the weather has people wondering whether it's still a go or not, call the store at (785) 856-0434. Starts Aug 1st. (J. Jenkins)
July 28 - Can You Get Too Much Exercise? - The Vasaloppet, a grueling 56-mile cross-country ski marathon held each March in northwestern Sweden, provides a convenient venue for studying the impacts of intense, prolonged aerobic exertion on the human body, and in recent years, several studies have reported on the generally enviable fitness and longevity of the racers.
But the newest Vasaloppet-related study, published in June in The European Heart Journal, is worrisome. . . more
(by Gretchen Reynolds, New York Times, July 24, 2013)

July 27 - runLawrence club members should have received an invitation to the annual club picnic for next Sunday, Aug 4th. Email Dee Boeck to RSVP or if you have questions.
Signups have started for the Middle School Cross Country Program. Click on the web page for details. First practice is Aug 19th.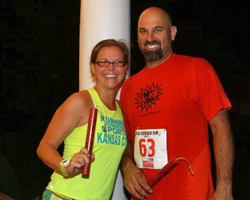 July 14 - At the July 13th, 12:26 am Charley Melvin Mad Bomber 5K in Iola - LaRisa and Brian Lochner both placed 1st in their age groups shown here holding their sticks of dynamite awards (fake, of course!). Brian outran LaRisa by 18 seconds, but they're still talking.

The Charley Melvin Mad Bomber Run in Iola on July 13 had this message on this year's race. . . . sends its thoughts and prayers to all those impacted by the Boston Marathon bombings. A portion of every registration will be donated to the Boston One Fund, which has been established to aid the victims of this tragedy.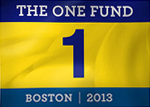 Charley Melvin's vigilantism in 1905 was focused on stopping the then-illegal sale of alcohol in his hometown. Charley's actions were violent and destructive but were focused on destroying unoccupied saloons and alcohol, NOT on hurting people.

The organizers of the Charley Melvin Mad Bomber Run For Your Life work hard each year to turn a DEstructive historical event into something CONstructive for our small community. We appreciate your continued support of our event, and encourage you to support the victims of the Boston tragedy.
---
Several outstanding performances at the USATF Masters Track & Field Championships in Olathe. Here's the video of Kevin Miller (Olathe, KS) winning the men's 50-54 1500m. Other races: Tim Wigger's 800 | Cindy Cameron's 5000 |
---
At the Sunflower State Games Adventure Racing Race on July 13 at Milford Lake, the Orienteer Kansas team of Sandy Beverly, Fletcher Hamel and Mike Eglinski took 1st in the coed team competition and was 2nd overall to a team of 2 younger men. They ran, biked, ran, biked, then climbed over a wall, flipped a tractor tire, canoed, then biked. . Results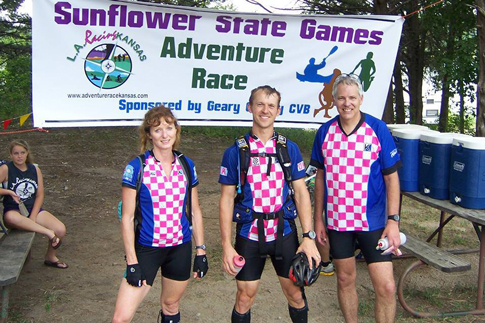 July 13 - Our first Youth Running Project program is set for this fall starting Aug 19. It is the Middle School Cross Country 8-Week Training Program under the guidance of Dan Kuhlman. Registration will open on Aug 1st. For now, we do have the program details at middle school cross country.
July 12 - Olathe, KS hosted the USATF Masters Track & Field Championships July 11-14. Click for photos from some of the action on Friday. Results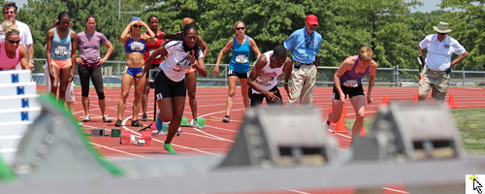 Among the competitors was Bob Lida from Wichita. In 2012, Bob received the Best Masters of the World award from the International Association of Athletics Federation. Read more
July 10 - New research suggests that the biomechanical changes that occur during pregnancy can linger long afterward and significantly affect a woman's running stride.
There's never been any doubt, of course, that pregnancy drastically changes a woman's body. She gains weight, her center of gravity shifts and connective tissues become looser. These changes are desirable and necessary for birth. But they also affect how a woman moves. read more (Gretchen Reynolds, New York Times, 7/10/13)
July 9 - A video of a high school miler from the summer of 1965. His name wasn't mentioned among the favorites.
Jim Ryun talks about his 1965 AAU Mile victory and setting the American Record at one mile. more
July 9 - Short changed - In 10 states, girls run shorter cross country races than boys. Is that practice fair? Gatorade National Runner of the Year Molly Seidel says Wisconsin's tradition of 4K races for girls and 5Ks for boys is based on "an old-fashioned theory that a girl can't run as long a distance as a boy can." read more
Christopher Parish, ESPNHS.com, May 2012
July 8 - After the bomb blast at the Boston Marathon that took most of his legs, Jeff Bauman began his own long and painful journey.
July 7 - The June 30 Mass Street Mile times are now available. The organizers had the results probably within 10 minutes and they were posted on the building necxt to the timing stand. But being primarily a timing company for bike races they forgot about the half time show. How do they do timing without chips? Here's the explanation for the system you see at international track meets and the Tour de France. Yes, there were women in the men's race and guys in the women's race. race results
July 4 - (below) the start of the 35th Annual Freedom Run at Old Town Lenexa. more photos

July 3 - Below are some results from the Double Race at Corporate Woods in Overland Park on June 30. It was 10K race followed by a half time break, then a 5K. Times are the combined from both races. No hometowns were listed so we couldn't get every local runner's times.

Ellen Young (1st, F60, 1:26:16), Ken Johnson (3rd M60, 1:09:13, Kristina Selters (3rd F30, 1:16:07), Larisa Chambers-Lochner (7th F40, 1:20:28); Lucy Hardy (2nd, F-19&under, 1:29:30); Marla Rhoden (3rd, F55, 1:20:58) and Brad Rhoden (1st M60, 1:06:07). Results
Ellen Young, Kristina Selters, & LaRisa Chambers-Lochner at the Double Road Race, June 30; (right) Ken Johnson and Caitlin Myers

(SeeKCRun photos)
July 1 - On Sat, July 27, Garry Gribble's Running Sports in Lawrence will be hosting a test run of the new Mizuno Sayonara. Runners and walkers will be free to try the shoes for as long or short a run as they wish. The test run will begin at 7 am, and the store will be open both before and afterward with special discounts. We're hoping for a big turnout. Let me know if you have any questions, and hope to see you there! - J Jenkins