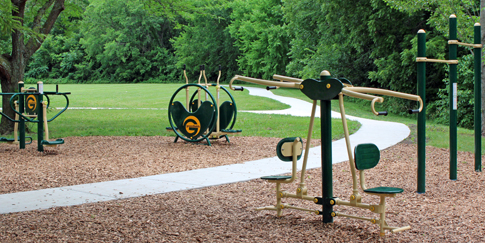 June 26 - Lawrence Parks & Rec has installed a new outdoor fitness area at Deerfield Park, 2901 W Princeton Blvd. The fitness area, located along a new loop of sidewalk in the northeast section of the park, consists of five pieces of new equipment - a 2-person air walker, 4-person pendulum, abs & dips, 2-person ski, 2-level horizontal bars, and combo lat-pull and vertical press.
These outdoor fitness areas offer a chance for people to benefit from getting outside and exercising while also spending time in a park - all at no charge. Do we hear an exodus from Genesis? Do the numbers.
June 23 - Over 100 people came to celebrate Garry Gribble's Running Sport's five years of business in Lawrence. Thanks Garry for providing products, services and advice to make Lawrence a special running community.

June 22 - (below left) With Elvis at the Elvis Run at Watson Park, June 22 (gmw); (right) the the Daldorphs at the Village Shalom Father's Day 10K - Brian was 2nd overall & 1st M50 while Lucy was 13th overall & 1st in F20 (SeeKCRun photo)
June 22 - New technology for sports coverage - put a video camera on a remote controlled helicopter and fly above the start of last weekend's Jukola Relay in Finland and this is what you get.
Jukola 2013 from KopterCam on Vimeo.
The Jukola Relay is an orienteering relay race held annually in Finland since 1949. The race always takes place on Saturday between 13th and 19 June in different sites around Finland.
In the Jukola male relay has seven legs with distances varying from 7 to 15 km. The starting time is around 11 pm when the sun sets. Runners of the 1st to 3rd legs usually wear headlightss. The winning team crosses the finishing line early on Sunday morning, around 6 or 7 am, and the last teams finish just before the finish is closed at afternoon.
The women's relay, known as the Venla Relay, is a daytime race on Saturday afternoon.
In 2012 the Jukola relay attracted close 1700 teams and the Venla relay more than 1250. Clubs from 20 different countries took part. Jukola is the biggest relay event in the world. 2013 results
June 21 - Kansas road racing records have been updated from the early 2013 events in the 4 mile and half marathon. state records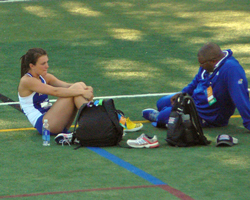 June 13 - Kansas track & field head coach Stanley Redwine and assistant coach Wayne Pate each earned national accolades Wednesday as the U.S. Track & Field and Cross Country Coaches Association (USTFCCCA) awarded the two with outdoor coach of the year honors. Redwine was named the women's head coach of the year for the first time, while Pate was named the women's assistant coach of the year for the second-consecutive outdoor season. more
The photo above is Coach Pate advising Andrea Geubelle between the prelims and the finals of the NCAA long jump competition on June 5. Coaches work hard to get the best from their athletes - instructing at workouts, inspiring by praise or in your face, listening to problem, offering advice and being there when support is needed. At press conferences, KU coaches got teary-eyed talking about what a special team they had this year.
June 8 - (below (left) The KU Women's Track & Field Team singing the alma mater with their championship trophy in Eugene, OR; a closeup of Dee Boeck among the trees in Hendricks Park before her trail run in Eugene (gmw)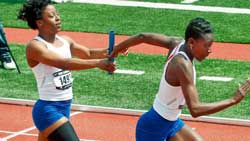 June 2 - In the most recent USTFCCCA rankings, Kansas remained No. 1 at 317.16 points (13 entries), followed by No. 2 Texas A&M at 271.81 (15 entries), No. 3 Florida at 260.17 (15 entries), No. 4 LSU at 247.86 (12 entries) and No. 5 Oregon (15 entries).
Both of the top two teams fell victim to significant upsets in the NCAA West Preliminary (in Austin, TX last weekend), as both 2nd-ranked Kansas long jumper Francine Simpson and No. 2 discus thrower Shelbi Vaughan of Texas A&M did not advance to Eugene in their respective events. Nonetheless, the two squad remain atop the rankings, though the field was able to tighten the race for the crown as a result. . . No. 5 Oregon, the indoor NCAA champion, was another team that sustained a major blow at the prelims with No. 2 10,000-meter runner Jordan Hasay unable to qualify for the NCAA finals. more
June 1st events: the Topeka group at Hospital Hill with their medals - Tanya Scott, Cheryl Haefele, Marla Rhoden, Brad Rhoden & Bryan Jobo; Keith Dowell & Grant Holmes at the
Journey for Jo 5K in Topeka (SeeKCRun photo

);

at the June 1st Thelma & Louise Half Marathon (Moab, UT) were Julie Loats, Tesa Green & LaRisa Chambers-Lochner.

June 1 - Former KU trackster Josh Baden (Lawrence) won the Hospital Hill Half today in 1:10:05. Another former teammate, Colin Jokisch, was 5th overall. Top female winner was Kimi Reed (Brookline MO) with a time of 1:19:19. Top female from Lawrence was Jane Johannsen (1:31:15). All the results