May 30 - (Red Dog's) Dog Days - Summer schedule begins on Mon, June 3 - MTWR,
6 am & 6 pm: location until further notice: South Park, south of the Community Building; Sat. morning run typically ranges between 2 and 4 miles: 7am and 7:30 am: Lied Center, KU - Info: Bev Gardner
May 29 - Walking and running are the most popular physical activities for American adults. But whether one is preferable to the other in terms of improving health has long been debated. Now a variety of new studies that pitted running directly against walking are providing some answers. Their conclusion? more (from the New York Times, Gretchen Reynolds)
Our Town - about 25 years ago. Thanks to former Mad Dog Linda Blair Resovsky discovering this promo video of Lawrence, KS from the 1990s by Michael Landon, Dick Lipsey included it in his June newsletter. Recognize Chancellor Budig, coach Williams, the old Arts Center and Paradise Cafe? Note, it's a long video (10 minutes).
May 28 - The Spirit oif the Marathon II will be shown at the Lawrence Southwind Theaters June 12.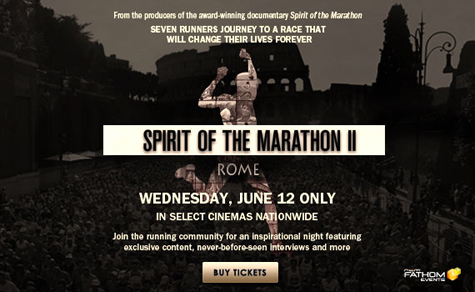 May 26 - The daughter of NFL Hall of Famer Derrick Thomas was at the track and field state championships this weekend. In case you missed that, the announcer in Cessna Stadium not only made sure everyone knew, but also that "she has inherited some incredible athletic genes."
Her name is Alexa Harmon-Thomas. She is a junior at Lawrence Free State and yes, she's pretty incredible. more (by Adam Knapp, CatchItKansas.com)
Here's the video of all the 300m hurdle races from the state meet; Alexa's 6A race is the last one.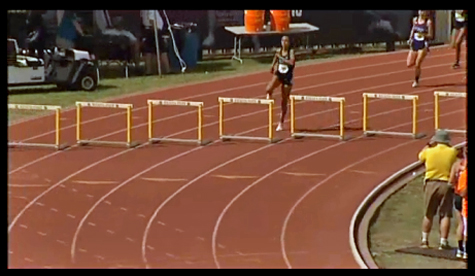 The 4X400 team of Leah Gabler, Marissa Pope, Jensen Edwards and Kyleigh Severa won by five-hundredths of a second over Shawnee Mission East, taking the title with a time of 4:02.47. Here's the race with the exciting finish: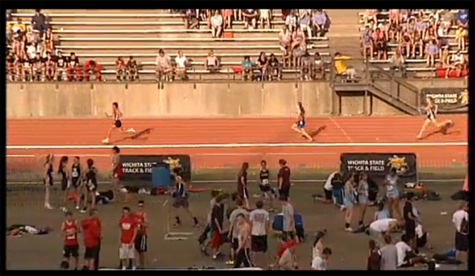 (both videos above from CatchItKansas.com)
May 25 - Congratulations to the state champs: Lawrence Free State girls in 6A and the Baldwin girls in 4A at the Kansas State High School Track & Field Championships today in Wichita. Topeka High won the boys 6A title.
Free State was led by a standout effort from junior Alexa Harmon-Thomas. Lawence High girls were in 6th place then won the 4x400 to capture 3rd. Gardner-Edgerton took 5th in 6A girls. Ottawa boys took 3rd place in 4A.
LJ World story


May 20 - Congratulations to Lawrencians Jennifer Kongs and Brian Daldorph on their winning runs at the Five Trails Half Marathon, Sun, May 19. Jennifer was 1st overall female (1:37:23) and Brian was 1st masters male (1:35:03). Matt O'Reilly was 2nd male overall in 1:24:30.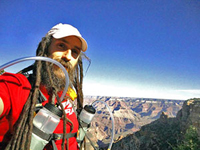 May 17 - Ras Vaughan's Unsupported, Sextuple-Rim-to-Rim - UltraPedestrian sets OKT (Only Known Time) on epic Grand Canyon route.
Jason Vaughan, 41, widely known as Ras, and who performs music under the name Jahson Ites, has become somewhat of a living folk hero in the Pacific-Northwest running community, and the only races he'll likely ever win are the ones in which no one else participates. more - by Tim Mathis (TrailRunner magazine)
May 12 - Dan Kuhlman (Lecompton) on the trails on the west side of Perry Lake at the Rock On Trail Runs on Sat, May 11. Dan finished 2nd over on the 50K course with a time of 4:49:23.
full results | more photos
May 6 - Waco, Texas - The Kansas men's track & field team saw four individual conference titles claimed by Jayhawks as the team competed on the third and final day of the Big 12 Outdoor Track & Field Championships. The team amassed 82.5 points to claim a fifth-place finish in the team standings, its highest finish at the league meet since placing fourth in 2005. more
(left) Red Dog Gardner on his motor trike leading the Run to Remember 5K on May 5th, (right) later in the day was the Sunflower Marathon Club 5K.

(gmw)

.
May 5 - Congrats to Dan and Leah Kuhlman on their 10K runs at the NMBPS Run for the Zoo in Albuquerque, NM that concluded the RRCA National Convention. Dan took 2nd in M55 (41:24) and Leah 13th in F50 (57:31).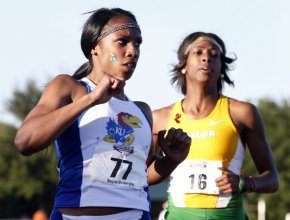 The KU Women's Track Team won the Big 12 Championship today in Waco, TX scoring 158 pts; last year's champ Texas was 2nd with 145 pts. Four individual champions as well as wins in both the 4x100-meter and 4x400-meter relays propelled the Jayhawks to their first outdoor team title in program history. Paris Daniels scored 23 of the team's final 84 points. more
There will be a one day showing of the "Spirit of the Marathon II" at the Southwind Theaters on June 12, 7 pm. Tickets available are on-line.
Those of us in the running community were deeply affected by the Boston Marathon tragedy. To that end, organizers of the movie have decided to donate some proceeds from ticket sales to One Fund Boston.
Spirit of the Marathon movie trailer from Jon Dunham on Vimeo.
May 4 - (below left) Remember the warm nearly 60 degree weather at the Jan 19 Topeka to Auburn Half Marathon? (right) There were patches of snow around Olathe the morning of the May 4 Heart and Sole Run. More photos from Olathe.

May 2 - In the May issue of Senior Monthly. more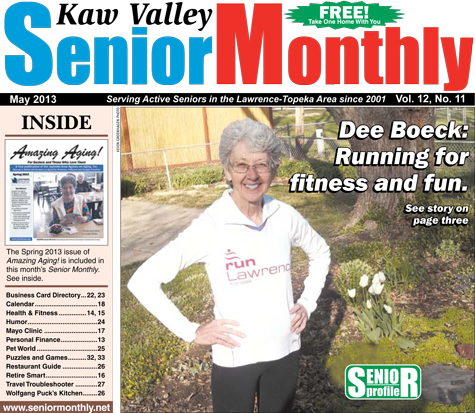 Apr 27 - Elana Ho's artwork from the Quail Run School thank you letter
(click to see letter).