Nov 30 -Thanks to Paul Riley for sharing this video. - The Runners - Pounding the tarmac through the seasons, a band of runners is challenged with intimate questions. Before long, the runners drop their guards and confess to their deepest anxieties and greatest hopes. These candid confessions give the viewer a rare glimpse into the luminous lives that lie behind the street's anonymous bustle. (by Matan Rochlitz, Ivo Gormley, UK, 2013)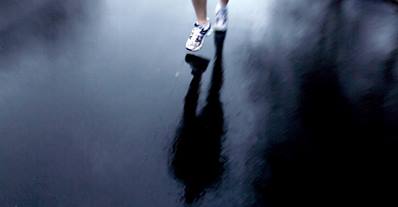 Nov 28 - Thanks to all 1200+ who ran the Thanksgiving Day 5K. If you placed and did not pick up your award (& gift certificate), stop by Francis Sporting Goods starting tomorrow (Friday). Store opens at 9 am. Congrats to the winners and to everyone who ran and walked. Francis is at 731 Mass. "Kickin" Mass for over 60 years. Results


Nov 27 - Please look at the above sponsors who've helped with this year's Thanksgiving Day 5K Run and to Francis Sporting Goods for all 10 years. We may have a record crowd for the anniversary run. Packet pickup is at Francis from 11:30 am to 6 pm.
Nov 26 - Visit these fine eateries and sponsors of Thursday's 5K.

Nov 25 - Garry Gribble's Running Sports is hosting a clinic on ultramarathon training on Wed, Dec 4, at 6 pm. The discussion will be targeted at beginners, but there will be plenty of useful information for veteran ultrarunners as well. There will be door prizes specific to the event, so please come join us for a one-of-a-kind clinic!
Info: J. Jenkins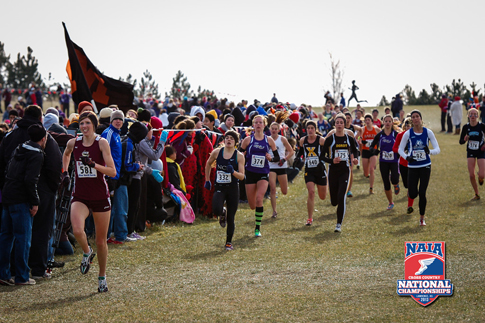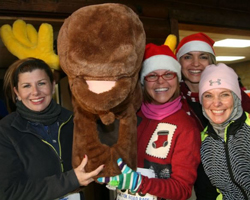 Nov 23 - The NAIA National Cross Country Championships were held at Rim Rock Farm today. LJW report | full results | more photos by Mile 90 Photography.
(right) Brenda Harrington, LaRisa Chambers-Lochner, Julie Loats &
Tesa Green at the Nov 23 evening Winter Wonderland 5K in Topeka, KS; they wanted a Moosehead, not a moose head. (SeeKCRun photo)

Nov 22 - A thank you to the professionals who take care of our health when we're well and when we need to recover from our injuries and other illnesses. They have been good friends of the Thanksgiving Day Run - Dr. Jean Schrader; Phyllis Ragley, podiatrist; Kent Dobbins, OD, Rob Jones, Peak Performance; and Mark Howarter, Chiropractic Experience.

Nov 19 - A special shout out to all the sponsors of the Thanksgiving Day Run. Today we want to recognize Dillons, HyVee, The Merc, Checkers and Natural Grocers - your neighborhood grocers. We're glad of their support not only for our event but for the service they provide the Lawrence community year round.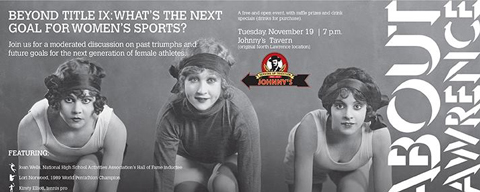 Nov 14 - Many road races these days are split 55% female, 45% male. There was a time when Kathy Switzer had to sneak into the Boston Marathon. You might be interested in a program at Johnny's Tavern on Tue, Nov 19, 7 pm - "Beyond Title IX: What's the Next Goal for Women's Sports?" The program will feature a panel of six local women including two runLawrence members, Lori Norwood, 1989 world pentathlon champion, and Rhonda LeValdo, marathon runner and Native health expert. The event is free. more info
Nov 11 - RunWalkLawrence, the Jeff Galloway training program led by J. Jenkins is offering three training programs beginning this January: a 5K program for beginners; a 10K program for 5K veterans looking to go further; and a half marathon program for those ready to push their limits further still. Anyone able to cover three miles comfortably using a mixture of running and walking on January 1 can be ready to run a half-marathon this April!
Contact J. Jenkins at Garry Gribble's RunningSports--(785) 856-0434--or visit RunWalkLawrence.com
---
Nov 11
- Like the race itself, interest is going up for downtown Topeka's Tower Run, the second annual edition of which took place Saturday morning (Nov 9) at the Bank of America building.
Vince Frye, president and chief executive officer of Downtown Topeka Inc., said he was pleased with the attendance, with some people coming from Lawrence and other area towns. more (Phil Anderson, from the Topeka Capital-Journal)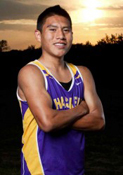 Nov 10 - Haskell Indian Nations University sophomore Chad Upshaw won the Midlands Collegiate Athletic Conference championship on Sat. on his home course leading the HINU men to a team win.
The HINU women's team took 2nd with a runner-up finish from junior Talisa Budder.
Upshaw, Budder and Budder's teammates Tiar'e Littlehead and Ashlee Wermy qualified for the NAIA National Championships, which will be held Nov. 23 at Rim Rock Farm. All four are two-time national qualifiers.
men's results | women's results
Nov 9 - The Kansas state road running records have been updated through October of this year. state records
Nov 5 - Why was the race last Sunday (Oct 3rd) in Kansas City called the Cliff Hanger? Perhaps pitons on the rocks above Cliff Drive might have somthing to do with it? more photos
Nov 4 - See the results of Kansas runners at Sunday's New York Marathon. Top two men's times were Nicholas Caprario in 2:30:30 and DJ Hilding, 2:45:38. Top two women: Amanda Miller (3:15:39) and Alison Hatfield (3:21:19).
Nov 2 - Free State High Girls cross country team won the 6A title at Rim Rock Farm this morning scoring 53 points; Garden City was 2nd with 87 pts. Overall winner was Emily Venters doing the 4K course in 14:58. Close behind were teammates Bailey Sullivan (4th, 15:25) and Claire Sanner (5th, 15:25). The 4th and 5th scorers for the team were Molly McCord (17th, 16:16, & 23rd overall) and Sarah Whipple (26th, 16:33, 35th overall).
At Wamego, the Baldwin Boys are again state champs in 4A. DeSoto took the 4A Girls title with 56 points just ahead of the Baldwin Girls with 70 pts. Bishop Seabury's Kate Albrecht placed 6th in the Girls 2A.
All state results at: Runnerspace.com.
Two events the morning of Nov 2nd at Haskell: the 38th Annual Turkey Trot started at the stadium and got onto the cross country course before heading back; (middle photo) one hour later was the women's 5K at the Gulf States NIRCA Cross Country Regionals hosted by the KU Running Club.

(gmw)
---