Oct 31 - Following the KC Half Marathon on Oct 19, Dan Kuhlman (below left) ran the Prairie Spirit Trail Fall Classic 50K the following Saturday in a time of 4:38:47 for 2nd overall.
Oct 28 - (photo above right) Congratulations to Team 17 Down on completing the Bison 50 last Sunday. Brian and LaRisa Chambers-Lochner celebrated their 17th wedding anniversary with friends Tesa Green, Julie Loats and Sarah Beth Houser. They covered the 50 miles from Topeka to Lawrence in 7:57:14. Solo runners from Lawrence included Matt O'Reilly (8:48:00) and Kyle Gerstner (11:21:52).
Results
Oct 27 - Catching up on some good results. At the Waddell & Reed Kansas CIty Marathon, Karen Hyde (Lawrence) set a PR to win the F50 race with a time of 3:34:45. Chris Rogers (Lawrence) took 3rd in M30 in 2:46:27; Josh Baden (Lawrence) was 3rd M20 in 2:56:34.
In the half marathon, Dan Kuhlman (Lecompton) ran a 1:29:01, good for 2nd in the M55 category; Jennifer Kongs (Lawrence) was 2nd in F25 in 1:31:12; Rick Pratte (Lawrence) was 3rd in M45 in 1:30:11. Other finishers: Susie Fagan (Lawrence) 1:44:19; Leah Kuhlman (Lecompton) 2:06:03; Jason Holbert (Lawrence) in his first road half marathon did 1:59:34; Jenn Forkenbrock (Lawrence) 4th in F35 in 1:36:29; Kristina Selters (Lawrence) 1:47:38.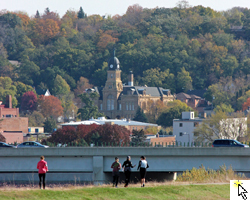 Oct 23 - Dee Boeck returned to Mankato, MN, to run the half marathon for the fourth time - back in the area she grew up. She invited Sandy Weston (Kansas City MO) to run the marathon. Dee ran a 1:55:01 to finish 2nd in F60-64.
(right) The Blue Earth County Courthouse as seen from the river levee with one mile to go.
Photos | Results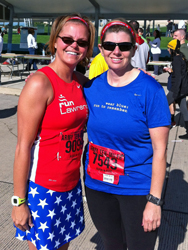 Oct 20 - Brenda Harrington & LaRisa Chambers-Lochner finished the Army 10 Miler today in Washington, DC. LaRisa finished in 1:25 & Brenda in 1:37. Beautiful day to run with 35,000 fellow runners and to honor our military! results
Oct 19 - Let's get the obvious question about David Babcock's unusual feat of skill and endurance out of the way first: No, he doesn't worry about putting his eye out.
During Saturday's Kansas City Marathon, the graphic design professor from the University of Central Missouri broke the Guinness world record for longest scarf knitted while running a marathon. more (Kansas City Star)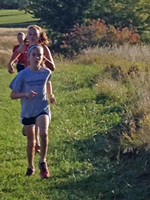 Oct 15 - Lawrence High's Nathan Pederson took first place among sophomore boys in the Shawnee Mission West Cross Country Invitational on Sat, Oct 12 at Shawnee Mission Park. Pederson finished the 5K race in 17:40.0. No team scores were kept, and individual placing were determined by class. more
Nine runners with the runLawrence Youth Running Project Cross Country program competed in the open
1-mile. Shown on the left are Erin Fagan and Bella Stull as they near the finish line. (Susie Fagan photo)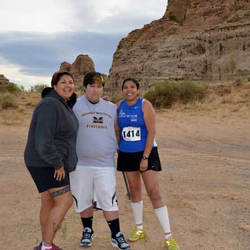 Rhonda Levaldo, on right, with her sister Earleen Warrior and nephew Blade Warrior before they begin their run.
Oct 14 - Get family involved to keep healthy routines fresh - One of the fun things about running in a race is being able to do it with friends and family.
I run in a Memorial Day race called the "Acoma Seed Run" put together by my uncle Dale Louis. It is an 8-mile run around Acoma Pueblo on the Acoma reservation in New Mexico. The first mile is the toughest. As your going up hill trying to run through sand, it seems like your feet get sucked down into it every time you step higher. The altitude doesn't help either. more (Rhonda LeValdo, Wellbound Storytellers)
Oct 13 - At the Prairie Fire Half Marathon today in Wichita, Benson Chesang (Lawrence) took 3rd overall with a time of 1:07:59. Floyd Schmidt (Baldwin) was 3rd in M60 in 2:17:25.
In the full marathon, Benjamin Jones (Lawrence) was 1st in M25 in 2:56:26 while Zack Sanchez (Lawrence) was 3rd (3:01:28), in M40, Topka's Aaron Meek was 3rd (3:05:13), Ryan Hahn Berryton) was 1st in the 170-190 Clydesdale cat., Ben Bradshaw 3rd in the 191-210 Clydesdales.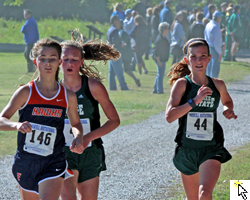 Oct 12 - The Haskell Invitational brings together high schools for varsity and junior varsity cross country races as well as races for area colleges and universities. The KU Running Club also participated testing the course for their NIRCA XC Gulf Central Region meet on Nov 2nd. Click on the photo for scenes from today's races.
univ men's results
univ women's results

(left) Lucy Daldorph at the Sand Rat Trail Run, Oct 6th; Eudora Invitational at Fall Leaf Farm, Oct 10th

(gmw)
Oct 6 - My team which is comprised of researchers and industry experts, dedicated many hours examining and evaluating over 90 different treadmills. Based on a number of data points, we were able to narrow that list down leaving us with 19 standout treadmills. Industry expert Andre Ashley and our research team conducted a thorough review of each of those options, evaluating 68 different features. The end result was a data-driven, non-biased rating for each of those treadmills.

See the guide, reviews, and ratings: http://www.reviews.com/treadmills/
Kimberly Cooper
Oct 5 - Free book on-line: The Old Man and the Marathon. . . now available for download from www.smashwords.com (Nook, Kindle, iPad, iPhone, computer, etc.), or it can be downloaded from the Kindle or Nook store for 99 cents. A paperback version is also available from all on-line bookstores.
"Sixty-four year old Angelo Santiago has been a distance runner most of his life. However, he has never run a marathon because of a history of sciatica problems. With encouragement from his young friend, Emmanuel, he begins the arduous workouts that will prepare him for one of the most difficult ordeals of his life."
---
Oct 5 - The top finishers at today's Kansas CIty Zoo "Run for the Penguins 4 mile were Moni Spinger (2nd F30 in 28:05 and 5th overall female) and Andy Struble (26:46 time was good for 4th M25). results
---
Oct 3 - Races End Fees to Top Runners, Drawing Outcry.
The sport of road running, from small-town 10-kilometer races to big-city marathons, has long supported its top athletes with appearance fees. Come run our race, and you will be paid something regardless of your performance — that's the model. The fees are a crucial source of revenue for those swift runners who have gotten a massage and are napping by the time the main pack approaches the finish line.
But the days of being paid just for showing up may soon be ending, thanks to a recent competitor in the running world: private equity. more (from the New York Times, by Mary Pilon, 10/3/13)
Oct 2 - Wanted - runners over the age of 30 for a research project on the effect of training shoes on running kinematics. The treadmill test will be conducted by the KU Med Center - Orthopedics & Sports Medicine Department. more info

Oct 1 - One of the most entrenched beliefs about running, at least among nonrunners, is that it causes arthritis and ruins knees. But a nifty new study finds that this idea is a myth and distance running is unlikely to contribute to the development of arthritis, precisely and paradoxically because it involves so much running. more (from the New York Times, by Gretchen Reynolds, 9/25/13)