Sep 29 - Yesterday the Mad Dogs (& Englishmen) celebrated 30 years with the annual John Bunce Run. Several alums of the KU faculty and staff noon-time running group came back to run and reminisce. Simply referred to as the Mad Dogs these days, the group got its name because several of the original founders were Brits. Noel Coward's song describes the group. See the photos. | LJW story
Sep 28 - Congratulations to the Lawrence Free State girls cross country team with their second place team finish at today's Rim Rock Farm High School XC Race. Claire Sanner placed 4th overall and Emily Venters 6th, both making the national silver standard with times under 15:30 for the 4K. meet results

Sep 27 - Slow? No problem.
Slowest Player in Baseball - You know that dream where you are running and running but are not actually getting anywhere. I know people have all sorts of theories about this dream and what it means. Some say it indicates that you have too many things going in your life and can't quite keep up. Some say it's the body reacting to being in a sleep state. Some say it doesn't have any specific meaning at all, but it just an outlet for your brain.
I have come to believe that dream is simply about Kansas City designated hitter Billy Butler. more (from Joe Posnanski's blog)
Sep 23 - J Jenkins is starting up a Jeff Galloway training program in Lawrence this Fall called RunWalkLawrence.
"I'm offering a 'Getting Started' (couch-to-5K type) program beginning on Oct. 19 and culminating with a 5K around New Year's. I'm going to offer programs for other distances in 2014, including a marathon program targeting Waddell & Reed. If anyone is interested, they can visit RunWalkLawrence.com for more information."
Sep 21 - A running bib hall of fame? A request from J Jenkins at Garry Gribble's RunningSports:
Did you run the Timbuk-2-miler? The Instanbul Turkey Trot? The My-Better-Half?
What I'm really asking is, do you have a cool race bib? Don't keep that keepsake hidden away—display it at Garry Gribble's RunningSports in Lawrence! Bring us your unique race bibs and we'll display them in our store for as long as you'll let us. Just write your name and number on the back--you worked hard for that prize--and we'll keep it safe for the world to see. You'll see it way more often on our wall than in that box in your closet!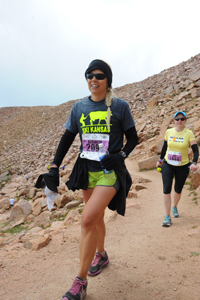 Sep 19 - Ski Kansas. And if you can't do that, run the Pikes Peak Ascent/Half Marathon, a 13+ mile hill run with an elevation gain of 7815 feet.
Except let's set the record straight right here and now and say, for the vast majority of the 1800 people signed up… this ain't no "run." It's a determined and grim-faced jog, the most heart-pounding of power hikes, much ado about shuffling and stumbling, and yes, my flatland friends, a death march. Repetitive Forward Motion (RFM), yes. But RUN? Not so much.
And yet, it was an absolute blast. more
Sep 18 - 5K Run/Walk for Cancer Research - There are several students at Langston Hughes Elementary that are fighting cancer, and friends wanted to do something to raise money for cancer research to show support for these brave kids.

The 5K run (no timing) will be held Sat, Sept 28 at 9 am at DeVictor Park; proceeds will go to the American Cancer Society. To sign up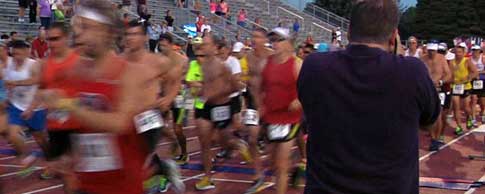 Sep 17 - From the Sept 8th Sioux Falls, SD, Marathon and Half Marathon -
On a very hot (72 degree start and 80s by the finish) on a non shade route Lawrence runners dominated:
Marathon:
Scott McVey 6th overall (1 of 46 age group) 2:59:09
Leigh Myers 15th overall (2 of 41); 3:05:26
Paul Miller 20th overall (3 of 41) 3:11:18 and
Jack Hope (1 of 10); 3:48:50
Note: All 4 qualified easily for Boston and are entered for Boston 2014
Kurt Schueler 3:42:43 (not bad especially with cramping issues)
Half Marathon:


Ben Chesang 1st overall 1:08:57
Zdenko Duris 16th overall (3 of 64); 1:27:41
Benjamin Friedline 1:41:50
John Frydman (4 of 30); 1:42:46
Sep 16 - (below) Photo from the Winey B!%#h cross country run on the Fahrmeier Family Vineyards in Lexington, MO. Pictured are LaRisa Chambers-Lochner, Brenda Harrington, Louise Loats and Julie Loats. Fun race, challenging course and beautiful scenery! Results
Sep 13 - Tomorrow at Clinton State Park is the Hawk 100, as in 100 miles - the ultra race sponsored by the Lawrence Trail Hawks. If you're not entered, stop by some time during the day and cheer on the runners.
A few weeks earlier in Europe - A race that compiles a breakdown of the athletes who abandoned the competition cannot be kind.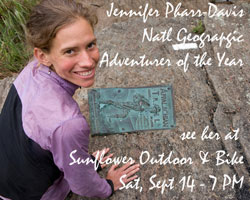 The Ultra-Trail du Mont-Blanc, an abusive mountain tour through three countries, began Aug. 30 with 2,469 runners. About 104 miles later, 1,686 of them had completed the loop back to Chamonix, France. Check out the slideshow from the New York Times.
And on the theme of ultra - remember Jennifer Pharr-Davis will be at Sunflower Outdoor & Bike at 7 pm, Sept 14, to talk about doing the whole Appalachian Trail.
Sep 7 - Photos: (above left) from the Labor Day 5K Run in Leawood. (right) Jason Holbert (Lawrence) ran his first half marathon at the North Shore Trail Run on Sept 7 (Mile 90 Photo).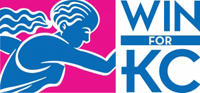 Sep 1 - A belated congratulations to all the Lawrence area women you competed in the WIN for KC Triathlon at Smithville Lake on July 27. Thanks to Julie Loats for the info. Results