July 2014 archives
July 28
Hunter Munns (Topeka) going through the Rose Garden at Gage Park at the Sunday Sunflower State Games Orienteering Race. results
July 24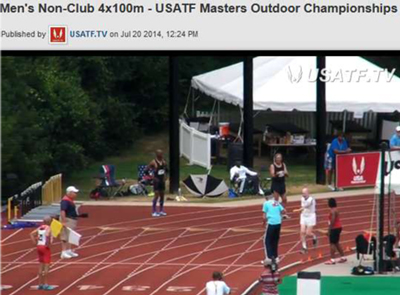 Track Team Is Peerless and, Seemingly, Ageless.
Roy Englert, 91, and four other nonagenarians set world records in three relay events last weekend. more
(by Juliet Macur, July 23, 2014, New York Times)

July 21
Assignment to Create a Score for a 10K Led to Inner Struggles.
EUGENE, Ore. — Down the road from Hayward Field at the University of Oregon School of Music and Dance, the conductor, composer and music professor Brian McWhorter was brooding.
McWhorter, tall and lanky, sat in his office surrounded by sheet music and trumpet mutes, stewing over his next assignment: to compose a musical score to accompany a 10,000-meter race taking place here Tuesday at the I.A.A.F. World Junior Championships. more
(July 21, 2014 New York Times)
July 17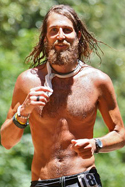 Tony Krupicka is the high-mileage runner from Boulder, Colorado. After quickly gaining fame for back-to-back victories at Colorado's Leadville Trail 100 (2006 and 2007), Krupicka also became known for his big weekly mileage, which would top out over 200 miles, minimalist shoe and gear preferences and disappointing injuries.
TrailRunner Magazine: "What have you learned from your high-mileage training regimen?"
Krupicka: "It's not sustainable. . ." read more
July 15
Hi, my name is Brad Johnson and I'm with Zoom Performance.  We're an endurance coaching company based in Des Moines, IA. I want to let you know about a triathlon clinic we will be holding in Kansas City this Thursday.  This is a free clinic and open to the public.  It's for beginning and intermediate level triathetes looking to improve their multisport skils.  Attached is a flyer with all of the clinic's information.  We hope to see you there!
July 12
So many events this day, here are photos (thanks to SeeKCRun) from three events with Lawrence area participants:. Results are in the right column.

LaRisa Chambers-Lochner, Brian Lochner, Tesa Green and Kristina Selters at the Prairie Punisher Duathlon/10K/5K in Gardner. more SeeKCRun photos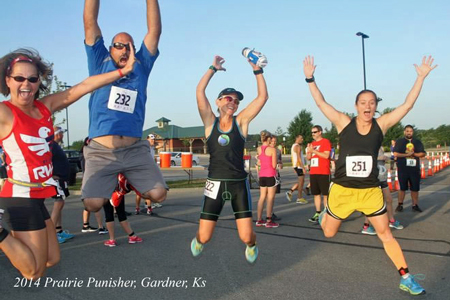 Eudora was well represented including the Fewins and Wellmans at the Horsethief Run Saturday. more photos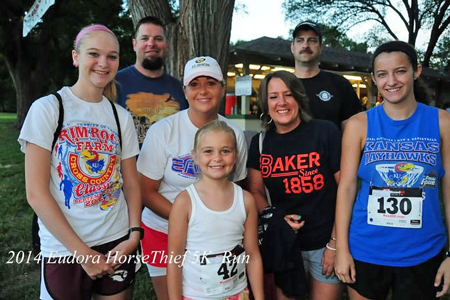 At the Sunflower State Games, tthe Cauldron Run was held at Shawnee Lake in Topeka. 5K winners were Jacob Bull (Berryton) and Michelle Andrew (Topeka). more photos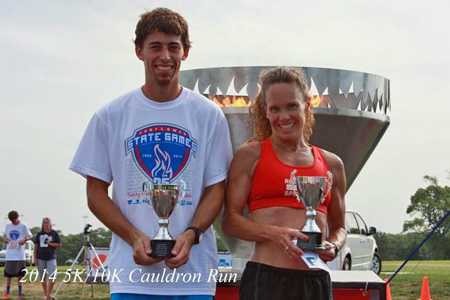 July 8
Sunflower Outdoor and Bike Shop is hosting a trail run/beginner's clinic this Thursday night, 6 pm at the Clinton Lake Trailhead. They will have demo Merrell shoes for people to try out along with 50% off select trail shoes from both Salomon and Merrell brands. There will be a brief clinic and trail run for anyone interested, but specifically geared to beginners. There will be a variety of distances and paces for all levels. Info: see Dan Kuhlman at Sunflower. 
July 4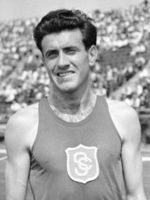 Louis Zamperini, triumphant 'Unbroken' warrior, dies at 97. The cause of death was pneumonia, his family said in a statement from Universal Pictures, which is making a film adaptation of "Unbroken," Laura Hillenbrand's bestselling chronicle about Zamperini's life. Zamperini was a contemporary of Glenn Cunningham. more
July 3
It's tomorrow, July 4, the Oberlin Mile - in the northwest corner of Kansas. The course is USATF certified on a looped course and the first chance in years to set state mile records. Any new times will be state records. Maybe next year with more advance notice people will drive out to Oberlin. Talk of a combo event with the Lake Atwood 10 Mile - an event that has been around for decades. Western Kansas gave us Glenn Cunningham (grew up in in Elkhart) and Wes Santee (Ashland). Who will be the next great miler?