March 2014 archives
Mar 26
I want to remind you that RunWalkLawrence's Galloway marathon training program is starting this Sat, March 29th.  Anyone who finished the 5K fun run with Galloway is fully ready to train for a marathon this Fall.  For more information on the program:
visit www.RunWalkLawrence.com, or call me with questions (785-865-6112);  or
simply show up for the first workout

this Saturday, 8:00am

from GGRS (839 Mass.).  We'll be doing an easy 3-mile run/walk and talking about what to expect the rest of the program.  The first week is always free, so bring a friend along and check it out! - J. Jenkins
Mar 25
The 87th Kansas Relays (April 16-19) are being held in the new Rock Chalk Park so this is a great opportunity for local runners to come out, help the Relays, and see the new IAAF-standard site. If you can volunteer some time, contact Debbie Luman (dluman@ku.edu). Schedule | KU Relays home page
Mar 24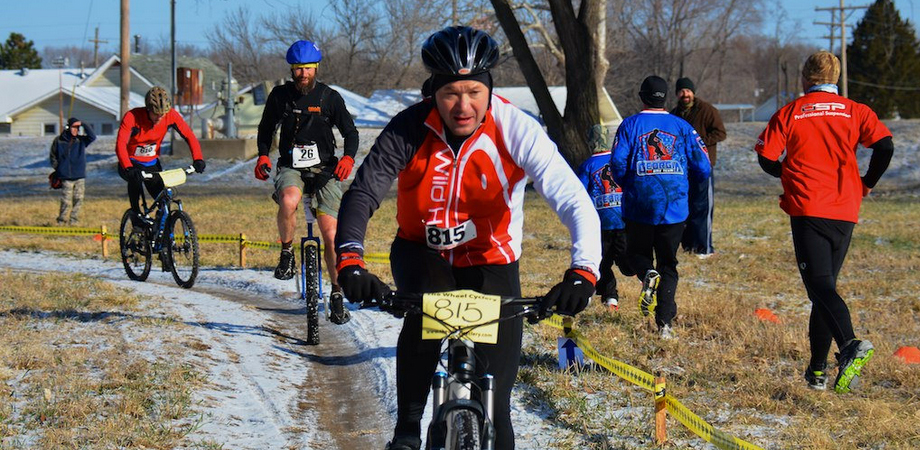 Photo from God's Country Off-Road Duathlon at the river trails in north Lawrence on Sun, Mar 23. Scott Stopak (815) is ahead of the one unicyclist entrant while runners on the other side are coming in off of their 2 mile loop. Photo by Lanterne Rouge, more photos | results
Mar 23
Next two runLawrence club meetings of interest.

Sun, Apr 6, 4:30 pm - Liz Dobbins and Cheryl Denton will share their experience climbing Mt. Kilimanjaro this past winter. Climbing a mountain had similar challenges the two are familiar with as triathletes. Accomplishing huge goals are taken by breaking it down to one step at a time. LJW story
Sun, May 4, 4:30 pm - on the eve of Cinco de Mayo, this club meeting will be held at the Cielito Lindo Restaurant, 815 New Hampshire.
Mar 20
The Lawrence-Douglas County Health Department will recognize Ellen Young and Logan Brown as the 2014 Douglas County Health Champions during a community breakfast from 7:30 a.m. to 8:30 a.m. April 11 at the Community Health Facility. Ellen is a former president of runLawrence. more
Mar 19
To help educate and remind all runners to run safe, the RRCA is embarking on a yearlong, public-safety, awareness campaign starting with the launch of the Run Smart, Run Safe animated video developed by Space Chimp Media. 
The video is designed to remind both new and regular runners to be aware of their surroundings at all times and to never trust drivers on the road.
Mar 17
One way to celebrate Pi Day is to eat pie. That's what you get at the end of the Pi Day River Rotation Half Marathon and 5K held yesterday at the river trails in north Lawrence. The photo shows all the runners going in the right direction. You go out one loop and go back on the loop in reverse before a shorter third loop. More photos at Mile 90 Photography. Results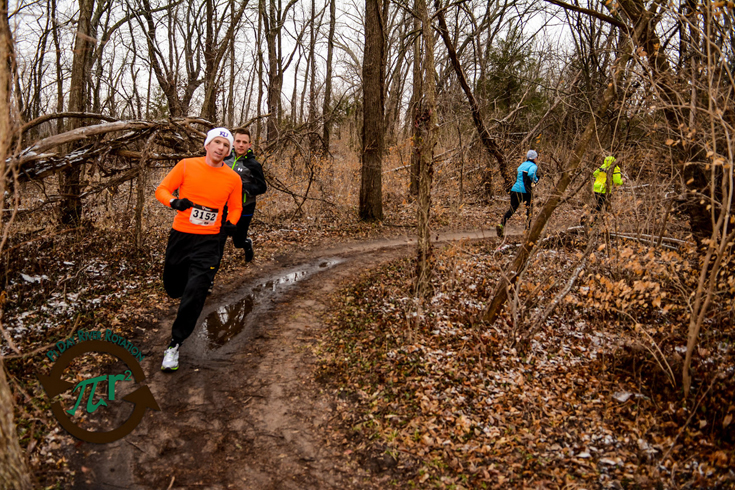 Mar 16
From yesterday's Mrs Robinson Romp Trail Races at Wyandotte County Lake Park. Dan Kuhlman and Jason Holbert at thje check-in. Jason was the top M35-39. Right, Mr. Peabody leading his boy Keith (aka Keith Dowell with Spank). More photos at Mile 90 Photography. Results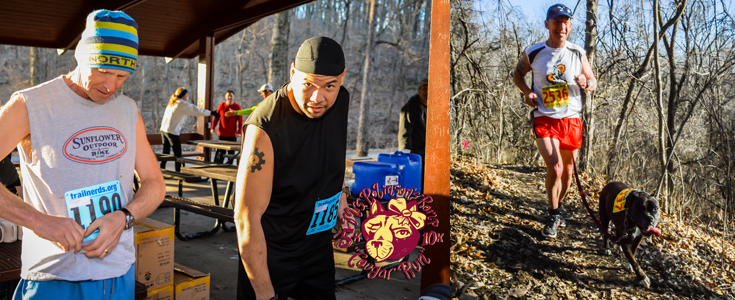 Mar 15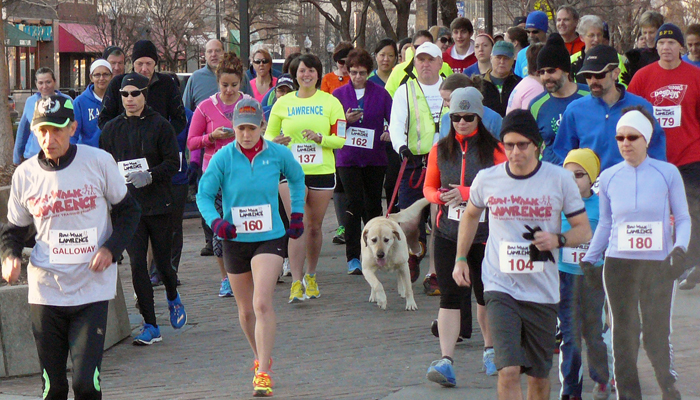 The 5K group run en masse on Mass. Jeff Galloway is on the left; J. Jenkins on the right.
Jeff Galloway was in Lawrence to lead a workshop on his run-walk method of running distance events. People met at Garry Gribble's Running Sports for a 5K run with training tips at 8 am. Then at 10 am the workshop ws held at Signs of Life. J. Jenkins, manager of the GGRS Lawrence store, is also the local coach for the Run-Walk-Lawrence program. photos
Mar 10
Sopot, Poland — Perhaps people know Calvin Smith Jr, and even then likely because his father was a famous runner a generation back. And David Verburg ran on the 4x400 world outdoor gold medal team last year.
But Kyle Clemons? Kind Butler III?
Like so many on this U.S. team at the world indoor championships which was low on glamor yet deep in talent, they produced beyond expectations Sunday and now have a 4x400 indoor world record to show for it. more
Mar 9
There will be a free clinic on Improved Marathon Performance at 6 pm this Wed, March 12th, at Garry Gribble's Running Sports in Lawrence.  Practical advice on training, goal setting, race nutrition, pacing, essential accessories, and more will be given.  There will be door prizes (and maybe a little controversy) so don't miss this clinic! - J. Jenkins
Mar 8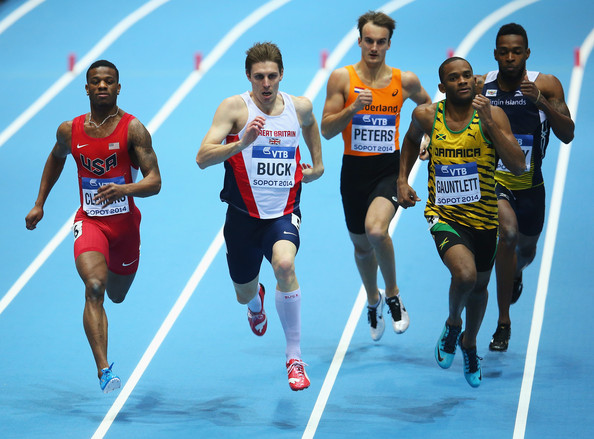 (March 6, 2014 - Source: Julian Finney/Getty Images Europe)
Sopot, Poland — Former KU track star Kyle Clemons (above left) finished third in the 400-meter final Sat, Mar 7 at the IAAF World Indoor Championships in Poland.
 
Clemons, who competed for the Jayhawks from 2010-13, entered the event two weeks removed from claiming the American 400-meter title at the USA Indoor Championships in Albuquerque, NM. Clemons made it to the final in Sopot by way of two qualifying races Friday. He was the second-overall qualifier in the preliminary heats before running to the No. 2 overall qualifying spot in the semifinal race.
 
In the final, Clemons was again the top American finisher but was unable to overcome the Czech Republic's Pavel Maslak and the Bahama's Chris Brown. He managed to claim a third-place after completing his quarter mile in 45.74.
Mar 6
From Active.com: This spring's running gear trends encourage runners to flaunt their uniqueness. Taking a cue from the build-your-own burgers, pizzas and FroYo trends, several shoe company heavyweights are offering customizable shoes that can be tricked out with your own motivational messages, graphics and color selections. Blurring the line between running and active lifestyle clothes, the new running styles for spring include funky patterns, bold colors, sheer tops and lightweight layers that will make you look stylish on the track or trails as well as at the post-run brunch with your buddies. Check out our picks of the coolest new running gear for spring 2014. more
Of course, visit your local stores first to look for these items.
Mar 5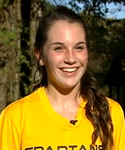 WINSTON-SALEM, N.C. — When a pack of whip-thin girls zipped across the finish of the 1,600-meter race at a recent track meet here, the smallest runner's legs wobbled like rubber, and she flopped into her waiting coach's arms. She collapses every time she races.
Kayla Montgomery, 18, was found to have multiple sclerosis three years ago. Defying most logic, she has gone on to become one of the fastest young distance runners in the country — one who cannot stay on her feet after crossing the finish line. more
(from the New York Times, Mar 3, 2014, by Lindsay Crouse)
Mar 4
Deadline for signing up for the 6th Graders Spring Running Program is this Sat, Mar 8. Spring is coming (really!) and the first practice is Tues, Mar 11. Check the Youth Running Project page and join several of the kids back from the fall program. Newcomers are welcome. Questions, contact Coach Dan Kuhlman.
Mar 2
From Garrett Jones: Just an update on the KU Running Club. ! We've had a cold start to the semester, and the attendance numbers reflect that - can't wait for warmer weather.  Our first club competition is March 8th - we'll have roughly a dozen members racing in either the 5k or 10k Shamrock Shuffle here in Lawrence.  We also have the following upcoming competitions scheduled:
Sat, Mar 29

- Emporia spring open track meet

Sat, Apr 5

- NIRCA Track & Field & Half Marathon Championship in Bloomington, IN