May 2014 archives
May 31
Congrats to the state champs - Free State Girls and Baldwin Girls!
Teams taking 3rd at the State meet in Wichita: Lawrence High Girls in 6A and Baldwin Boys in 4A. Check all the results.
Class 6A Girls:
1) Lawrence Free State 97
2) Olathe-East 80
3) Lawrence 47

Class 4A Girls:
1) Baldwin 71
2) Andale 57
3) Paola 42
3) Cfyville-Field Kindley 42
Class 4A Boys:
1) Andale 69
2) Winfield HS 58
3) Baldwin 38
May 26
Shannon Hodges gets escorted by her daughter Geneva to the finish at South Park at today's Home Run 5K. The run benefitted Family Promise and the Lawrence Community Shelter. more photos | results
May 21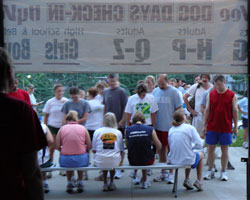 Red Dog's Dog Days - the summer workouts will begin Mon, June 2. The free community workouts will meet 6 am & 6 pm Monday thru Thursday at South Park (west side of Mass St.).
Sat, June 7 will be the first summer Saturday run from the Lied Center 7:00 am and 7:45 am.
May 14
How Quickly Do You Lose Running Fitness?
Any runner with big goals—whether it's finishing a first 5K or qualifying for the Boston Marathon—can get worried at the prospect of taking time off from running.
But sometimes it's inevitable: You get the flu, have a really busy week at work, take a vacation with the family, or experience a running injury. No matter the reason for taking some time away from running, the best thing you can do is get back to your normal training volume as quickly and safely as possible.
Even though that's usually the best intention, it doesn't always happen. So how soon do you actually lose the fitness you've worked so hard to gain when you take time off? more
(Jason Fitzgerald | for Active.com)
May 11
Record crowd again at the KC Express 5K - over 4000 runners celebrating Mothers Day in Overland Park. See photos from KC Star's Community Faces "Mingle" section.
In Lawrence, Body Boutique changed the date for their 8th Annual WOW Run to Mother's Day. Erica Eden, the new race director, handed out flowers to all finishers. Below Delaney Earl who ran with Grandma Mary Wade (Wamego, KS) relax wih their flower. More WOW Run photos
Check the results from both events.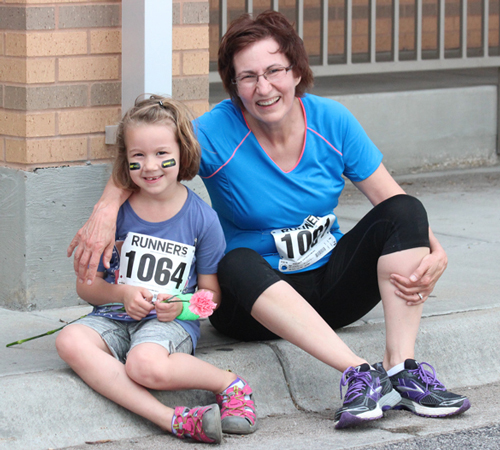 May 9
At 95 years old, Olga Kotelko could be forgiven for sitting on the sidelines as people 60 years her junior jump over poles and hurl javelins into the distance.
But this sprightly 5ft-tall Canadian joins in - in a big way.
This year she became the oldest recorded female indoor sprinter, high jumper, long jumper and triple jumper at the World Masters Athletics Championships. more (from the BBC, May 5, 2014)
May 8
News outlets in the early days were few, and included Runner's World, Runner and Running Times, as well as a handful of regional publications such as Racing South (now Running Journal) and New England Runner. Through it all we have learned—and unlearned—volumes of information about the sport we love. Trends, fads and the occasional universal truth have been disseminated for almost four decades. Today we sift through it all to dispel some of the least truthful nuggets of running rhetoric. These are the seven myths most commonly pushed by those not in the know. more
May 4
At the RRCA National Convention in Spokane, Washington, were Leah Kuhlman, Deena Kastor and Dee Boeck before the awards banquet. more photos