November 2014 News
Nov 30
A dozen people completed the 8-week training program to get ready for the Thanksgiving Day 5K. Shown here are some of the graudates of that program at the race last Thursday. (Kendra Kuhlman photo)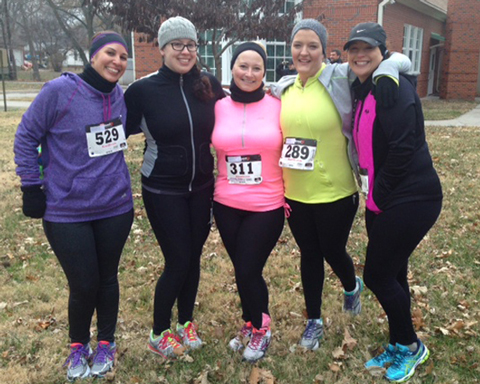 Nov 28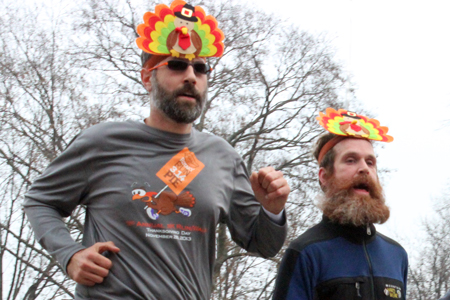 See the Flickr photo album for more scenes from the runLawrence Thanksgiving Day 5K. Results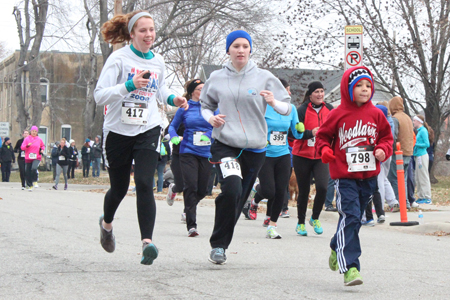 Nov 22
Congratulations to Dan Kuhlman on winning the M60-64 cross country race at the Living History Farms in Des Moines today. top results
Nov 20
Trunk muscles—including your hips and glutes—are arguably the most important part of your running anatomy. Pay attention to them to prevent injury and stay strong. 4 Hip-Strengthening Exercises to Help You Run Strong. (Trail Runner, Nov 16, 2014) more
Nov 19
After 30 years of running a business — literally — Garry Gribble is ready to retire. The founder of Garry Gribble's Running Sports has sold the five-store chain to a unit of The Finish Line Inc.
more
Nov 16
Here's a short clip of The Walking Dead - NYC episode: After completing the 2014 New York City Marathon, participants fight through fatigue and physical exhaustion on the streets of Manhattan.
Nov 15
Finishing as the snow started to fall at the Field Station Frolic Trail Run, Saturday's event for the KU Endowment Mari Pesek Memorial.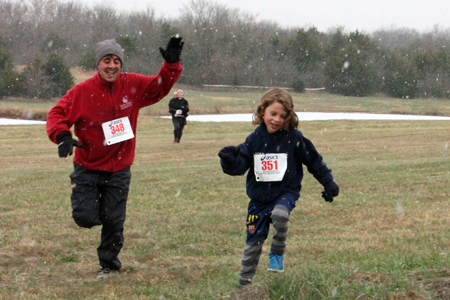 Nov 13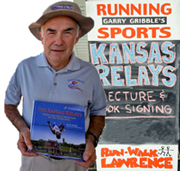 Legendary Topeka West track coach Joe Schrag will be speaking at Garry Gribble's Running Sports in Lawrence at 6 pm on Wed, Nov 19.  The subject of his talk will be his new book, The Kansas Relays: Track and Field Tradition in the Heartland.  Coach Schrag is a KU Relays Hall of Fame member, and has participated as either an athlete, coach, or official in every relays since 1954.  Joe will share his intimate knowledge of relays history, field questions from the audience, and be available to sign copies of his book. (rescheduled from Oct 29)
Nov 12
The research argues that running a lot is a more effective way to train for maximum running fitness and minimal injury risk rather than a low mileage-high intensity training regimen that includes strength training and drills to prevent injuries caused by muscle weakness and bad form. more (by Matt Fitzgerald, for Active.com)
Nov 8
Keith Dowell at the Nov 8, 2014 Topeka Tower Stair Race had to deal with a chair on one landing. It's now a steeplechase? The Topeka Capital-Journal story.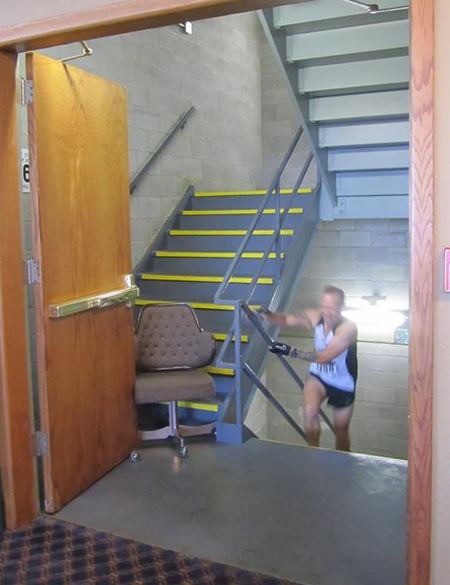 Nov 6
Here are the results of all Kansans at the New York Marathon.
Nov 2
Start of the 2014 Kansas Half Marathon from Watson Park. More at Mile 90 Photography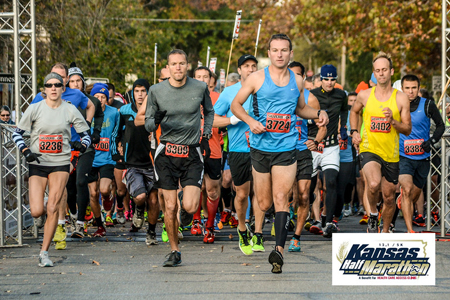 Nov 1
Congratulations to these top cross country teams from this weekend's state championships. The 6A, 5A, 3A schools ran Saturday at Rim Rock Farm. The 4A, 2A, 1A schools ran Nov 1st in Wamego.
Teams:
Baldwin Boys (1st 4A), Lawrence Free State Girls (2nd 6A), Baldwin Girls (3rd 4A), Tonganoxie Girls (4th 4A), DeSoto Boys (4th 4A), Lawrence Free State Boys (5th 6A).
Top Individual Results:
Emily Venters (Free State, girls 6A champ); George Letner (Baldwin, boys 4A, 4th); Luis Murillo (DeSoto, boys 4A, 6th); Kiran Cordes (Free State, girls 6A, 6th); Ethan Donley (Free State,6th, boys 6A); Hannah Honeyman (Santa Fe Trail, girls 4A, 6th)
Photos from the Big 12 Cross Country Championships at Rim Rock Farm today. Below, three runners go up Cemetery Hill in the women's 6K.