October 2014 News
Oct 31
Lawrence Free State's Emily Venters defended her title as the 6A cross country champ at Rim Rock Farm today. She led from start to finish. more photos | results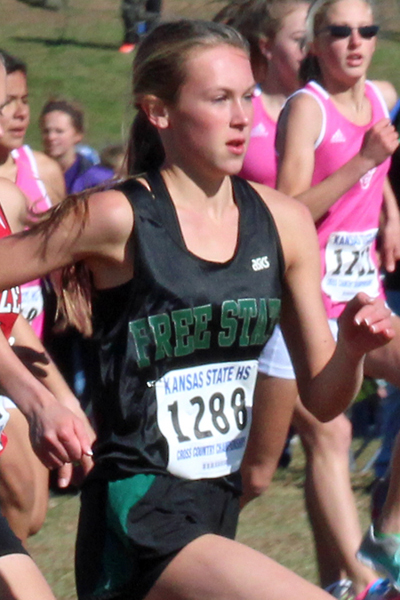 Oct 29
Many runners think that muscle cramps are caused by dehydration and/or an imbalance in electrolytes, which could theoretically affect the ability of a muscle to contract. However, research has shown that dehydration and electrolyte imbalances are not the cause. more (from Active.com)
Oct 28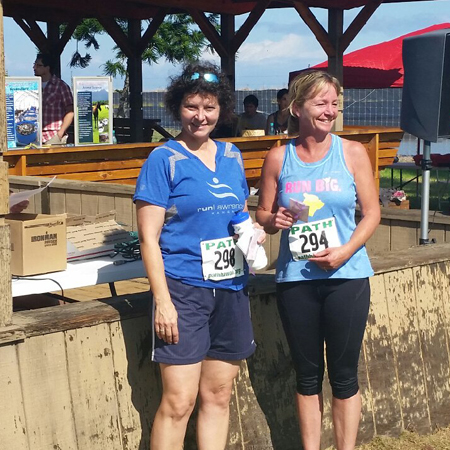 News from Hawaii - Brenda Groskinsky got 3rd in F50 at the Run for the Dry Forest 5K in Waikoloa, HI. results
Oct 27

This weekend's Kansas Half Marathon course was approved today by USATF; any times on the 13.1 mile course under the target times for state records will be accepted. The 5K course is not certified. Special thanks to DJ Hilding for the work to get this new and creative route approved.
Congratulations to Maresa Cuevas and Kyle Morgison who were the overall winners at the Neewollah 5K in Independence, KS last Saturday. As youth coaches, they lead by example. results
Overall winners at Sunday's Crimson & Boo 5K on the KU West Campus were Garrett Gatzemeyer and Kinsey McKenrick. results
Oct 26
The KU Running Club again hosted the NIRCA Heartland Regional Cross Country races at Haskell on Saturday. Top winners were KU's Ben Wellwood and Nebraska's Mckayla Wieczorek. KU and CU tied in the men's team competition both scoring 42 points. KU was the only school with a complete team in the women's race. photos | results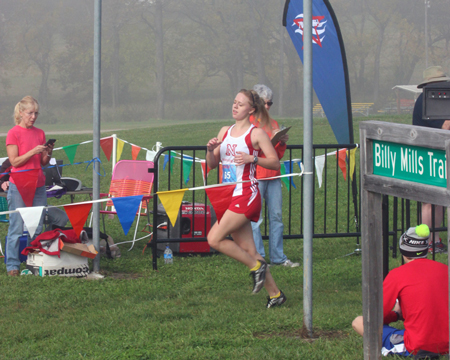 The National Intercollegiate Running Club Association (NIRCA) is a grassroots organization that promotes networking and friendly competition amongst collegiate running, cross country, and track clubs. NIRCA coordinates many events, including a fall cross country season, Cross Country Championship Series, Road and Track Nationals, and all-club conferences.
Oct 25
The annual John Bunce Run of the Mad Dogs, the KU faculty and staff runniing group. more photos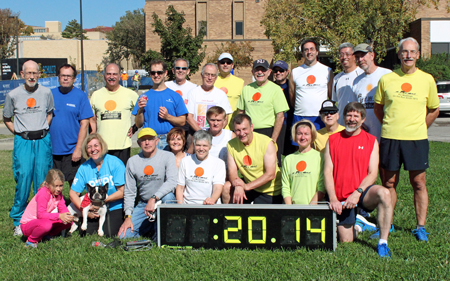 Oct 23
Last Thur, Oct 16, at the North Shore branch of Rock/Creek, an outdoor retailer based in Chattanooga, TN, several employees got an unexpected midday run in when a customer allegedly bolted out the door with stolen merchandise. A small team of Rock/Creek employees and accomplished trail runners took off immediately after the suspect, chasing him down the street, through parking lots, around a neighboring business's fence and into a nearby wooded area. more
Oct 22
To Use or Not to Use: GPS Watches and Races. There seem to be conflicting views on taking a GPS watch into an actual race. Some runners swear by it, stressing that the watch is useful for keeping them on pace, making sure that they run neither too fast (peaking early) nor too slowly (finishing above their target time). Other runners believe that GPS watches should be used as training tools only. more
Oct 21
Ya, sure you betcha. Dee Boeck took first again at the 5th Annual Mankato (MN) Half Marathon on Oct 19; that's four firsts in five years. The previous four years she competed in the F60-64 category. This was the first time in F65-69 but her 1:54:35 would have won the F60 race as well, Dee grew up in Amboy, just south of Mankato on US169. more photos
Oct 19
Congratulations to these local runners placing in the top three in their categories at Saturday's Waddell & Reed Kansas City Marathon, Half Marathon and 5K races.
Marathon:
John Mullholland (Lawrence), 2:56:24, 10th overall, 2nd in M30-34
Karen Hyde (Lawrence), 3:34:56, 1st F50-54
Pam Perica (Bonner Springs), 3:56:07, 1st F60-64
Michelle Andrew (Topeka), 3:30:17, 2nd F40-44
Jerry Hill (Lawrence) 3:27:19, 3rd, M50-54

Half Marathon:
Rob Hayes (Topeka) 1:18:30, 10th overall, 1st M45-49
Neal Farron (Topeka), 1:35:27, 2nd M50-54
Susie Fagan (Lawrence), 1:39:05, 2nd F40-44
Tracy Spiess (Lawrence), 1:33:53, 3rd F35-39
Ken Johnson (Lawrence), 1:48:21, 3rd M60-64
all results

Oct 18
If you keep track of age-graded times for yourself and on your close competitors, there are plans to update the tables. When a new world record, 2:02:57 (as yet not ratified), for the men's Marathon was set on Sept 28th at the Berlin Marathon by 30-year-old Denis Kimetto of Kenya, it generated a blog by Robert James Reese from Runner's World magazine. He suggested that it may be time to update the age-grade tables. This inspired Alan Jones (who updated the tables in 2010) to check on how many times had changed in the almost ten years since the men's tables were established and the almost five years since the women's tables were updated. For more information
Oct 17
Congratulations to Kendra Kuhlman and Heidi Matsakis on their 8th & 9th place finishes in the F30-39 category at the Market to Market Relay on Sat, Oct 11. The race started from Grandpas Woods Golf Course near the village of Murdock and ended in Lincoln, Nebraska.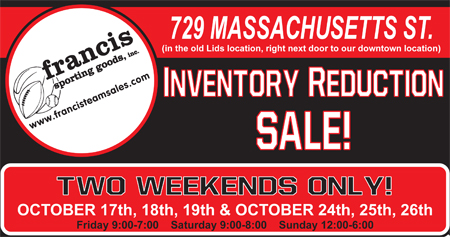 Oct 15
Legendary Topeka West track coach Joe Schrag will be speaking at Garry Gribble's Running Sports in Lawrence at 6 pm on Wed, Oct 29.  The subject of his talk will be his new book, The Kansas Relays: Track and Field Tradition in the Heartland.  Coach Schrag is a KU Relays Hall of Fame member, and has participated as either an athlete, coach, or official in every relays since 1954.  Joe will share his intimate knowledge of relays history, field questions from the audience, and be available to sign copies of his book.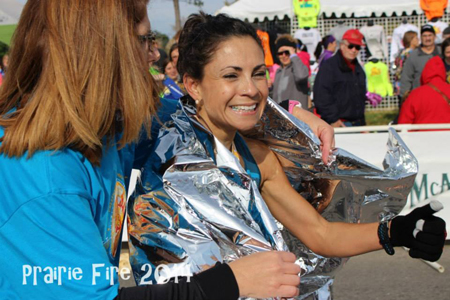 The Prairie Fire, aptly named, races in Wichita on Oct 12 produced 9 new state records, added 95 names to the honor roll in the state road racing records. Wichita's Raquel Stucky set a new state record in the marathon with a time of 2:44:58 to break Kathy Whitcomb's record which stood since 1982. state records

Oct 14, 1964
If you were ever at Haskell, KU or the Marine Corps, here's one of your own. Hoka Hey, Rock Chalk, Semper Fi!
Here's a color version of Billy Mills' race. It's a little sharper than the classic film clip with the announcer going wild with the upset win (the announcer got fired for his enthusiasm). 50 years ago today.
Oct 13
Lawrence resident and former runLawrence president Ellen Young was recognized on Wed, Oct 8th by Lieutenant Governor Jeff Colyer along with four other Kansas citizens or organizations for improving health in their communities. The Health Champion Award was developed by the Governor's Council on Fitness to recognize and promote exemplary contributions to fitness in Kansas.
From the KDHE News Release: Ellen Young made a lifestyle change through walking and a healthier diet 20 years ago. That grew into a passion for running and fitness, then a dedication to sharing her passion with others, which she has done for many years. Early in the morning, you will find Young volunteering at Dog Days, a free community fitness program, where she has been checking in participants for at least 10 years. She organized the first Red Dog run, a fundraising event benefitting the local Boys and Girls Club that continues to this day. After work in the evenings or on weekends, you will usually find her volunteering on behalf of a charity or race or coordinating a run for the women's running group she founded, Running for the Hill of It. Young's selfless dedication and practical encouragement have made her a loved and respected member of the Lawrence running and fitness community.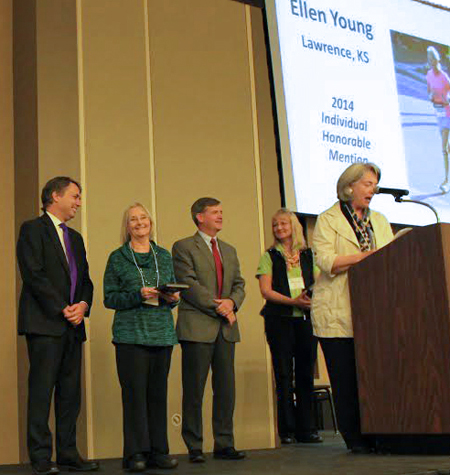 Oct 12
Fall is cross country season. Here's a scene from the Haskell Invitational yesterday. There were also NAIA races at Rim Rock Farm that day. The KU Running Club competed at Haskell.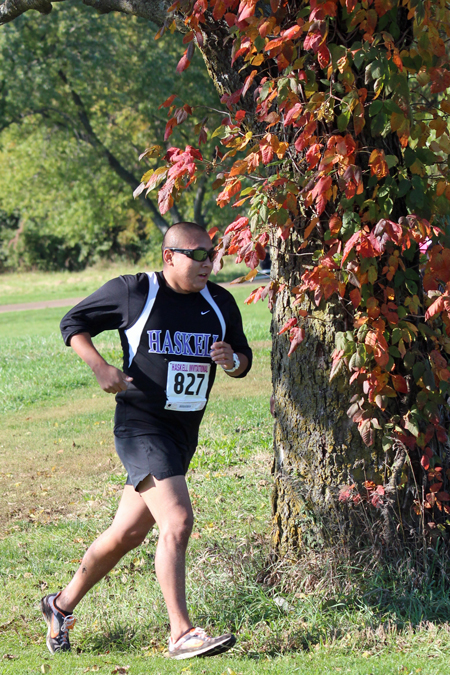 Oct 11
The middle schoolers who had been training all fall in the runLawrence Youth Running Project cross country program got a chance to compete with other middle school programs Oct 11th at the Carl Owczarzak Classic at Shawnee Mission Park hosted by Shawee Mission West. Take a look at the photos of our runners.
Lawrence Results. Please note: The times for the boys 1 mile are not correct near the middle of the race. Most of the times are OK, it appears, but Theo Weis' time should be 8:50 and Reece White-Lightning 9:12. Also, Erin Fagan does not appear in the girls results for some reason ... a bit of confusion in the chute I think. Anyways, she should be between the Bella Stull and Bella Crawford-Parker.... maybe near 30th place, about 7:38 or so.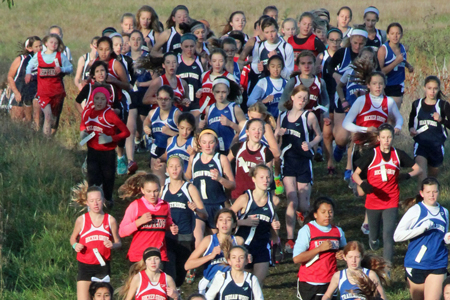 Oct 9
At the Eudora Invitational at the Fall Leaf Farm this afternoon, Dillon Ware (Wellsville) edged out Eudora's Kimble Haskett to the finish as the rain started up again. More photos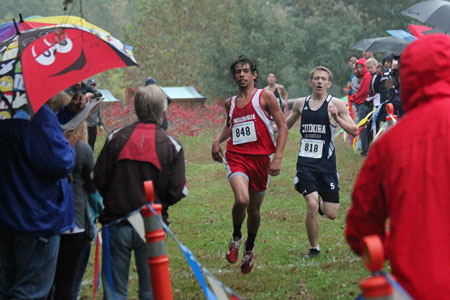 Check out the photos of this year's Flat Rock 50K and 25K in Independence, KS. The team of Rick and Kristi Mayo make up Mile 90 Photography with one of their works making the cover of a recent Ultarunning magazine. Below is Lecompton's Greg Burger who finished the 50K in 6:20:40 at the Sept 27th event.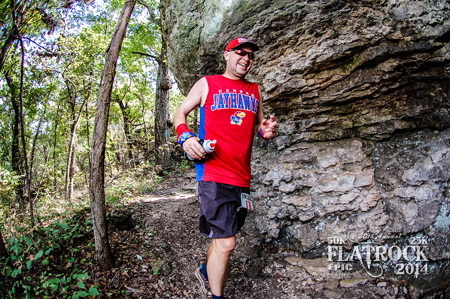 Oct 8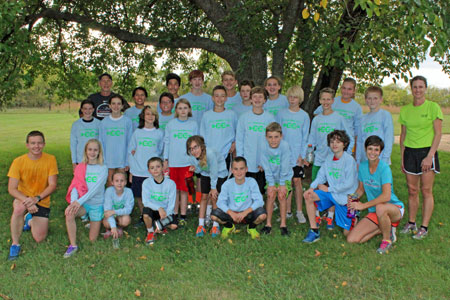 After eight weeks, they all look like runners. Here's the group photo of the Middle School Cross Country Program organized by Dan Kuhlman and runLawrence. The program started on Aug 18th and ends Oct 17. The photos were taken at the workout Oct 8th at the Clinton Lake trails.
Oct 7
Congratulations to Dan Kuhlman at the Stump Jump 50K in Chattanooga, Tennessee. "Brutally tough course - over 4000 ft of elevation gain and super technical. Fell nine times HARD!" Dan came in 29th overall and 2nd in his age group but with the age-grading system, Dan is now the RRCA's Senior Grand Master National Champion. results
The results from Saturday's Boys & Girls Club Red Dog Run have been revised and now broken down by age groups. Check the results page; also see who made the state honor roll records.
Oct 6
The KU Running Club is again hosting the Heartland Regional NIRCA Cross Country Championships on Sat, Oct 25 on the Haskell campus. Garrett Jones is asking for volunteers to help with course marshaling and around the finish area. If you can help, please contact Garrett at runku@ku.edu.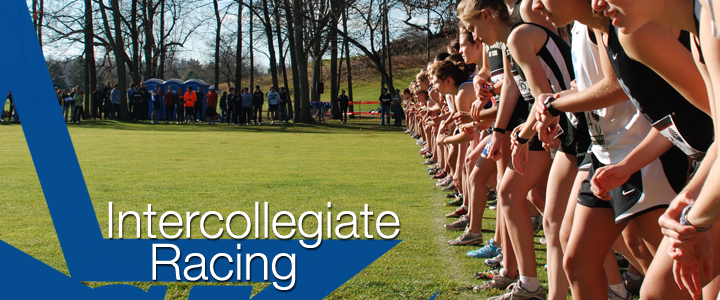 Oct 4
The temperature drop to 40 degrees did not stop the celebration of the 10th Annual Boys and Girls Club Red Dog Run, held at Haskell Indian Nations University this morning. Don "Red Dog" and Bev Gardner were honored before the start.
photo slideshow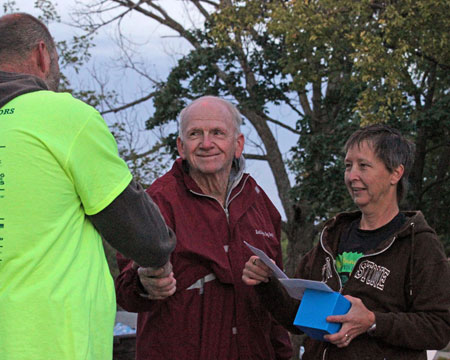 Oct 2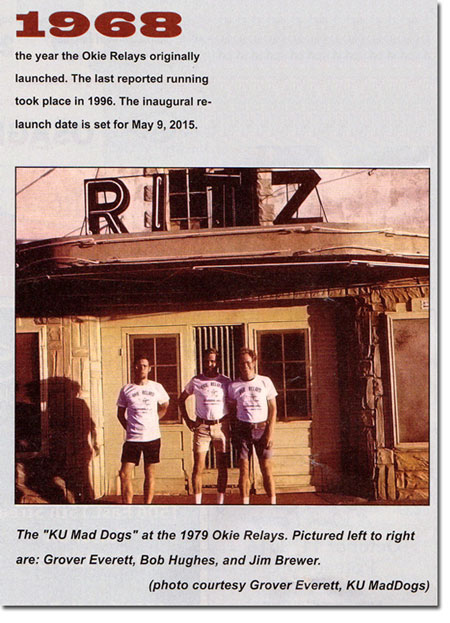 From the Mad Dogs Oct. web page: Oklahoma Sports & Fitness magazine ran a photo of several MadDogs from the 1979 Okie Relays, 41 miles across the Oklahoma Panhandle. The Okie Relays ran from 1968 to 1996, and the photo is in conjunction with a revival of the run, scheduled for May 9, 2015. The preliminary details are on the website. With the popularity of point-to-point events these days, expect a few more runners to sign up.