August 2015 News
Aug 30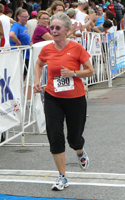 Seeing Lawrence one step at a time.

The squirrels — especially the west Lawrence ones — know Janet Burnett-Huchingson's chief complaint.
Cul-de-sacs.
Janet is working on a goal of walking along every street in the Lawrence city limits, and Lawrence's large population of squirrels are her most frequent companions. Janet walks during the daytime hours when most of us are working, at school or taking care of other business. more (by Chad Lawhorn, Lawrence Journal-World, 8/30/15)
Aug 28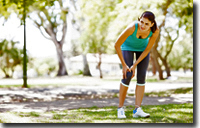 Whether you're a beginner or an elite runner, improving your performance isn't just about what you should do. Knowing what to avoid during training, racing and in your diet can be just as important. Follow these 10 rules to run smart and avoid common setbacks. more
(Marc Lindsay, Active.com)
Aug 25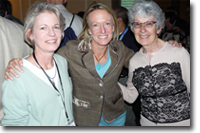 5 Things No One Tells You About Running As You Get Older. Find some inspiration from 42-year-old Deena Kastor, running legend. more (from Runner's World, Aug 21, 2015)
Aug 24
Here's a little background on what is happening with the running store consolidations around the country. Garry Gribble (GGRS) wasn't alone in selling his successful store business (to Running Specialty Group). Some local employees have left the Lawrence store to start a new business. Others will stay with GGRS to provide the service the store has always done but with the backing of RSG. Lawrence shoppers are getting more options.
Running Store Consolidation: What it Means for Runners.
For the past three years, the running store business has been undergoing a corporate land grab of sorts as bigger companies try to scale what had previously been dominated by passionate, independent mom-and-pop operations. Finish Line Inc. (NASDAQ: FINL) is an Indianapolis-based athletic shoe retailer with approximately 650 Finish Line mall stores, 200 concept stores inside Macy's department stores and 66 running specialty shops it has purchased or started under its Denver-based Running Specialty Group (RSG) since 2012. Its foray into the $1 billion running specialty channel has made small, independently owned retailers both very nervous and very annoyed. RSG officials have said they would like to grow to 200 stores in the next few years, a figure that would represent about a quarter of the running specialty market. More
(story and photo by Brian Metzler, in Competitor.com, Dec, 2014)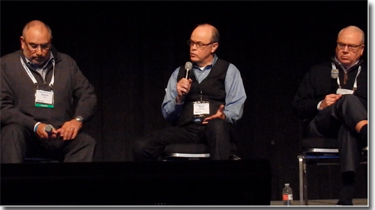 Mark Sullivan, editor of Running Insight, conducts a Q&A with Finish Line Inc. CEO and chairman Glenn Lyon (left) and Running Specialty Group president Bill Kirkendall (right) on Dec. 3 in Austin, Texas.

Aug 23

The Kansas Half Marathon & Health Care Access are proud to announce that Ad Astra Running will be the presenting sponsor of the 2015 event.
Ad Astra Running is proud to be the presenting sponsor of the Kansas Half Marathon. The focus of our store is community, and community is what this race is all about. This is a hometown event benefiting one of the community's worthiest causes: Health Care Access' said J. Jenkins.
"We are incredibly excited to partner with Ad Astra Running. Their ownership team has supported this event for many years. This partnership will allow us to grow the event and raise record proceeds for its beneficiary: Health Care Access" said, Race Director & Development Coordinator, Elliot Johnson.
Ad Astra Running is Lawrence's local running store–locally owned and focused.  Opening this Sept 25th, Ad Astra Running will carry everything a runner needs, from shoes to accessories, apparel, nutrition, recovery items and more.
Aug 22
The world track championships began yesterday and runs through Aug. 30. Here's the broadcast schedule on NBC (WOW channels 14 and 214).

| | |
| --- | --- |
| Sat, Aug 22 | 2 pm - 3:30 pm |
| Sun, Aug 23 | 12 pm - 1:30 pm |
| Sat, Aug 29 | 1:30 pm - 3 pm |
| Sun, Aug 30 | 1 pm - 2:30 pm |
Here's the schedule on Universal Sports.

Aug 21
187 people came to the call to Defend Lawrence for the second annual free 5K run on the 152nd anniversary of Quantrill's Raid. J Jenkins moved the start to 16 E 8th, the location for a new store - Ad Astra Running Store. He and business partner Grant Catloth plan to open in late September. more photos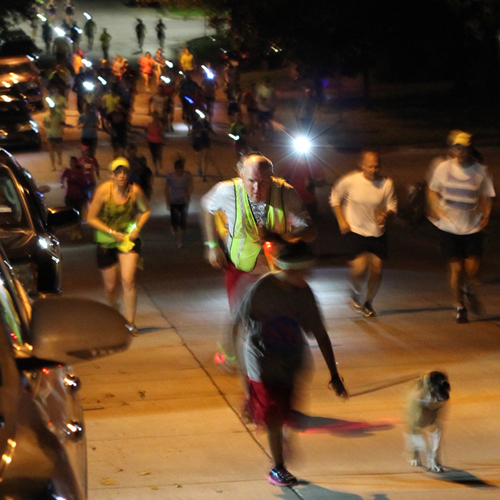 Aug 20
The State of Running in 2015 (from Active.com) - Every year, Running USA gathers and analyzes data from running races around the country and compiles those statistics into its annual State of the Sport report. Read more for the highlights.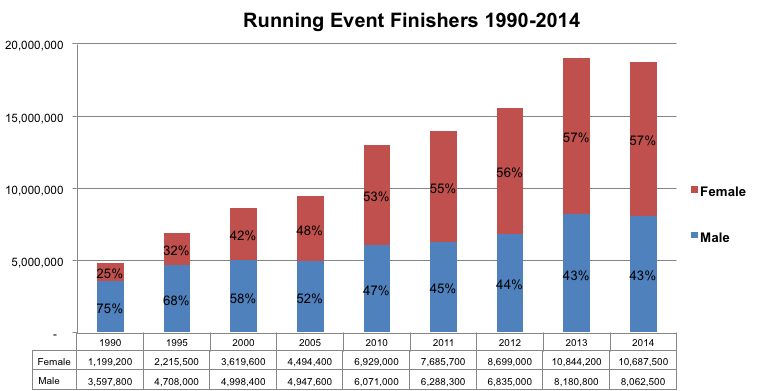 Aug 19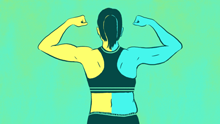 This is What Happens to Your Body When You Stop Exercising.
It takes a lot of hard work to stay in shape, which is why it's important to exercise on a regular basis. But it's not always possible to remain active, and sometimes a few days off can turn into a more... extended hiatus.
. . . consider a person who can run 5 kilometers in 20 minutes. After just one week of inactivity, that person will typically worsen their time by approximately 10 seconds. But after 10 to 14 days, that's when the percentages really start to drop. Runners begin to experience a reduction in muscle power, and start adding around one minute and five seconds to their time. Between 14 to 30 days, athletes can expect to experience around a 12% reduction in VO2 and a noticeable decrease of muscle power. more (by George Dvorsky, IO9 Blog, 8/17/15)

Aug 17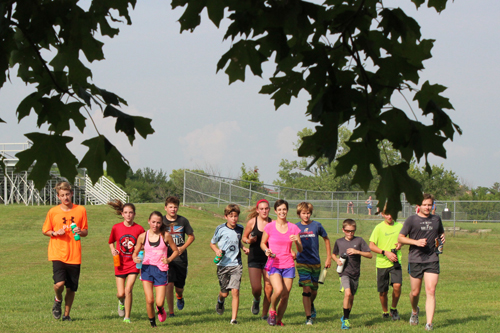 Fall is here when you begin cross country practice. The first workout for the runLawrence Middle School Cross Country Program was held at Broken Arrow Park and the Haskell trails this afternoon. The program is headed again by Dan Kuhlman. Assistant coaches include Maresa Cuevas, Kyle Morgison, Kendra Kuhlman and Leah Kuhlman. more photos
Aug 15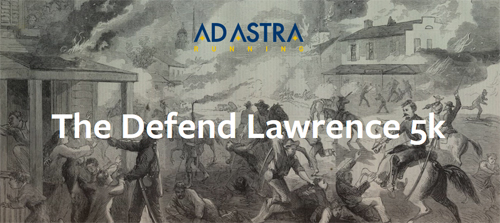 It's time for the second annual FREE Defend Lawrence 5K to mark the 152nd anniversary of Quantrill's raid on Lawrence.
On Friday, Aug 21, come meet the people behind Ad Astra Running — Lawrence's new, locally owned running store (opening late Sept) - and run with others in our local running community. Meet at 16 E Eighth St. at 4:55 am. more info
Aug 13
Dan Kuhlman ran the Paavo Nurmi marathon last Saturday in Hurley, WI in 3:34:17, placing 16th overall and 1st in his age group. Last August, he ran the Bridger Ridge Run, outside Bozeman, Montana. It's a 20-mile race that gains 6,800 feet and loses almost 10,000, on some of the most exposed, technical trails you can imagine.
Eric Bendick produced a short film, "Wind Drinkers," on last year's run. Through mid-run interviews with runners, and stunning aerial footage of sweeping ridgelines and dizzying descents, the film brings this storied run to life. Is that Dan with his back to the camera in the photo below. Dan took 2nd among the M60s. Part two will be released on Friday, August 14.

Aug 11

Volunteers are needed to manually count bicycles and pedestrians at several locations across Lawrence, Eudora and Baldwin City in September. The Lawrence-Douglas County Metropolitan Planning Organization and the City of Lawrence will be conducting bicycle and pedestrian counts between Sept 5 and 19.
Data collected on bicycling and walking will assist city and regional leaders in estimating usage and demand for bicycle and pedestrian facilities.  The counts will also be used to track the region's progress on increasing the use of non-motorized transportation, strengthen grant applications to leverage additional federal funding for bicycle and pedestrian projects, evaluate existing projects, and help determine the location of future investments. For more information and to sign up: http://www.lawrenceks.org/lists/archive.php?x=6902
Aug 7
Whether you're looking for inspiration, a lesson learned or laughter, here's a new list of books for runners (from Active.com) .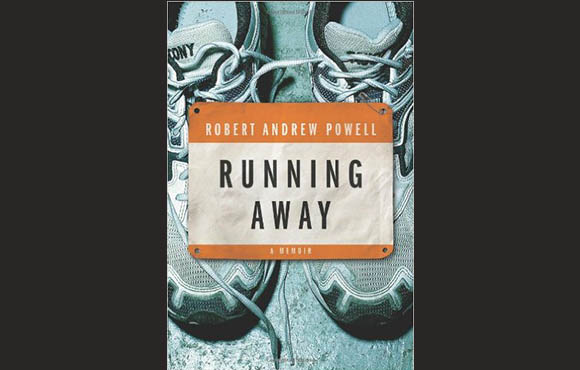 Aug 5
Legendary former Kansas University track coach Bob Timmons has died, a family representative confirmed to the Lawrence Journal-World.
Timmons, affectionately known as "Timmie" while overseeing the Jayhawks' program from 1966 to 1988, was 91. more | tribute video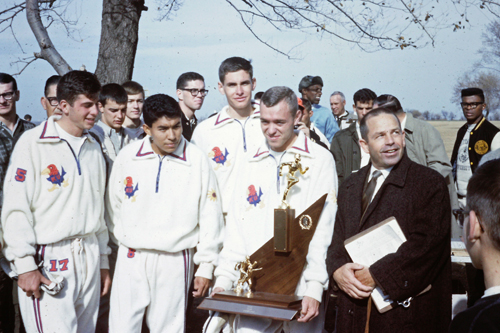 Bob Timmons with the KU team at the cross country race at Echo Hills, Wichita, 1966 (Gene Wee photo)


Aug 3
Daniel Skandera from Santa Rosa, Calif., is only 7 years old and already holds the world record in the Mile for 5 year olds, 6 year olds and 7 year olds. He added another mark to his lengthy resume when he won the 7-8 boys 1500 meter race at the USATF National Junior Olympic Championships in Jacksonville, Fla., this weekend. Watch his race.