January 2015 News
Jan 17
50 degree temperatures for a January race makes for a special day. And winds fron the northwest were an added plus for this year's Topeka to Auburn Half Marathon. Here's Ben McCall's view of the start. more photos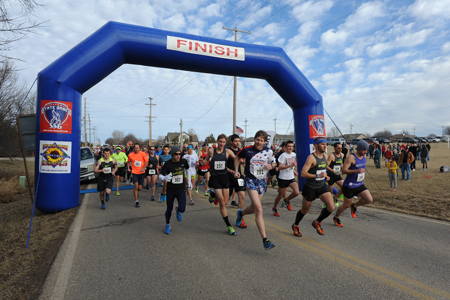 Jan 16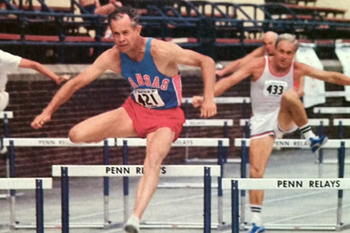 His world records have been surpassed and his name has been absent from world meet results for decades. But be certain of this: former KU athelete Jack Greenwood was the greatest masters hurdler of his or any generation. His death Friday was first reported in a Wikipedia entry and confirmed by his son Riley via email Sunday. read more (From masterstrack.com; the web master Ken Stone is also a former KU hurdler.)
Jan 15
One of the few movies with a running theme from 1962. Choosing not to cross the finish line? Read Alan Sillitoe's The Loneliness of the Long Distance Runner.
Jan 12
Excellent video on the principles of natural running and increasing running efficiency!
(thanks to Kendra Kuhlman for sharing).
Jan 8

One of the biggest mistakes runners make is running either too fast or too slow for their workouts.
The goal of training is to obtain the greatest benefit while incurring the least amount of stress, so you should run as slow as you can to meet the purpose of the workout. From slower to faster, here are the only four speeds at which you need to train. more (by Jason R. Karp, for Active.com)
Jan 7
Thank you to everyone who rejoined the runLawrence club for the 2015 year. We've had a tremendous renewal response. If you haven't already done so, please be a part of our group that runs Lawrence.
Jan 4
Congratulations to the new 2015 officers for runLawrence. Bill Kinnersley is the new president. Staying on to serve another year are: Dan Kuhlmnan (VP), Heidi Matsakis (secretary), and Jason Holbert (treasurer). Also Kendra Kuhlman will continue as the New Members Welcomer, Dee Boeck as the Thanksgiving Day race director, and Gene Wee as the web page editor.
Here's another group that ran New Year's Day - Ellen Young's Run for the Hill of It group,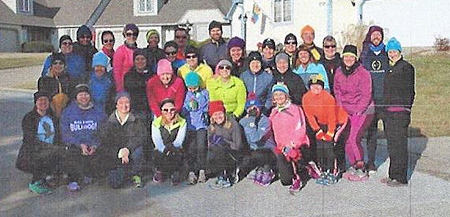 Jan 1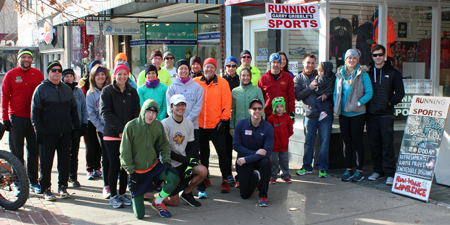 Happy New Year. Runners were out Dec 31 as well as Jan 1 to get in the first workout of the year. Above was the Resolution Run from the Garry Gribble's store.
The Winter 2014 issue of Lawrence Magazine included this story on Ellen Young, one of the best ambassadors of running in our community.