July 2015 News
July 30
If you missed Andrew Wheating's victory in the Pan Am 1500m race on July 27th, here's the Canadian broadcast and the report from IAAF's Spikes web site.
Andrew Wheating is very, very tall. Maybe not by shot putter or high jumper standards, but in middle distance circles he is positively Brobdingnagian in a land of Lilliputians (a reference for all the Gulliver's Travels fans out there). more
July 29
Many of us race too often to race well. Sage Canaday explains why, and how you can structure your training to maximize your trail and ultra race results. more (by Alex Kurt, Trail Runner, July 28, 2015)
July 26
Another ME Production: scenes from the Sunflower State Games Orienteering today.
July 23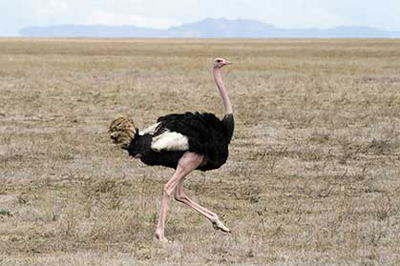 If you're anything like me, you have probably opened your computer a few days after a race, budding with excitement to see the race photos. You remember spotting the photographer at mile two, and striking your best pose as the camera clicked. You nervously click on the link, hoping for the best … and then you see it. Wearing your race-bib number is what appears to be a clumsy ostrich trying out for a twerking competition.
The running-like-a-twerking-ostrich struggle is real—and not just superficial. There are a few easy things you can practice to improve your form, helping you get faster and more efficient as well as more graceful. Here are three running-form tips you can benefit from today. more
(David Roche, Trail Runner, July 21, 2015)
July 21
The summer track season came to an end at the Southwest Middle School track meet this evening for the TCB Track Club.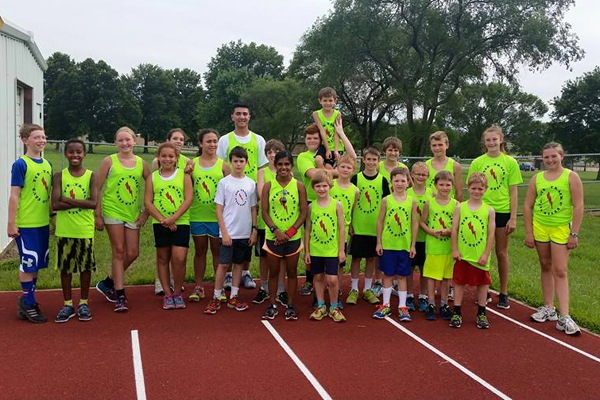 July 18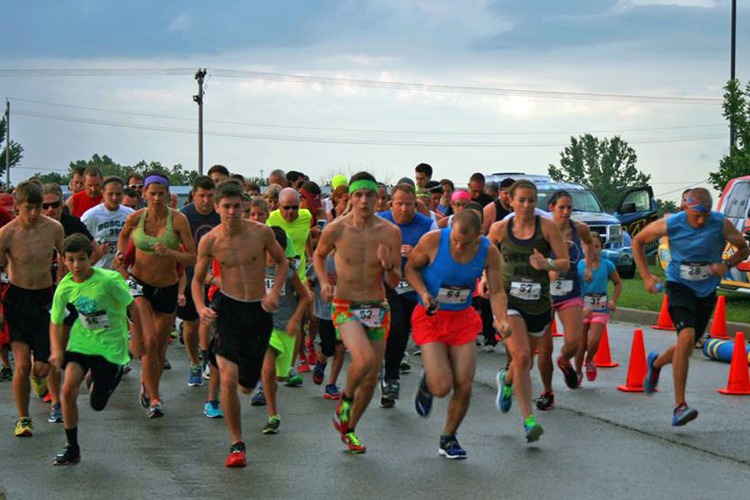 Today was the second of the Summer Spray 5Ks hosted by the Lawrence Memorial Hospital. Among the runLawrence members competing in the race in Tonganoxie were Becky McClure (2nd F50), Molly Wood (1st F60) and Laurie Comstock. results | (photo of the start from Lawrence Memorial Hospital)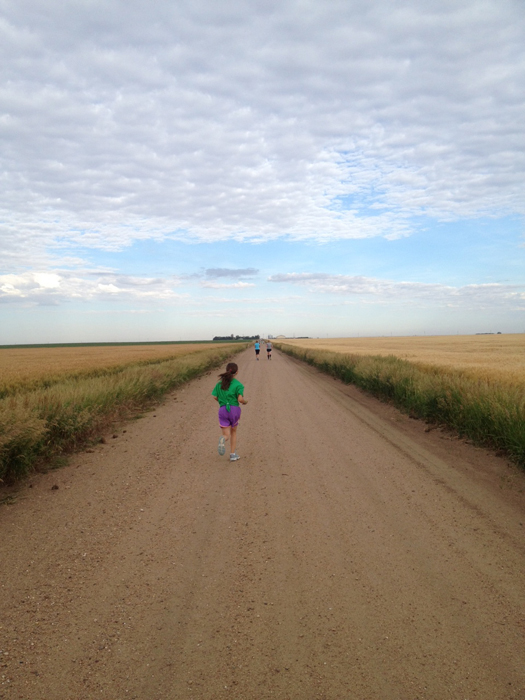 Congratulations to Paul Boone (Lawrence) on his first place in M41-50 at this year's Waldo McBurney 5K in Quinter, KS. Paul is age 50. The race celebrates life-long fitness and is in memory of Quinter's most famous centenarian, Waldo McBurney. Above is a scene on the race course.
July 17
Another blast from the past - KU sophomore-to-be Jim Ryun set a new world record in the mile run with a time of 3:51.3 on July 17, 1966. (from the KU History web page & Topeka Daily Capital)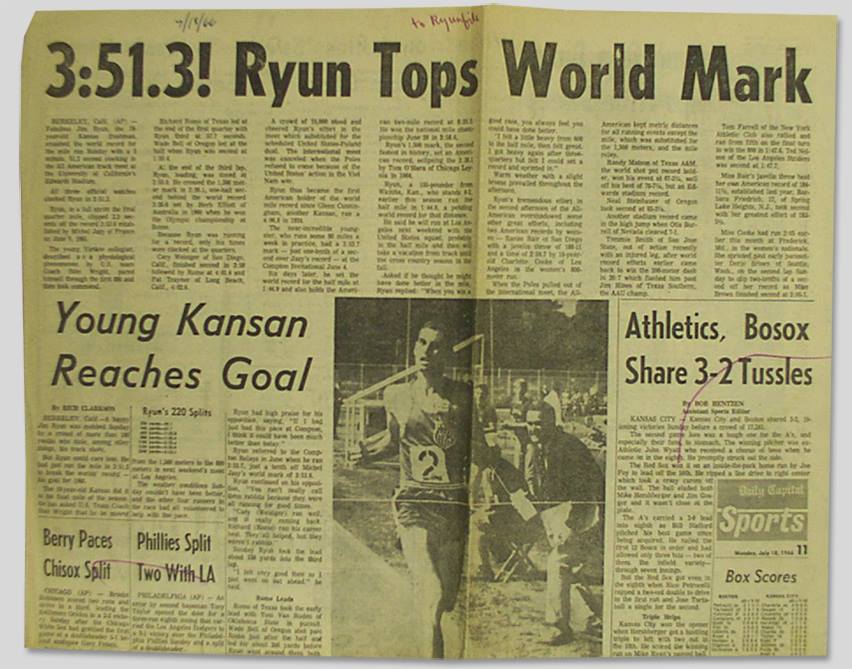 July 16
At the track and field meet of the National Senior Games at the University of St. Thomas this month in St. Paul, MN.
National Senior Games from Richard Chin on Vimeo.
July 13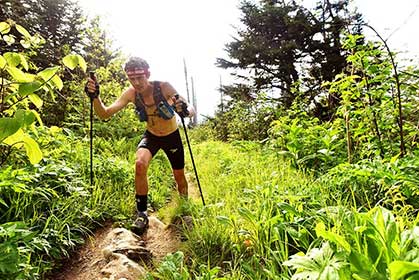 Ultrarunner Scott Jurek has set a new Fastest Known Time (FKT) on the 2,180-mile Appalachian Trail. Jurek, 41, reached the summit of Maine's 5,270-foot Mount Katahdin, the northernmost point on the trail, at 2:03 p.m. yesterday, for a time of 46 days 8 hours 7 minutes. The previous FKT was 46 days 11 hours and 20 minutes, set by Jennifer Pharr Davis in 2011 (Davis gave a presentation at Sunflower Bikes two years ago). more (Photo by Luis Escobar)
July 12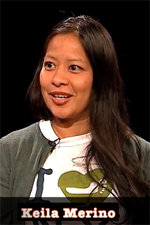 For a Teacher, Back-to-Back Marathons, Then Fourth-Graders -
The seventh time she ran the Boston Marathon, Keila Merino woke up early before the race and joined a few other runners at 5 a.m. at the finish line on Boylston Street. The group hooked a right on Hereford, a left on Commonwealth, and continued for the next 25-plus miles, finishing at the starting line.
Then Ms. Merino turned around and ran the official race, finishing it in 3 hours 24 minutes.
The next day, she was back in her work clothes teaching her fourth-grade bilingual students at Public School X114, an elementary school in the Bronx. more
(by Jonathan Schienberg, NY Times, June 19, 2015)
July 11
Tara Spencer (Topeka) on the podium in front of the Sunflower State Games flames at the Cauldron 5K and 10K at Lake Shawnee. results | more photos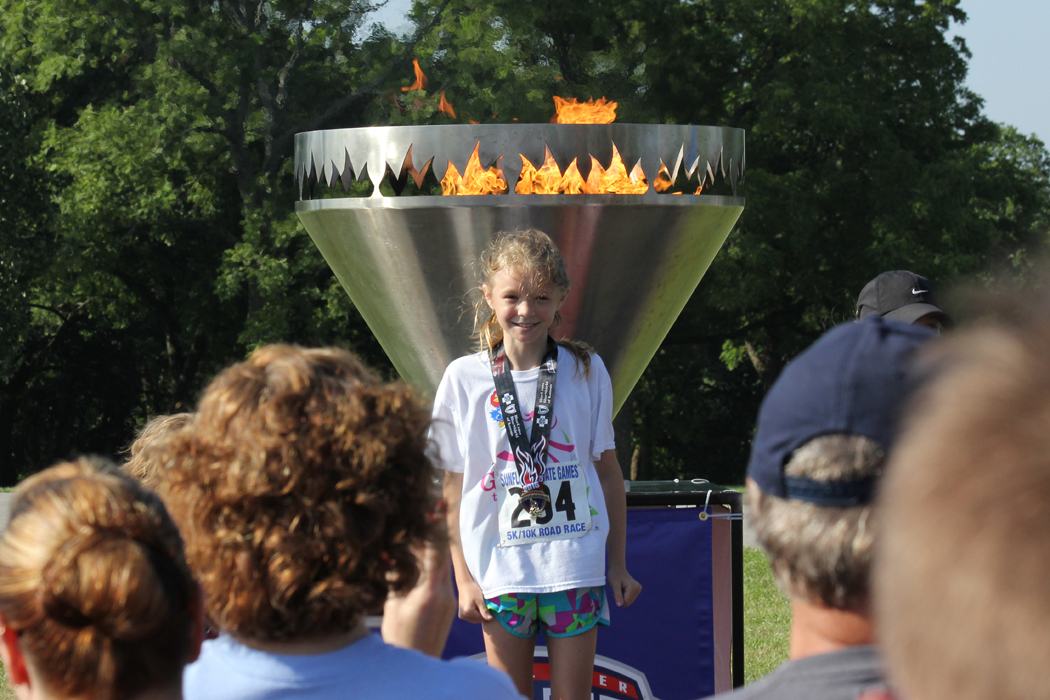 July 4
Dee Boeck won a bronze medal at her first National Senior Games 10K held on the 4th of July at the Minnesota State Fairgrounds. More photos from the Senior Games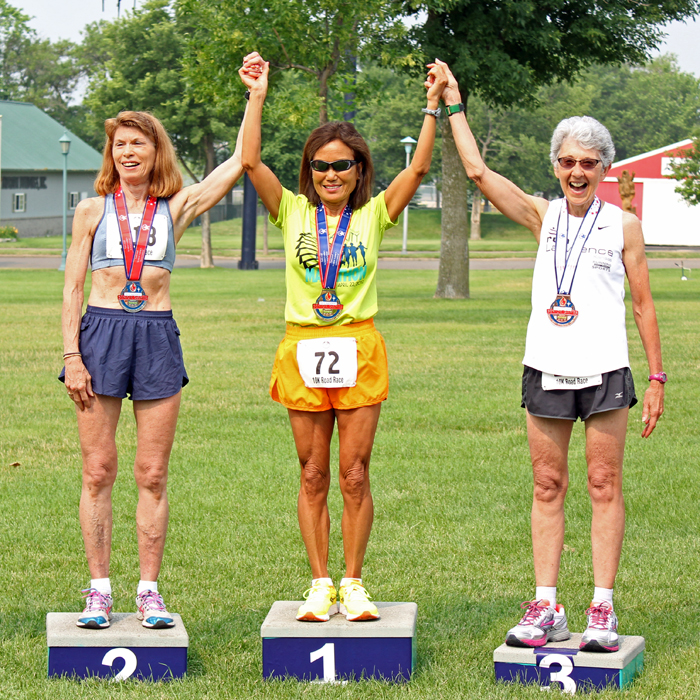 July 1

Years ago, performing a battery of static, reach-and-hold type stretches before a run was not only in fashion but was considered by many to be essential for injury prevention.
More recently, runners have abandoned static stretching in favor of dynamic stretching, where the joints are slowly moved through their full ranges of motion in a series of exercises that mimic the separate motions of running. But some recent research now calls into question the efficacy of all stretching, regardless of type, for distance runners. more (by Rashelle Brown, Active.com)