May 2015 news
May 30
Photos from the Journey for Jo 5K in Topeka.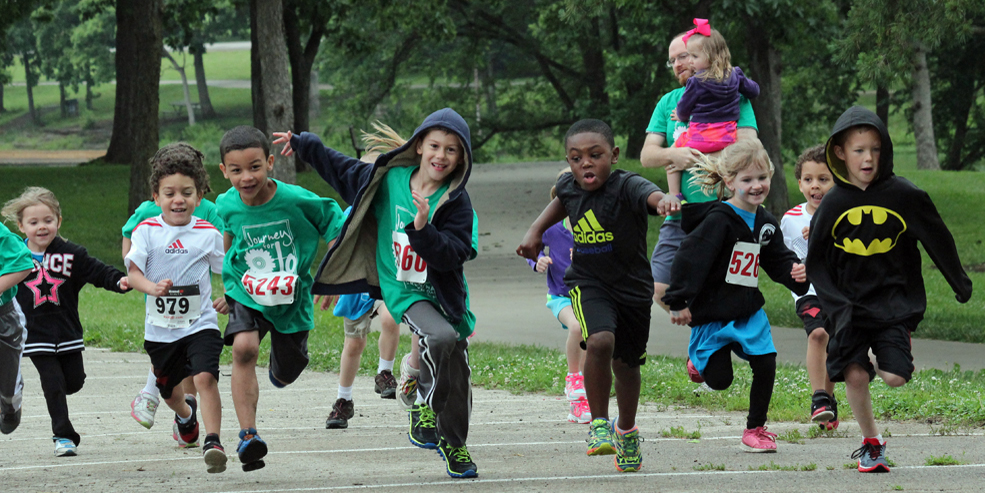 May 28

Summer Youth Running Opportunities - The TCB Track and Field Club is starting up next week. This club is run by the Baker University Track and Cross Country coach Tim Byers and open to any area youth ages 13 and younger.
All information and forms are found on their facebook page: TCB Track and Field Club . Simply check out the page and join the group to access the forms.
May 26
Top Area Runner Puts Galloway Method To The Test: The Results -
If you've run a race in Lawrence—any race ever, really—you probably know Matt O'Reilly.  Whether it's a mile on the track or a 50-miler on the trails, this 30-year-old college professor is always up for a race.  And he's usually finishing toward the top. more
Congratulations to Bob Woods on his 17th place at the Boonville (IA) 50K Backroads Ultra on Sat, May 23. He came back to help on Monday's Home Run 5K.
May 25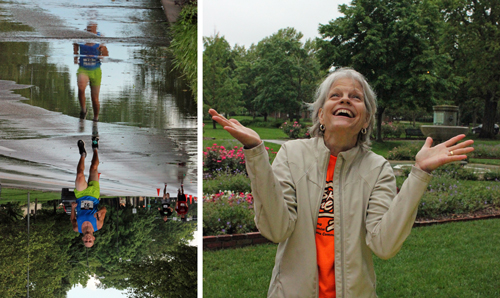 Threats of rain all weekend did not discourage the runners or race director, Lori Lange, at the Home Run 5K.. On the left is the reflection of the 2nd place finisher, William Parker.
more photos | full results
May 19
Many of us breeze through a warm up (if we complete one at all).  Instead of properly preparing our body for the task at hand, we simply walk out the door and run.  However in order to prevent injury and improve performance, our body needs proper time to warm-up and prepare.  What does a proper warm-up consist of?  A light jog for 5-10 min followed by a series of dynamic exercises. more (from LMH Therapy Services, June 23, 2012)
May 18
A few weeks ago, my mind turned to my trail-running friends who have coaches. Was I missing out?
I looked up from my reverie to see my dog, Samivel, waiting for me and wagging her tail exuberantly. As we finished our run, I came to the conclusion that she's a far better running companion than any human coach. Here's my case. more (by Doug Mayer, Trail Runner Magazine)
May 17
Another blast from the past, a comtribution from Dick Lipsey.
Peter Snell, ran an exhibition 880 in May 1962 at Punahou School in Honolulu (halfway between his two big Olympic years). He and several other New Zealanders were stopping over on the way from the US mainland to NZ (or vice versa). The photo was taken maybe 300 yards into the race. He won handily, needless to say.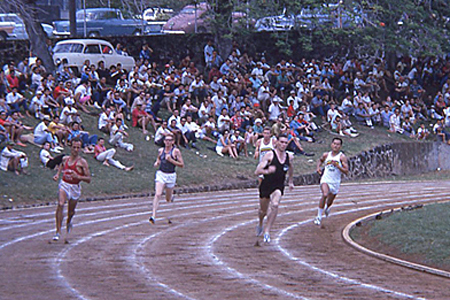 May 15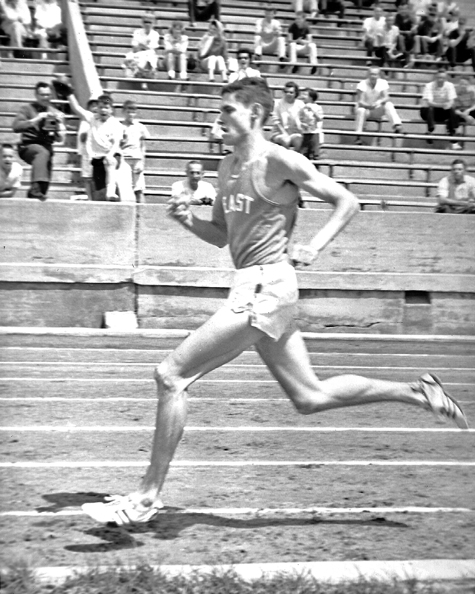 Ryun with 200 yards to go. (Gene Wee photo, 1965)

50 years ago: Jim Ryun was the first US high school miler to break 4 minutes in a high school competition only race. His 3:58.3 to win the mile at the (May 15) 1965 Kansas High School State Meet is still the record for the fastest time ever in a race that includes only high school competitors.

Here's the video of that race on the Wichita State University track.

May 13

There's a formidable new competitor in the fast-growing footrace market.
Virgin Group launched a new division—Virgin Sport—to start and acquire recreational-athletic events. To run the division, Virgin hired that industry's executive star: Mary Wittenberg, the 52-year-old longtime chief executive of New York Road Runners, organizer of the New York City Marathon. (from the Wall Street Journal, May 12, 2015)
More from the New York Times.
May 12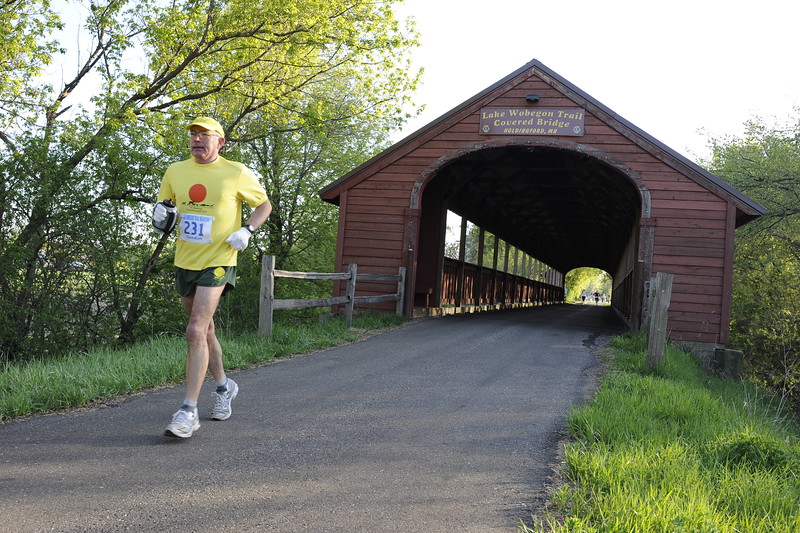 Dick Lipsey ran the Lake Wobegon Trail Marathon on Sat, May 9 on a very flat, former railroad route from Holdingford (MN) to St. Joseph. Dick posted a time of 5:32:01. The running surface is asphalt, hard on older legs. (photo by Tony Peroutky, Our Creative Gallery)
May 11
This Is What That Extra Shoelace Hole Is For!
May 10
Happy Mothers Day. Take a look at the photos from the KC Express Mother's Day 5K today at Corporate Woods. Results
Local winners included Michelle Andrew (Topeka, 2nd overall), Sienna Durr (Lawrence, 2nd F15-19), Logan Hassig (Lawrence, 2nd F20-24), Carrie Mugridge (Lawrence, 2nd F35-39), Penny Durr (Lawrence, 2nd F50-54), and Dee Boeck (Lawrence, 1st F65-69). This was the 11th year the KC Express has hosted the run/walk to celebrate Mother's Day and encourage all women and girls to be active.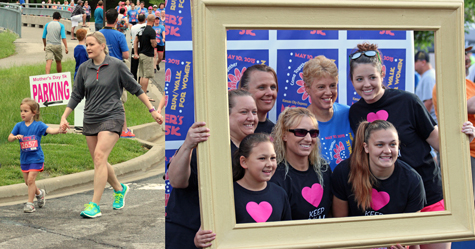 May 6
The Rock On Lake Perry Trail Race has been postponed to Sat, May 16th, due to weather-induced issues. With the safety of the runners (the most important consideration) and the trail condition (as far as erosion control and navigability with many downed trees), the Kansas Trails Council Trail Steward and I made this decision based upon current conditions, and the weather expected between now and May 9.
May 3
Want to get pumped up for your next big race? Need that extra push before you hit the trails for your long run this weekend? Plan a movie night with one of these eight films to get you motivated to lace up your running shoes and toe the starting line. (Thanks Active.com for the suggestions)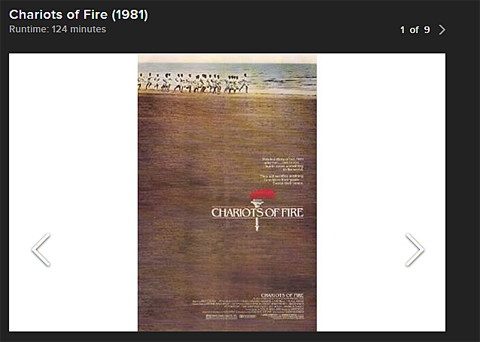 May 2
Grant Holmes (left) took first, while Grant Holmes (right, no relation) took second at the Shoreline "Skyline" Shuffle 5K at Clinton State Park today. Sage Holmes was the 1st female finisher. full results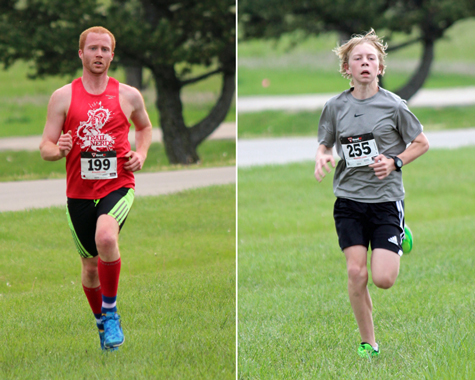 May 1
After the earthquake, Nepal's 2015 Mustang Trail Race takes an unexpected turn. The recent earthquake in Nepal presented logistical problems for runners in this multi-day stage race, though satellite communications promised everyone was OK. more
Video from the 2013 Mustang trail race from Natacha Giler on Vimeo.