November 2015 News
Nov 27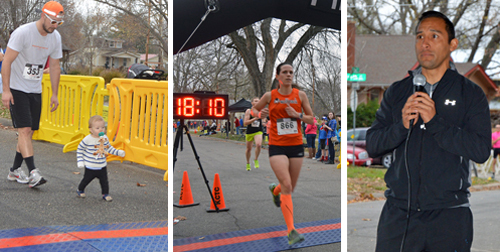 (left to right) A young fun runner; Julie Woodruff (Benecia, CA) back in Lawrence wins the women's state champ award, and Alexis Alfaro also ran the 5K after his rendition of the national anthem.
You can see more photos taken by Gary Henry from yesterday's Thanksgiving Day 5K in Lawrence. See if you made the gallery. How fortunate we were to have the rains hold off until later in the day.
Nov 22
Jason Holbert shared this video from Des Moines at the Living History Farm 7 Mile Cross Country Race/Party on Sat, Nov 21. Maresa Cuevas was 16th among all women. Dan Kuhlman won the M60 category. A bunch of people from the Lawrence area rediscovered winter.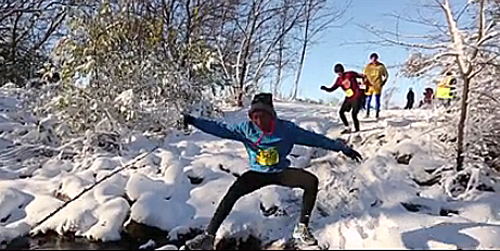 Nov 21
Heidi Matsakis on the Blue Trail at Saturday's Sanders Saunter 10K at Clinton State Park. The 10K and 25K trail runs were hosted by the Lawrence Trail Hawks. (Mile 90 Photo) Results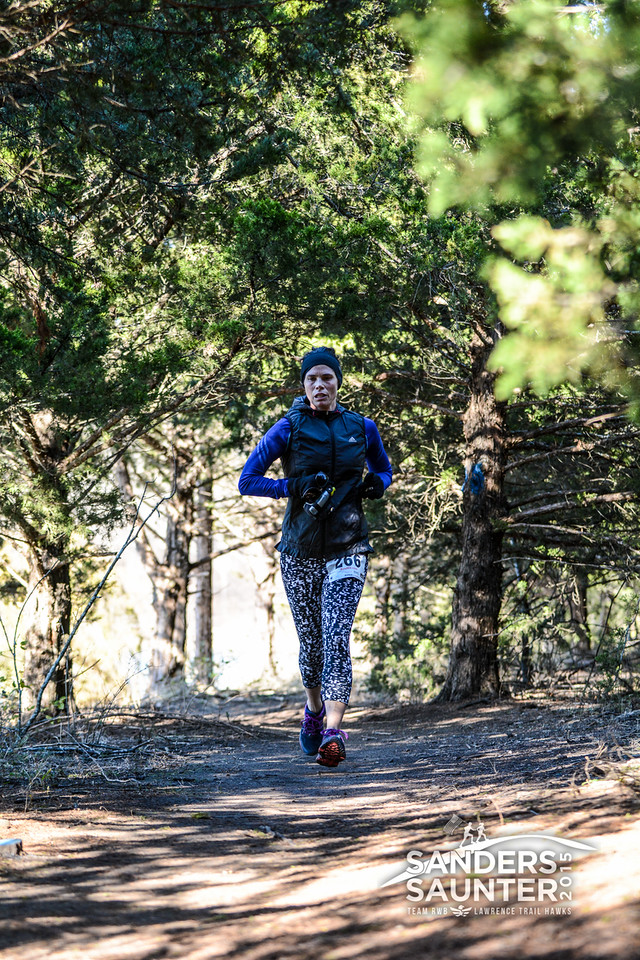 Nov 13
A third-place finish from freshman Sharon Lokedi highlighted solid outings from the Kansas women's and men's cross country teams at the NCAA Midwest Regional Championships Friday afternoon at Rim Rock Farm. Lokedi's third-place finish led her team to a fifth-place finish, while senior Evan Landes was the top Jayhawk on the men's side as he led his squad to a seventh-place finish. more
Nov 12
Congratulations to Dan Kuhlman winning another trail race. This time he was first in the M60-64 category at the Moab, Utah Trail Marathon. How to run like Dan? Take a look at his "5 Things" for trail running. (video by Andrew White, Sunflower Outdoor & Bike)
Nov 10
Byron Edmondson, Lawrence, ran in the 40th Marine Corps Marathon in Washington, D.C., on Oct 25. While preparing for the marathon, he followed Jeff Galloway's six-month program in Marathon: You Can Do It!
"Galloway emphasizes just completing the marathon as opposed to setting some time goal," Edmondson said. In some respects, Galloway's advice concerning a 26.2-mile run has been appropriate for other aspects of Edmondson's life. more | results of local runners
(story & photo by Kevin Groenhagen, Nov 2015 Kaw Valley Senior Monthy)

Nov 8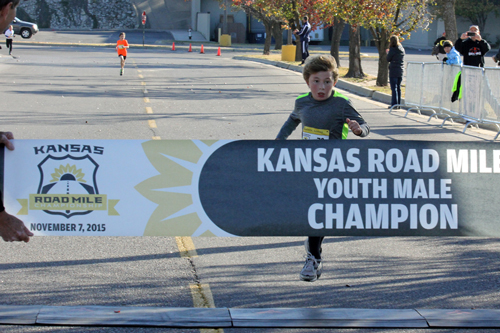 Dawson Schmidt (Augusta) wins the youth mile race. More photos from the Sunday's Kansas Road Mile races in Wichita. Results
Nov 5

Anton Krupicka, Relearning How to Run - Back from injury, the well-known runner looks ahead to the next phase of his career.
. . . last spring he added skiing and cycling to his cross-training routine. He bought a bike and a lightweight ski-mountaineering setup, and focused on racking up vertical gain: upwards of 40,000 feet per week in uphill skiing sessions, bike rides and multi-pitch rock climbs.
. . . They have quickly become more than a back-up plan—biking, climbing and skiing, he says, are "essential parts of my identity as an athlete"—and Krupicka has become more than a runner. more (by Ariella Ginztler, Trail Runner magazine)
Nov 4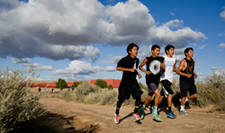 Two Hopi Traditions: Running and Winning - Running has a special place in Hopi culture, and the Hopi High School boys' cross-country team is building on that heritage, with a chance at a 26th straight Arizona state title Saturday.
. . . Each fall, during one of the Hopi calendar's dozen or so ceremonial races, a hundred or more Hopi men gather in a pack on the scrubby plain below, all muted tones of mustard yellows and sage greens. A woman in Hopi dress holds a woven basket in the distance. Onlookers shout, "Nahongvita" — loosely, "stay strong" or "dig deep" in Hopi. A signal is given. more
(by John Branch, New York Times, Nov 4, 2015)
Nov 1
Congrats to everyone in the Kansas Half Marathon and 5K this morning.