October 2015 News
Oct 31
Fall Running - the Kansas High School Cross Country Championships at Rim Rock Farm this morning. Congratulations to the Baldwin Girls and Boys teams taking state again at Wamego today. Manhattan and Lawrence Free State had the same score (72 pts) with the tiebreaker giving Manhattan the state championship this year. Shawnee Mission North had 73 pts making the 6A race one of the closest.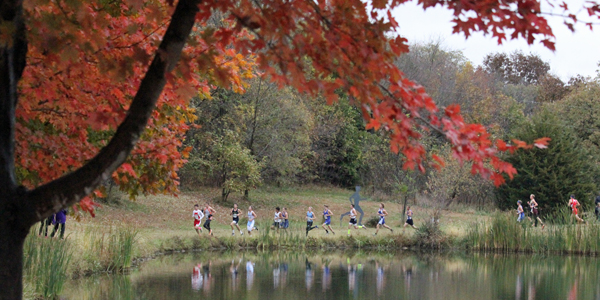 Oct 30
Beat the First-Mile Fatigue - Here's a secret no one tells you when you start running: it is almost always somewhat terrible for the first few minutes. There is a dull ache in the calf muscles, a distinct rattle in the lungs, maybe an overall feeling of sluggishness. When I start, I often feel unnatural and a bit out of place, like a human embodiment of Donald Trump's hair. more (by David Roche, 10/26/15)
Oct 29
Due to a potential conflict with Game 7 of the World Series, next Wednesday night's screening of Run Free: The True Story of Caballo Blanco at the Screenland Armour Theater in Kansas City has been postponed until early February. An exact date will be determined shortly. If you bought tickets for the event, you will be notified shortly as to the new date.
Oct 25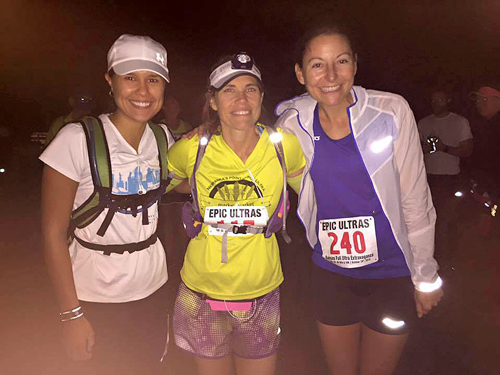 All smiles at the end: Heidi Matsakis (center) after completing her 50 milers at the Kansas Fall Ultra Extravanganza yesterday in Ottawa. Kendra Kuhlman (right) had finished her 50K earlier.
Oct 22
More shout outs to Lawrence area top finishers at last Saturday's KC Marathon races.
name
hometown
place
cat.
time

Marathon

Josh Baden
Lawrence
1/106
M25-29
2:34:32
Matt O'Reilly
Lawrence
3/27
pacers
3:27:09
Pam Perica
Bonner Springs
1/5
F60-64
3:57:14
Half Marathon
Rob Hays
Topeka
1/190
M45-49
1:15:53
Nate Kakazu
Lawrence
3/120
M18-24
1:20:19
Christine Cunningham
Lawrence
3/473
F25-29
1:33:43
Neal Farron
Topeka
3/103
M55-59
1:36:11
Patty Gerken
Bonner Springs
2/20
F65-69
2:18:11
Oct 20
A lot of race results for Lawrencians competing this last last weekend. A special congratulations to Kristina Selters on completing the I-35 Challenge running the Kansas City Marathon on Saturday then the Des Moines Marathon on Sunday.
Waddell & Reed Kansas City Marathon - runLawrence marathon placings:
Garrett Gatzemeyer, 13th M30-34, 3:13:53
Matt O'Reilly, 3rd pacer, 3:27:09
Kristina Selters, 25th F30-34, 4:06:08


Sunflower League Cross Country


more photos (Kyle Morgison)
The runLawrence middle school kids ran the Sunflower League meet last Saturday.
Medalists included:
Boys- Zach Venters 2nd; Brock Cordova 8th; Caelen Cordes 9th; Hank Hurst 18th.
Girls - Erin Fagan 8th; Maiki Martinez 18th.
The Boys ran a full team and finished 3rd out of 6 teams, only 4 points out of 2nd.
Full results | LJW Report on the High School Races


Mankato Marathon/Half Marathon
Here are scenes from Mankato (MN) where Karen Hyde and Dee Boeck took first in their age categories.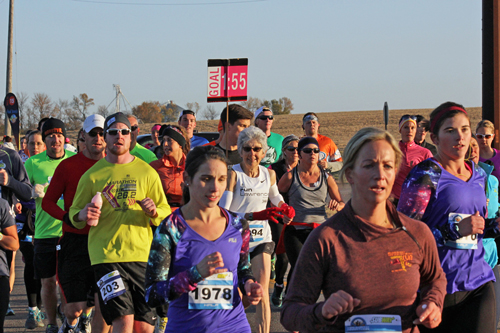 From the Des Moines Marathon, Sun, Oct 18:
Oct 13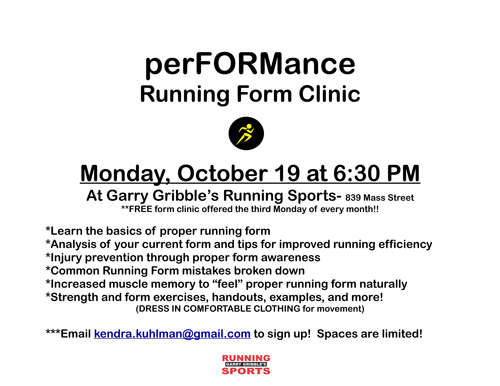 Running Form Clinics starting Oct 19 - Good running form is essential for injury prevention and increased running efficiency.  There will be free running form clinics the third Monday of each month at Garry Gribble's Running Sports.  See the attached poster for more information.  In addition, GGRS will host community group runs every Wed evening starting at 6:30 pm.  All ages, paces, and pets are welcome.  The social runs will include various planned route distances that will fit anyone's needs- no one will be left behind. In addition, participants receive a 25% discount that night in the store.  
Oct 10
Here's the team photo from today's 2K races at the Carl Owczarzak Fall Classic at Shawnee Mission Park hosted by Shawnee Mission West. The medal winners are (right to left: Erin Fagan, Maiki Martinez, Zach Venters and Caelen Cordes. At the Haskell Invitational the same morning Emily Venters won the high school girls varsity race for Free State. more photos | results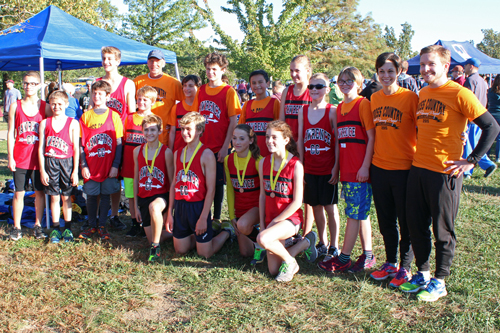 Back row: John Loos, Dan Kuhlman, Santino Jasso, Hank Hurst, Everett Middleton, Bella Crawford-Parker, Max Bates, Harriette Perkins, Maresa Cuevas, Kyle Morgison. Front row: Brock Cordova, Christian Bandel, Theo Weis, Reed Parker-Timms, Caelen Cordes, Zach Venters, Maiki Martinez, Erin Fagan.
Oct 8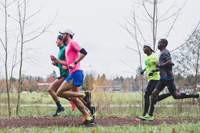 IBM Watson, which has done everything from compete on "Jeopardy!" to create recipes for a new Chef Watson cookbook, has a new career calling: becoming a sports coach for some elite athletes. In a partnership involving the Irish biomarker analysis company ORRECO and the Oregon Track Club, "Coach Watson" will help to optimize the performance of the elite runners in one of America's top running clubs. more (by Dominic Basulto, Washington Post, Oct 1, 2015)
Oct 6
The Boss said it first; KU discoveries confirm it: Baby, we're born to run.
Our neuromuscular system may be more inclined to aerobic exercise than resistance training. more (from Inside KU, Oct 6, 2015)
Oct 5
The Youth Running Program held an intrasquad tune-up race at the Morgison Farm on Sat, Oct 3. Coach Dan Kuhlman used an old fashion wood blocks starting gun to send the runners off on the 1 mile that snaked around the open field. Photos | Results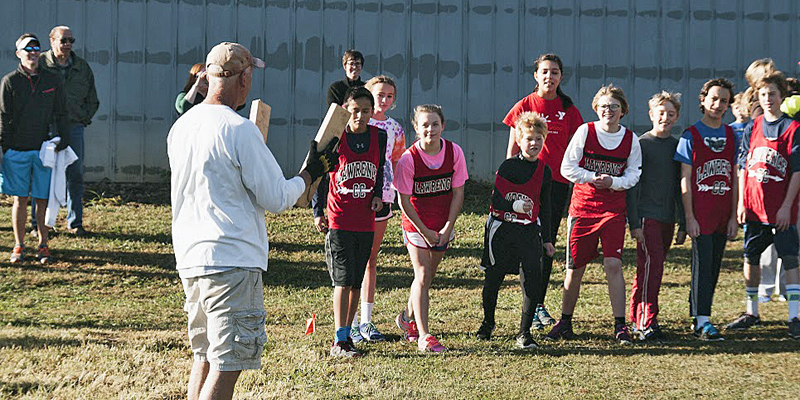 Special thanks to coaches Maresa Cuevas and Kyle Morgison for coordinating the event and the Morgison Family for hosting the runners and parents.
Oct 4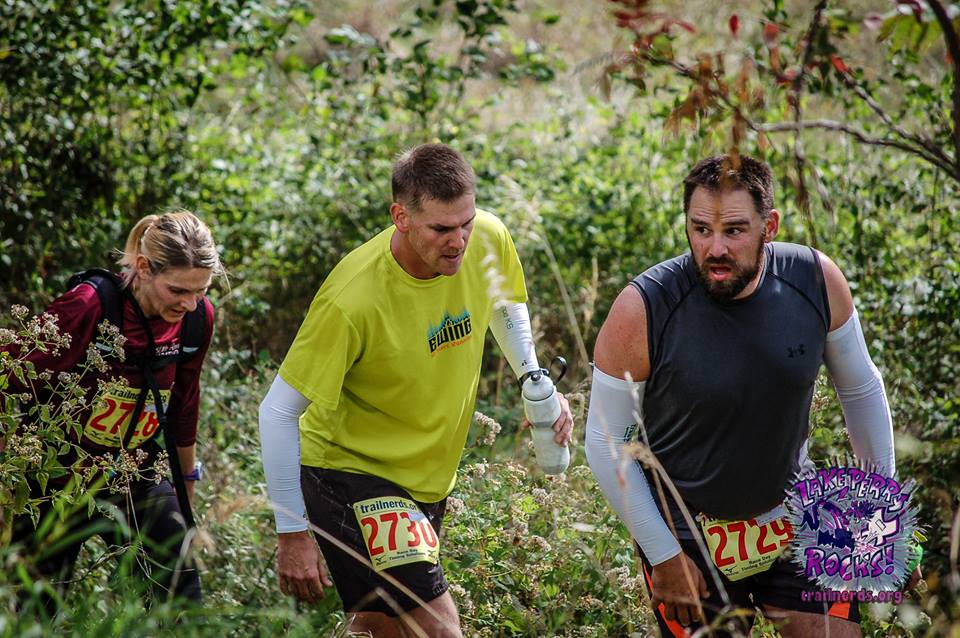 The Trail Nerds hosted the Lake Perry Rocks! 50K/Half Marathon/5K on Oct 3rd. (Mile 90 Photo)
Oct 3
From the Rim Rock Classic - a preview of the regional NCAA meet in November. more photos | results

Oct 2

Tomorrow, Sat, Oct 3rd, Ad Astra Running is having its grand opening.

There will be raffles for prizes all day Saturday. RunLawrence members will get 20% off regular priced shoes year-round. The store will also have special "runLawrence only" events throughout the year during which the club's discount will apply to apparel and accessories as well.
Note: the runLawrence web page will provide information from all local businesses that may be a benefit to the running community and its members. Whether it's training programs, seminars on injury prevention, special sales or other local events, we will help get the word out and support all our local businesses.
Oct 1

KC Smoke - Not Just the Fast Guys who Show up and win -
All but a handful of professional distance runners in the U.S. aren't much better off than bass players in alt. country bands who have to travel around in vans and live off merchsales. That where the (KC) Smoke comes in. more (by Dr. G, Indie Fit Magazine, Oct 1 - "Indie Fit Magazine is the Kansas City/Lawrence area's first alt monthly dedicated to the health and fitness lifestyle, with an indie twist.")