April 2016 News
Apr 30
A week after the KU Relays, action again at the Rock Chalk Classic Track Meet. photos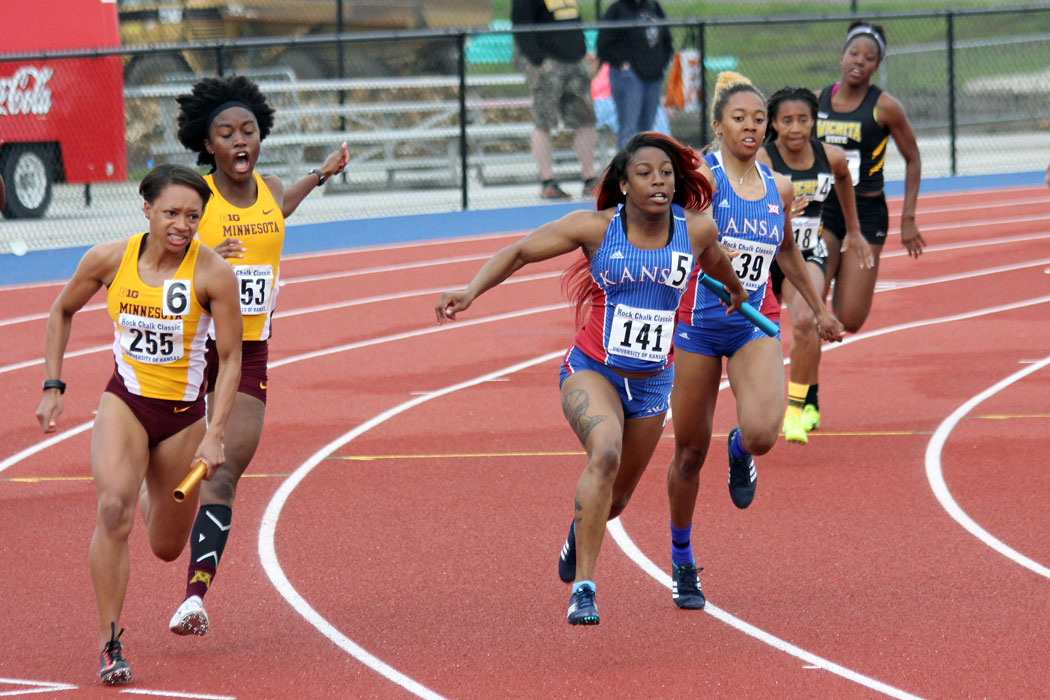 Apr 28
How Neuroscientists Explain the Mind-Clearing Magic of Running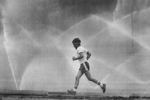 It is something of a cliché among runners, how the activity never fails to clear your head. Does some creative block have you feeling stuck? Go for a run. Are you deliberating between one of two potentially life-altering decisions? Go for a run. Are you feeling mildly mad, sad, or even just vaguely meh? Go for a run, go for a run, go for a run. more
(by Melissa Dahl, Science of Us, nymag.com, Apr 21, 2016 - thanks to Bill Kinnersley for finding the article)
Apr 25
A new Sunday afternoon group walk called Stoic Steps will begin on May 15th hosted by Ad Astra Running.  This free group walk will be gentle enough for virtually anyone to participate.  Each week we'll walk a little farther while enjoying a fun philosophical discussion. More info: J. Jenkins, j.jenkins@adastrarunning.com.
Apr 24
Scenes from the Saturday events at the Kansas Relays. (left) Whitney Adams anchored the KU women to a win in the 4x400 relay; Lawrence High's Amani Bledsoe competed in the shot put event. More photos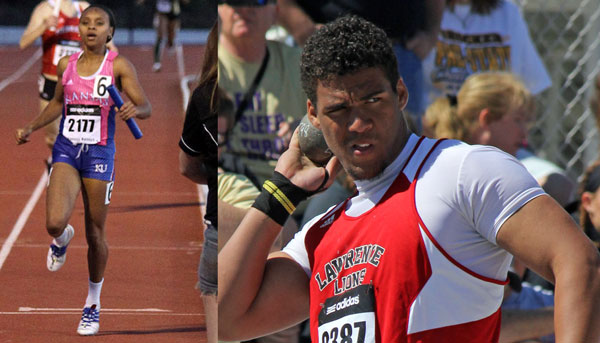 Apr 23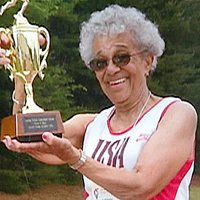 At 100, Still Running for Her Life -
On a cloudless Sunday afternoon in April, a 100-year-old woman named Ida Keeling laced up her mustard yellow sneakers and took to the track at the Fieldston School in the Bronx. Her arrival was met without fanfare. In fact, no one in the stands seemed to notice her at all.
more (by Noah Remnick & Erica Berenstein, Apr 22, 2016, The New York Times)
Apr 22
More photos from Friday at the Relays - at Rock Chalk Park and downtown Lawrence.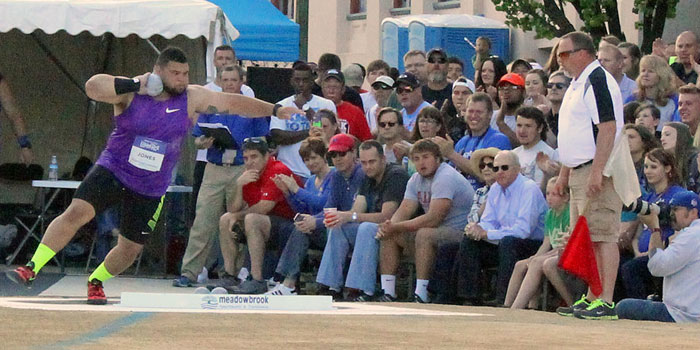 Apr 21
Kansas Relays started Wed, Apr 20 with the decathlon and heptathlon competitions. Thursday's program included the pole vault event at the Salty Iguana parking lot, men's college open long jump and the final 800m for the women's heptathlon. more photos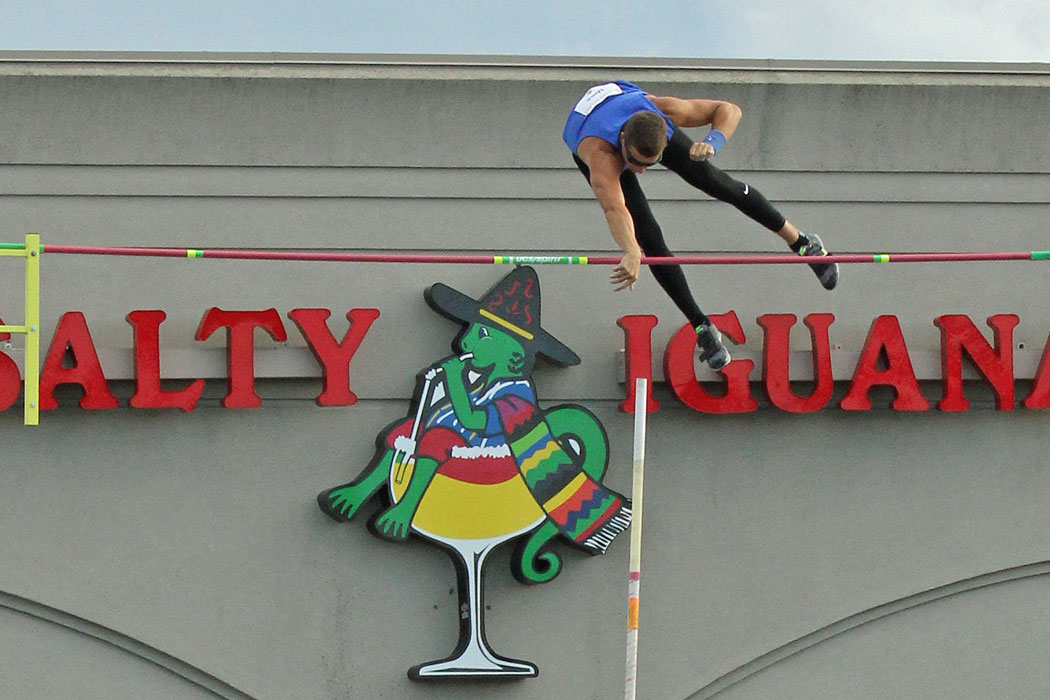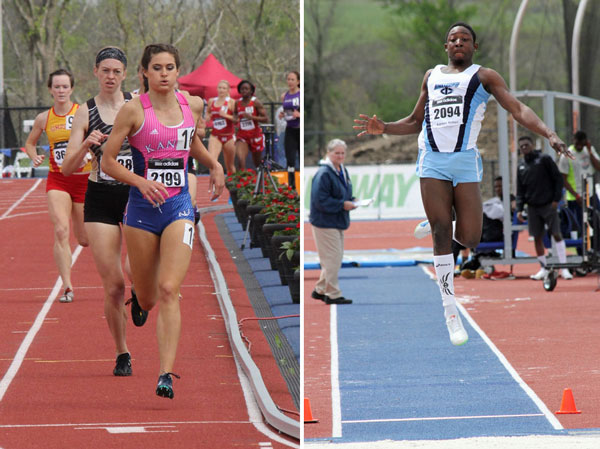 Apr 20
Mark Curp set the world record in the half-marathon in 1985 and retained the American record for the following 22 years. After a diagnosis of lymphoma, Curp is currently in remission and is returning to running. (by David Eulitt, Kansas City Star, Apr 13, 2016)
Apr 19
Results of Lawrence Area runners at the Boston Marathon:
Bib
Name
Cat.
City
Time
Age
Pl
Ovrl Pl
11163
Kongs, Jennifer
F18-39
Lawrence
3:23:07
711
5547
15036
Hill, Jerry M. Jr.
M50-54
Lawrence
3:33:52
746
8413
11469
Hoffman, Steve
M45-49
Bonner Springs
3:37:40
1339
9242
16812
Geer, Babette
F 40-44
Topeka
3:45:17
678
12410
30141
Collins, Katie
F 28
Topeka
5:03:26
5358
24663
Apr 17
Fierce competition to the finish at the Sunflower Marathon Club 5K this afternoon at the Clinton Lake Softball Complex and Arboretum. more photos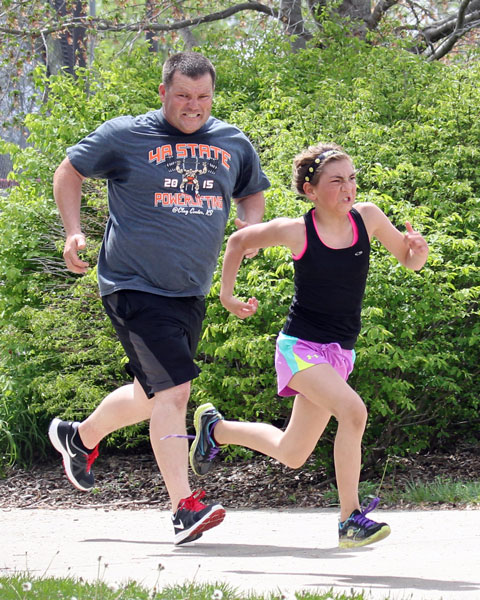 Apr 10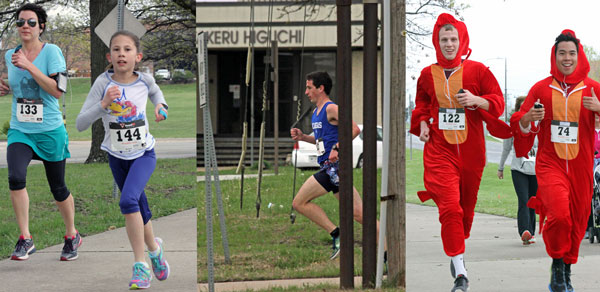 The Crimson and Bloom 5K Run, hosted by the KU Student Endowment Board, was held this morning to raise awareness about KU Endowment and the impact of donor support, preparing current students for their role as alumni and building a culture of philanthropy among KU students. more photos
Apr 9
This morning in the west part of Lawrence: action at the Hilltop Hustle at Rock Chalk Park, and also the KU Army ROTC Ranger Competition at Sesquicentennial Park by Clinton Lake.