February 2016 News
Feb 26
Video: The Americans Who Took UTMB and CCC by Storm - "Mont Blanc" follows three top American runners to podium finishes at the competitive European races (from Trail Runner; best viewing at full screen)
Feb 23

For generations, gym students were taught to stretch before working out or playing games. Then the practice fell out of favor: Studies seemed to show that such ''static'' stretching (holding a pose for anywhere from a few seconds to several minutes) temporarily reduces muscular power, weakens athletic performance and increases the risk of injury. So most fitness experts currently advise against static stretches before exercise. But now a comprehensive new review of decades' worth of research indicates that they might not be such a bad idea after all. more (by Gretchen Reynolds, NY Times, illustration by Sam Island)
Feb 22
Mile 90 Photography is the best in capturing race photos in the KC Area. Here's a shot of the water crossing at Saturday's Psycho Wyco Run Toto Run. more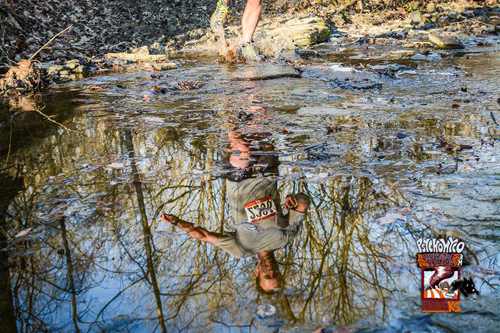 Feb 19
It's going to be 70 degrees again today, in February. For those who miss the beauty of winter, here's a video from by Rickey Gates.
There on the Periphery | Rickey Gates from the Wolpertinger on Vimeo.
Feb 12
Happy Birthday, Abraham Lincoln. Before Presidents Day, school children knew this date.
If you're not glued to the KU-OU game tomorrow, you might want to catch the U.S. Olympic Marathon Trials, on NBC (WOW 14, 214) at 12 noon. More info from Runners World.
Feb 11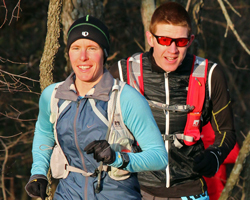 Tips and workouts for getting started in trail running -
Everyone starts as a beginner. At some point, Albert Einstein solved his very first math equation and every presidential candidate told their very first lie to an Iowan.
Over time, though, if you stick with it, what is hard becomes second nature and what is impossible becomes merely difficult. Trail running—like math or lying to Iowans—takes an investment of time to get to that point of expertise. But when you allocate that time the right way, you can get the ultimate return on your investment: winning the Iowa caucuses. I mean, life-affirming trail runs. I always get those two confused. more (by David Roche, from Trail Runner)
Feb 10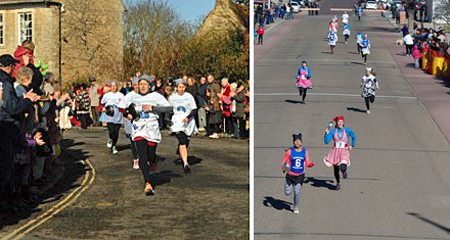 On Shrove Tuesday every year the ladies of Olney, England compete in the world famous Pancake Race, a tradition which dates back to 1445. The 2016 race was held on Tues Feb 9th. Olney competes every year against the women of Liberal, Kansas. This is a friendly competition in its 67th year in 2016. The race is always run in both towns at 11:55 am.
Summer Parsons won the Liberal race in 62.61 seconds but lost to the Olney winner, Lianne Fisher, posted a time of 55.02. more from the Wichita Eagle
Feb 7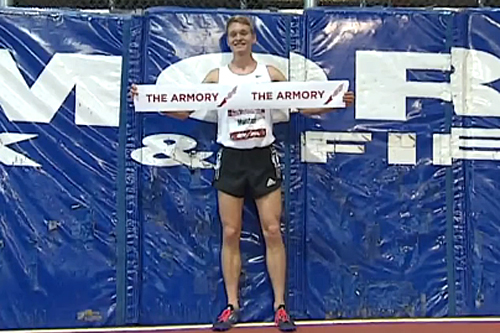 Take a look at the USATF video of Drew Hunter who posted a 3:58.25, to break the high school indoor mile record. He knocked off 1.5 seconds off Alan Webb's 15 year old record at the Armory Track Invitational on Sat, Feb 6.
Feb 5
As she set out for her second run on Thursday, Adriana Nelson said she was compelled to take a slightly different route. She was enjoying the beauty of the trail she was on but was suddenly startled when she came across a figure sitting on the edge of a retaining wall. As she slowly approached him, she said it appeared to be putting a noose around his neck. read more
(by Brian Metzler, competitor.com, 2/5/16)
Feb 4
A running class is being offered by Lawrence Parks & Rec designed for people (ages 50+) who are new or returning to running. A supportive group, led by runLawrence member Ellen Young, will meet for a weekly run with tips on form, technique and extending your distance with walking intervals. You set your own goals.
The class goes from March 22 through May 10th. Sign-up page
Feb 1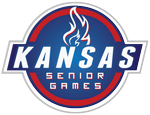 The Sunflower State Games announced that it has taken over operation of the Kansas Senior Games effective immediately. Formerly known as the Kansas Senior Olympics, the 2016 Kansas Senior Games will take place Septr 9-18 in Topeka. The Kansas Senior Games has been accepted as a full member of the National Senior Games Association, and will be a qualifying event for the 2017 National Senior Games set to take place in Birmingham, AL. more