January 2016 News
Jan 28
Special Events in the next ten days:
Tue, Feb 2nd is Groundhog Day at Ad Astra Running for runLawrence members.
5 pm run led by club coaches. 5:45 refreshments, then at 6 pm a brief presentation on coaching tips for training from runLawrence certified coaches. 20% storewide discount to all runLawrence members (excluding electronics) all day.
Sat, Feb 6th - 1 pm to 4 pm: Moving Comfort Ladies Special Event at Garry Gribbles Running Sports. Sign up for a 15 minute time slot for a personalized bra fitting and pampering day!  Ladies should replace their sports bra as often as they replace their running shoes- approx. every 6 months. RSVP to Kendra Kuhlman, kendra.kuhlman@gmail.com, 785-856-0434

Mon, Feb 8th

- 

6:30 pm

Getting the Most from your Running Watch. Free presentation by Kevin Dinneen from Garmin.
Jan 26
For several months the Pedestrian-Bicycle Issues Task Force has been studying the issue of accessible pedestrian and cycling facilities/infrastructure in Lawrence. Their draft report has been released and is now available.
If you are interested in making Lawrence a better place to walk, run, and bike, please come make your interest known at TWO important meetings and ONE online survey:
Lawrence City Commission Study Session
Tue, Feb 9 at 4 pm at City Hall, 6 E 6th.


Pedestrian-Bicycle Task Force Public Hearing
Feb 3 - 5:45-6:30 pm at City Hall.
Lawrence Listens on-line survey: http://www.peakdemocracy.com/portals/217/forum_home.
Come let our community leaders know how much this issue means to our community!



Jan 25
We've been reporting on ultra distance runners, you know, the 100 miles and beyond people. Coming next month to the Southwind Theaters is the story of runner who ran a 100 - the 100 meters, very fast.
Race is an upcoming biographical sports-drama film. It is the first feature biopic film about African American athlete Jesse Owens, who won a record-breaking four gold medals at the 1936 Berlin Olympic Games.
The release date for Race is Feb 19th. Check with Southwinds for the exact dates in Lawrence.
Auf die Plätze.
.
Jan 24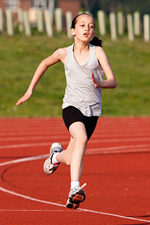 4 great reasons your child should join a track team this spring.
We are in the midst of another running boom. Everywhere you go, you see people running all over the place. It seems like everybody has a random number on the back of their car to announce their longest race to the world.
Unlike the first running boom that swept me up (via my dad) in the late 1970s and early 1980s, this one seems to have caught on with an even younger crowd. That has translated into the youngest track and cross country teams I have ever seen. more
(Mark Buerger, Youthletic)
Jan 20
Xuanzang's Way | The story of the inaugural 400km Ultra Trail Gobi Race from The African Attachment on Vimeo.
Jan 19

Shortly after sunrise, on June 14, 2015, a Finnish man named Ashprihanal Aalto stood on 84th Avenue, in Queens. At 6 am, he began running around the block. He passed a playground, some houses, and a technical high school. After half a mile, he returned to his starting point. Then he kept going—until, forty days later, he'd run 5,649 laps, for a total of thirty-one hundred miles. Aalto was one of twelve runners attempting the world's longest certified footrace, the Sri Chinmoy Self-Transcendence 3,100 Mile Race. Eight of the runners finished the race within the fifty-two-day time limit. Aalto finished fastest and broke the world record by almost a full day.
It may be that, in a broad sense, ultramarathoners are driven by something more secular than spirituality—they could be hungry for meaning. more
(Adam Alter, from the Dec 14, 2015 The New Yorker, Illustration by Keith Negley )
Jan 17
Congratulations to Molly Wood and Becky McClure on the their runs at the Chevron Houston Half Marathon this morning. Molly ran a 1:58:33; Becky did the 13.1 miles in 2:09:06.
Jan 16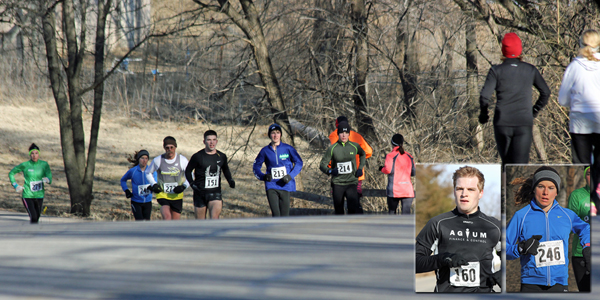 The 34th Annual Topeka to Auburn Half Marathon was held today in 25 degrees and sunny weather. Above, the runners turn on to El Cerrito Dr and come back out. The winners (inset) were Menco Schuurman (Lawrence) and Julie Thornton (Manhattan).
Instructions before the race: "For insurance reasons and everyone's safety, the use of headphones or headsets during the race is strictly prohibited." Race results show 16 people with a finish time, but DQd. They were caught on the finish line video wearing headphones or headsets.
more photos | results
Jan 15
Coming next week at the Garry Gribble's store:
Mon, Jan 18: 6:30 pm,  perFORMance proper running form clinic.  "We will break down your running form and give you tips and strength exercises to be an efficient and injury free runner.  We will take a short run to practice so be prepared to run/walk outdoors (weather permitting)."

Wed, Jan 20, 6 pm:  Altra shoe test run from the store.  "Come test out a pair of Altra shoes on a test run.  We will have a Q&A session from 6-6:30 then a test run in either the Lone Peak or the Provision.  All distances from 1 mile to 5 miles and hill repeats on campus- all are welcome!  Following our shoe test we will enjoy Hot Box cookies and beer from Free State.  Bling and give-aways for all shoe testers as well!"
Jan 14
Dan Kuhlman did a nice presentation on Literature and Running. One of his 5 favorite books is Once a Runner. The event was hosted by Ad Astra Running. (more photos by Gary Henry)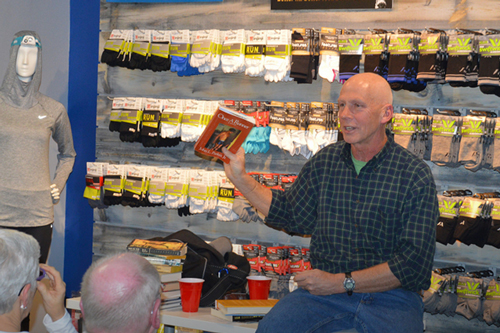 Jan 13
For the 30 years of its existence, runners at the World Mountain Running Championships have raced different distances depending on their gender: 12K for men, 8K for women. Team size has differed, too; each country has been able to field up to six men but only four women.
Now, that may be changing. more
Jan 12
The North Face Endurance Challenge San Francisco comprised four events on Sat, Dec 5th and three events on Sunday. Nick Ludvigson (Sonoma County, CA) ran the 50 miler on Saturday. His family was there to help support and cheer him including his parents from Lawrence, Laurie Comstock and Greg Ludvigson. Nick is another of those ultrarunners who can run and write a good account of his efforts. Read on.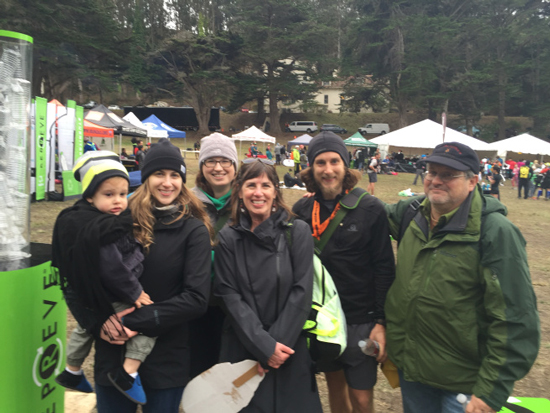 Nick Ludvigson and his family support team.
Jan 10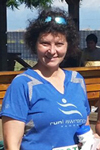 Officers for runLawrence for 2016 were elected at the Sunday meeting. The new president is Brenda Groskinsky, interim vice president Dee Boeck, new secretary Karen Hyde, and repeating as treasurer is Jason Holbert.
The club will begin conducting business meetings with an executive committee which willl consist of existing officers, (president, vice president, secretary, treasurer) plus the Thanksgiving Day 5K race director (Dee), web page editor (Gene Wee) and one at-large member. The total is intended to always be seven. Since Dee is the race director she agreed to be interim VP until someone else is selected for that office.
Committee meetings will be published and any club member is welcome to attend, but in the future club business will be conducted in committee. There will be events for all members and the public like the annual picnic, the meeting with the marathon clubs, other socials and special presentations.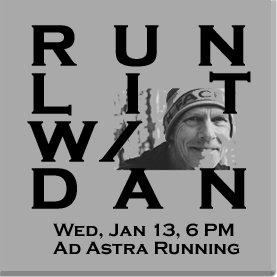 The next special event is the Running Lit(erature) with Dan Kuhlman this Wed, Jan 13, 6 pm at Ad Astra Running.
A special thanks to Dan, Bill Kinnersley and Heidi Matsakis for their work as officers in 2015.
| Minutes from the January meeting |
Jan 8
Coach Paul Boone and Dr. Maribeth Orr recommend some favorite running places in and around Eudora in the winter issue of Discover Eudora. See pages 8 & 9.
Jan 5
Brew to Brew is changing! The start of the course will begin at The Roasterie and end at Abe & Jake's Landing with the after race party. The relay event is Apr 3rd. More info: www.brewtobrew.com
Jan 4
Ready, set, roll: Boston Marathon gets its first documentary -
The film will highlight historical moments of the nation's oldest marathon is in the works, tentatively set to premiere in April 2017.
BOSTON Film Trailer from Jon Dunham on Vimeo.
Jan 2
And on Jan 18th - 6:30 pm:  perFORMance: Proper Running Form Clinic returns.
" Join us for an analysis of your current running form, basics and breakdown of proper running form, gait analysis, and a short run following our information session to practice our form technique. We'll help you get the most out of your run with proper form and techniques for injury prevention!  RSVP- kendra.kuhlman@gmail.com if you plan to attend."  - Kendra Kuhlman
Also on Jan 1, starting the new year in the woods was the orienteering event (the Post Xmass Start O') at Rock Haven Park at Clinton Lake.
Jan 1
Lawrence began the new year with a group run from Ad Astra. See more photos by Gary Henry.