May 2016 News
May 31

Red Dog's Dog Days, the annual summer community workout begins this Sat, June 4th at the Lied Center with two sessions: 7:00 am and 7:45 am. Saturdays are the fun runs. The regular workouts (stretching, calisthenics, running drills) start Monday, June 6. Monday thru Thursday, 6 am & 6 pm at Lawrence High School. The program is free. For more information, contact Bev Gardner.
May 30
A record crowd at the Home Run 5K at South Park this morning with over 400 competitors. There was a gunny sack race for the kids. Overall winners were Joe Moore (Keats, KS, and KC Smoke runner) and wife Tricia Moore in the women's competition. Photos | Results

runLawrence Fab Four at Amy Thompson 8K this morning: Dee Boeck, Laurie Comstock, Molly Wood and Celeste Leonardi.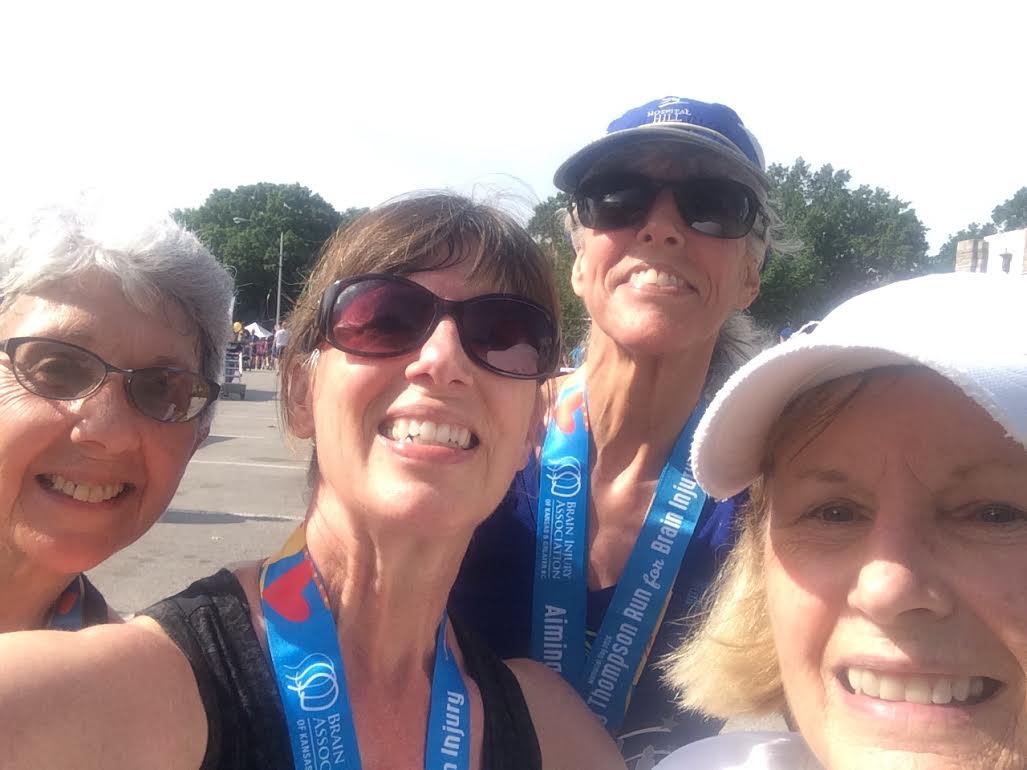 May 29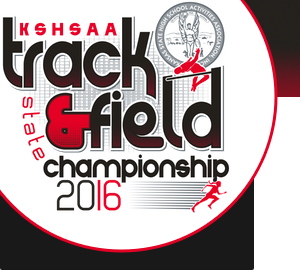 Congratulations to the local area schools making the top four places in their divisions at this year's state high school track and field championships: Baldwin Girls (1st - 4A), Lawrence Boys (2nd - 6A), DeSoto Boys (3rd - 4A), Basehor-Linwood Boys (4th - 4A).
State champs include:
Lawrence Girls 4x400 (6A) - Hannah Stewart, Evann Seratte, Myah Yoder, Kyleigh Severa),
Baldwin Girls 4x400 (4A) - Kyna Smith, Natalie Beiter, Fayth Peterson, Madeline Neufeld),
Baldwin Girls 4x800 (4A) - Addie Dick, Natalie Beiter, Fayth Peterson, Madeline Neufeld),
Amani Bledsoe, LHS (boys 6A shot put),
Ethan Donley, Free State (boys 6A 800 and 1600),
Dillion Grother, Oskaloosa (boys 3A 300 hurdles),
Callie Hicks, Free State (girls 6A pole vault),
Travis Hodge, DeSoto (boys 4A 800 and 1600),
Kelsey Kehl, Baldwin (girls 4A javelin),
Eric Scott, Basehor-Linwood (boys 4A triple jump),
Zach Strawn, Wellsville (boys 3A 400).
May 28
Last week the Lawrence Journal World included included the May newsletter for the "Lawrence Public Schools: Building Good Health & Boosting Brainpower." In the report from Pinckney Elementary, the annual Thanksgiving Day 5K hosted by RunLawrence was mentioned as a source of funding for their Pinckney Pacers running program. RunLawrence will host the 13th annual run on Nov 24th with proceeds to benefit numerous local marathon clubs and other programs for youth fitness.
May 27
A little pushy at the start of the men's 10000m at the NCAA Track & Field Championships West Prelims at Rock Chalk Park this morning.

May 23 - Walking to Rivendell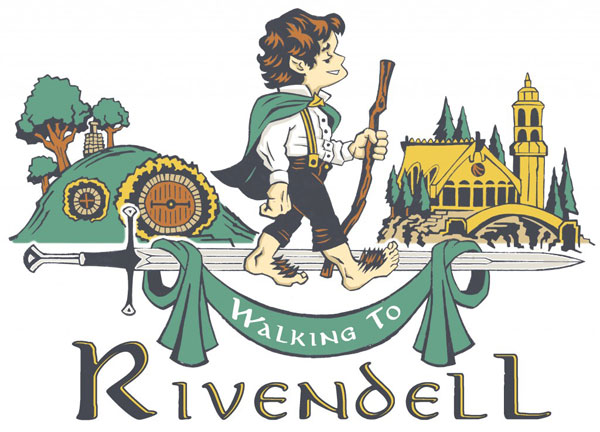 This summer make walking, running or biking part of every day, keep track of how far you travel, and then map your distance on the map of J.R.R. Tolkien's Middle-earth.  
Collect an achievement patch when you reach your goal distance. Plus, keep track of your fellow travelers by checking out the big map in the Lawrence Public Library.  Visit the library's website to sign up. It starts May 26th.
Make it all the way to Rivendell and you'll be entered into the grand prize drawing for a gift card to a local sports or fitness store. The program is sponsored by the Douglas County Communtiy Foundation and support by Ad Astra Running, Lawrence Re-Cyclery and the Lawrence Parks & Rec Department.
May 18
How Women Took Over the World of Running -
Across most long and short race distances, women now outnumber men; a rise fueled by social and charity groups. Women and girls, not long ago an afterthought in distance running, now own it. more
By Rachel Bachman, Wall Street Journal,May 16, 2016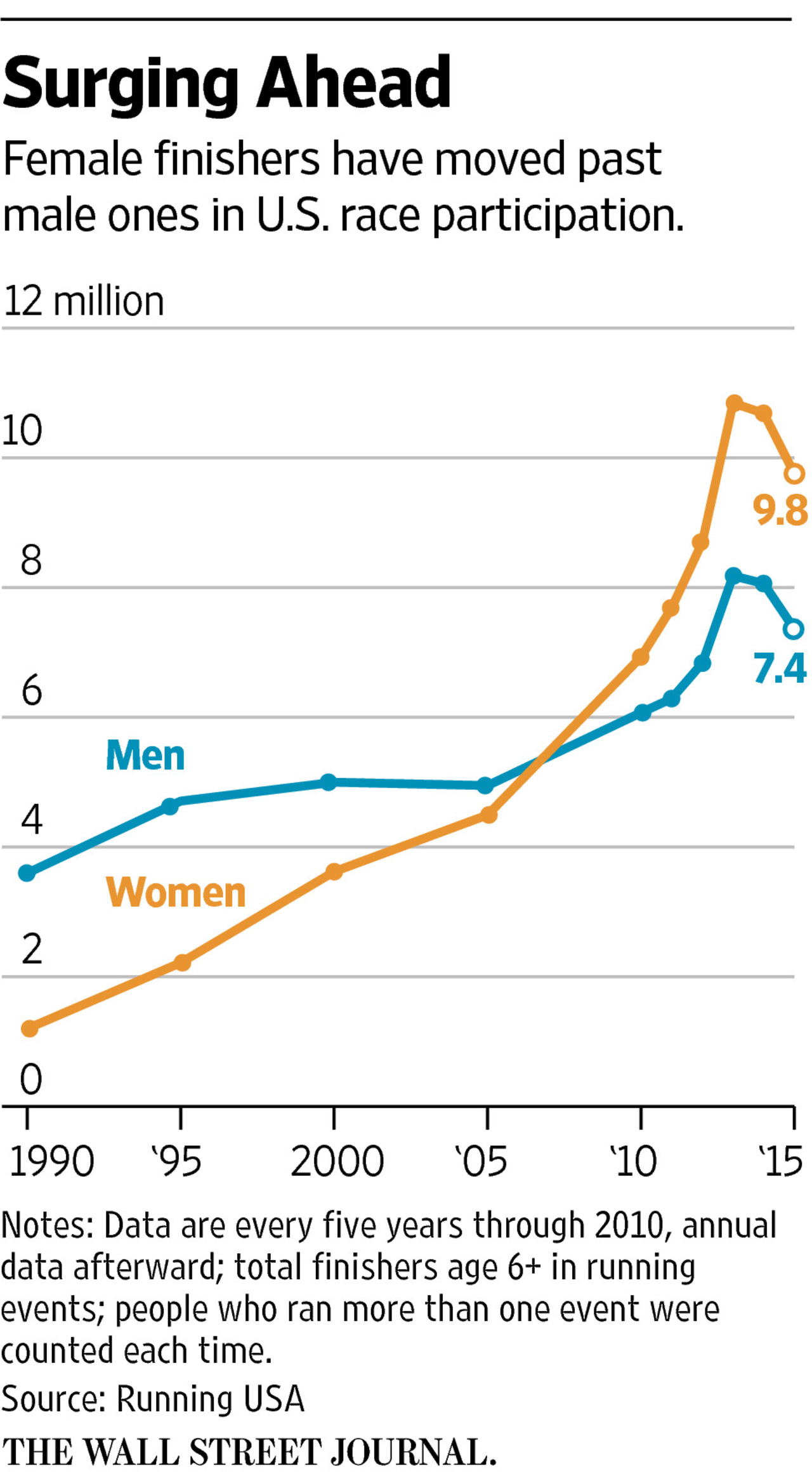 May 13
Man vs. Marathon - part 2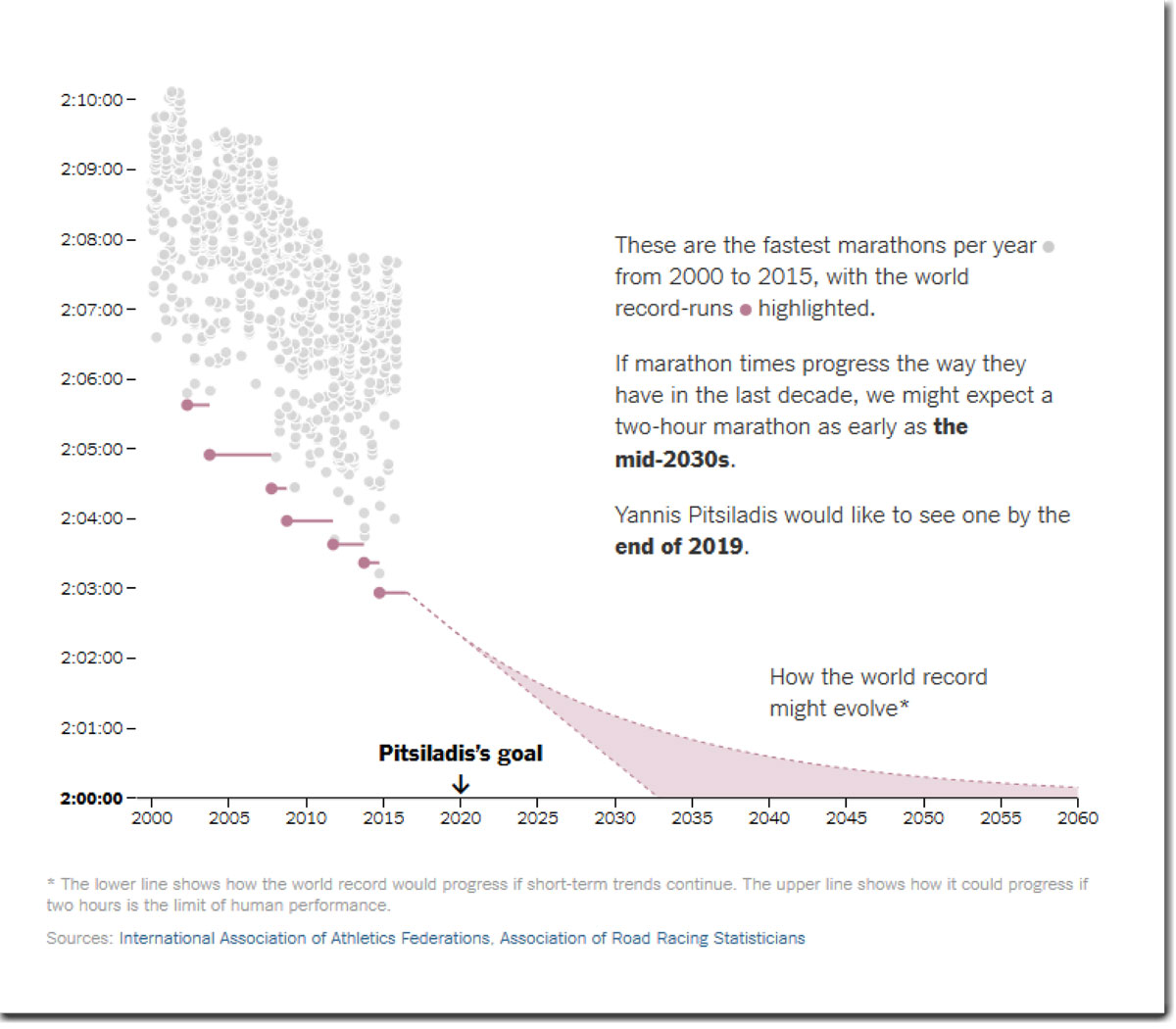 May 12
Man vs. Marathon - One scientist's quixotic quest to propel a runner past the two-hour barrier. The Dead Sea could be an ideal place to train a runner to complete a marathon in less than two hours, according to the scientist Yannis Pitsiladis, who did a test run along a dike there in February. more
(by Jere Longman, May 11, 2016, New York Times)
May 8
Runs n Roses - at the KC Express Mothers Day 5K at Corporate Woods.
Results | more photos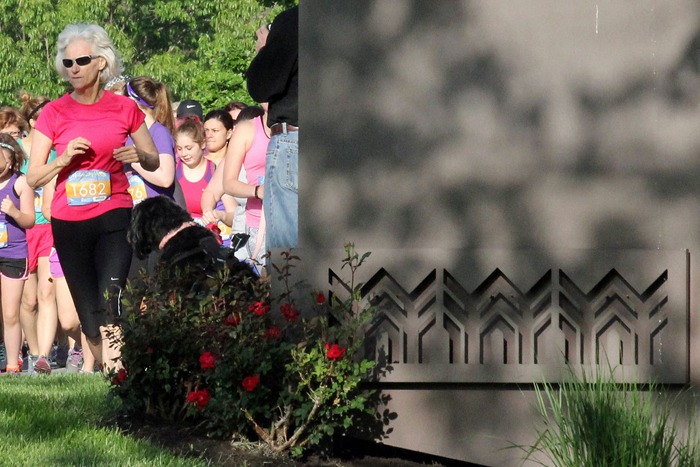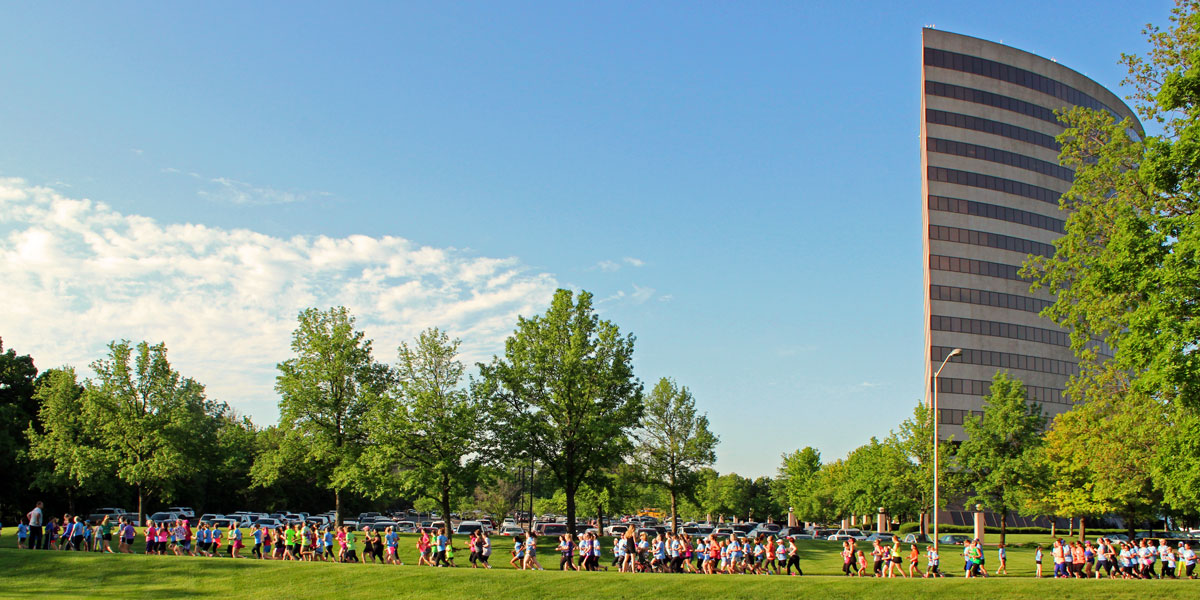 May 7
2 runs this morning: the Skyline Shuffle at Clinton State Park hosted by the Trail Hawks and the Paw Valley Festival 5K at Watson Park. Matt Quijas is holding pone of the awards from the Shuffle - a pterodactyl trophy created by Matt O'Reilly.
More photos from Gary Henry.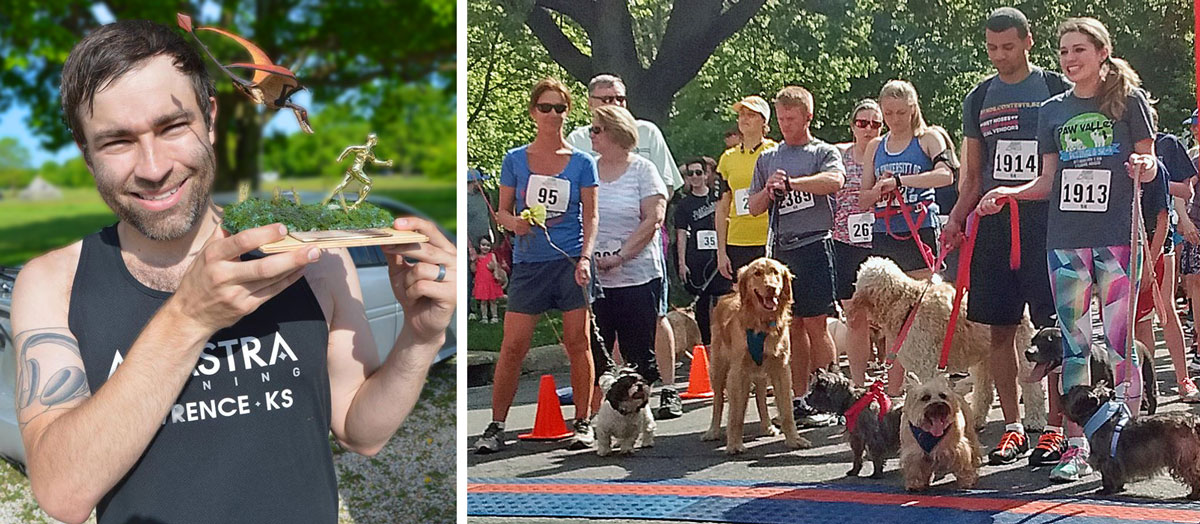 (photo of Matt Quijas by Gary Henry)
May 6
Today is the 62nd anniversary of Roger Bannister running the first sub-4-minute mile at the Iffley Road track at Oxford University.
May 4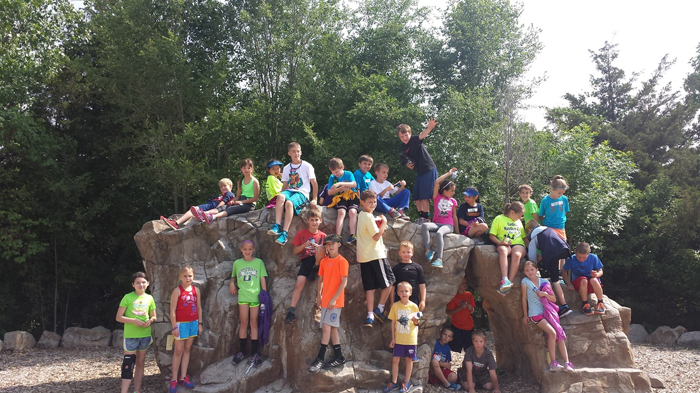 Club member Paul Boone is hosting several summer cross country camps in Eudora for 3rd graders on up to high school runners. more info
May 3

Volunteers Needed - NCAA West Preliminary Round Track & Field Championships May 26-28, Lawrence, KS. We need the help of many generous volunteers for the NCAA West Preliminary Round.
No track & field experience is required. Sign up for a minimum of 2 blocks of three hours or more and receive a NCAA shirt and meals are provided while working the event. This meet is a great opportunity to see some of the Nation's best athletes and potential Olympians in action. If you are interested in volunteering, contact: Debbie Luman, 785-864- 3486, dluman@ku.edu
more
May 2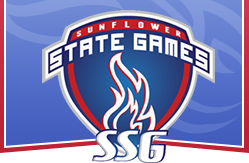 Sunflower State Games Only 67 Days Away!

Registration is now open for the 27th Annual Sunflower State Games. The 2016 Games are set to take place July 8-24 in Topeka and will feature 49 different events for all ages and skill levels. Approximately 9,000 athletes are expected to compete against participants from all four corners of the state. Register today and "Shoot for the Stars" at the 2016 Sunflower State Games!