News - November 2017
Nov 26
The 35th Annual Miracle on Kansas Avenue Rescue Run 5K traditional is held right before the downtown Topeka Christmas Parade. The photo below shows Michelle Andrew leading a group of runners under the south steps of the Capitol building. more photos
Nov 23
Thanks to over 1200 people we had a great Thanksgiving Day Run this morning. Gary Henry took lots of photos. He's serious about "you being in pictures." Check them out. Results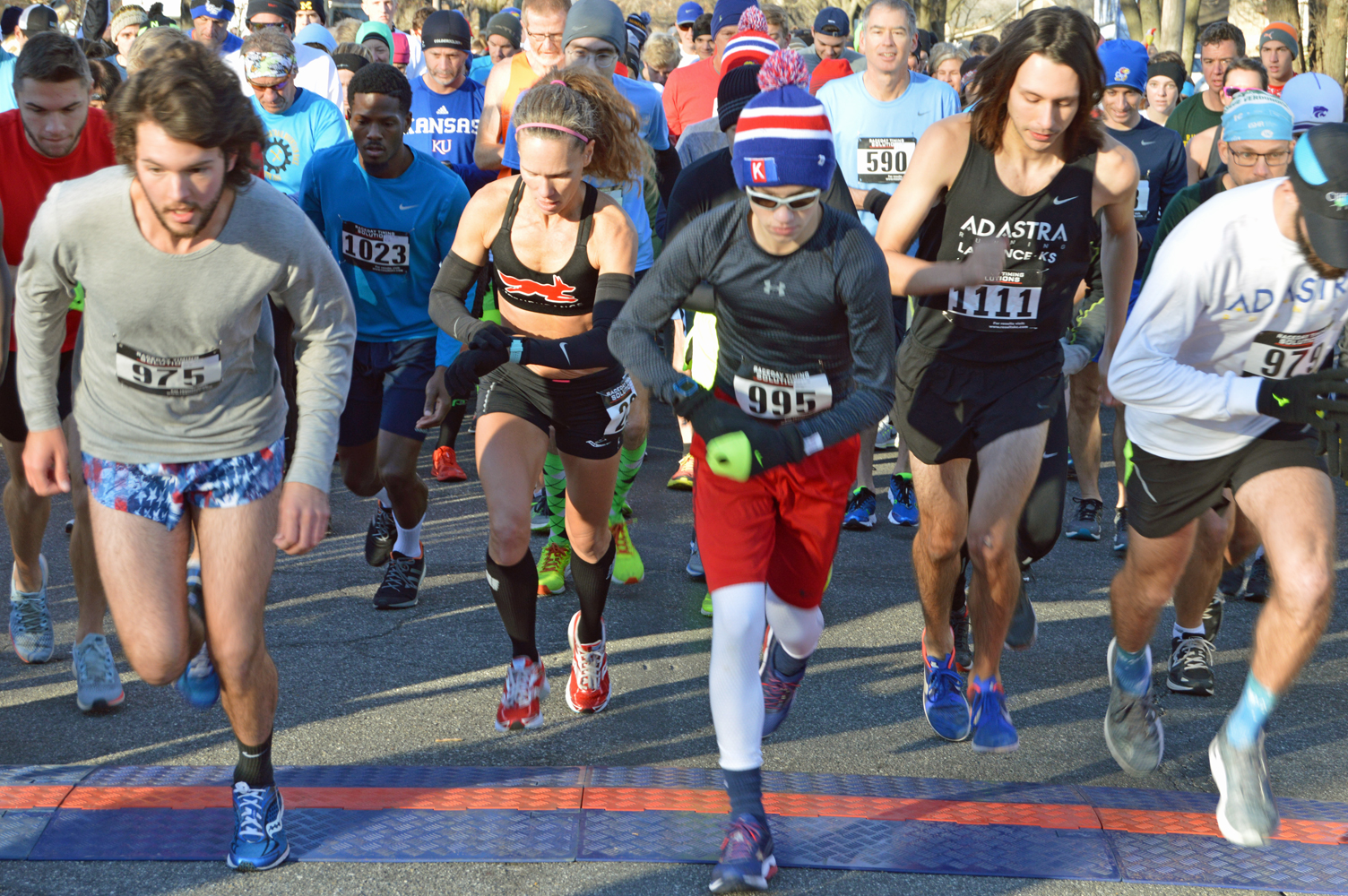 Nov 12
The KU Vets Day 5K, hosted by the KU Student Veterans of America and the Veterans Alumni Network, honors our past/present veterans and raises awareness of the roles veterans play in our university and community. The 5K begins and ends at Memorial Stadium, and travels through the KU campus past KU's five war memorials. | Race Results | Photos |
Nov 11
Last year the first Billy Mills 10K race was held on the Haskell Indian Nations University cross country course. with the Olympian himself attending. This year Billy Mills and wife Pat were on hand at the finish to award medals.

Proceeds raised were to support the Haskell University running programs, including a track & field program temporarily suspended last spring. Mills' Running Strong Foundation donated $10,000 to kick start the renewal of the program.
Nov 7
Now on display at the KU Library: "Resist and Respect: Kansans Respond to the Vietnam War" highlights a variety of the imagery, scholarship, and memorials generated throughout the state during and after the Vietnam War. The exhibition in the Haricombe Gallery in Watson Library is open to the public through Jan 12, 2018. Included are a couple of photos from recent KU Vets Day 5Ks. Reminder this year's KU Vets Day 5K is Nov 12.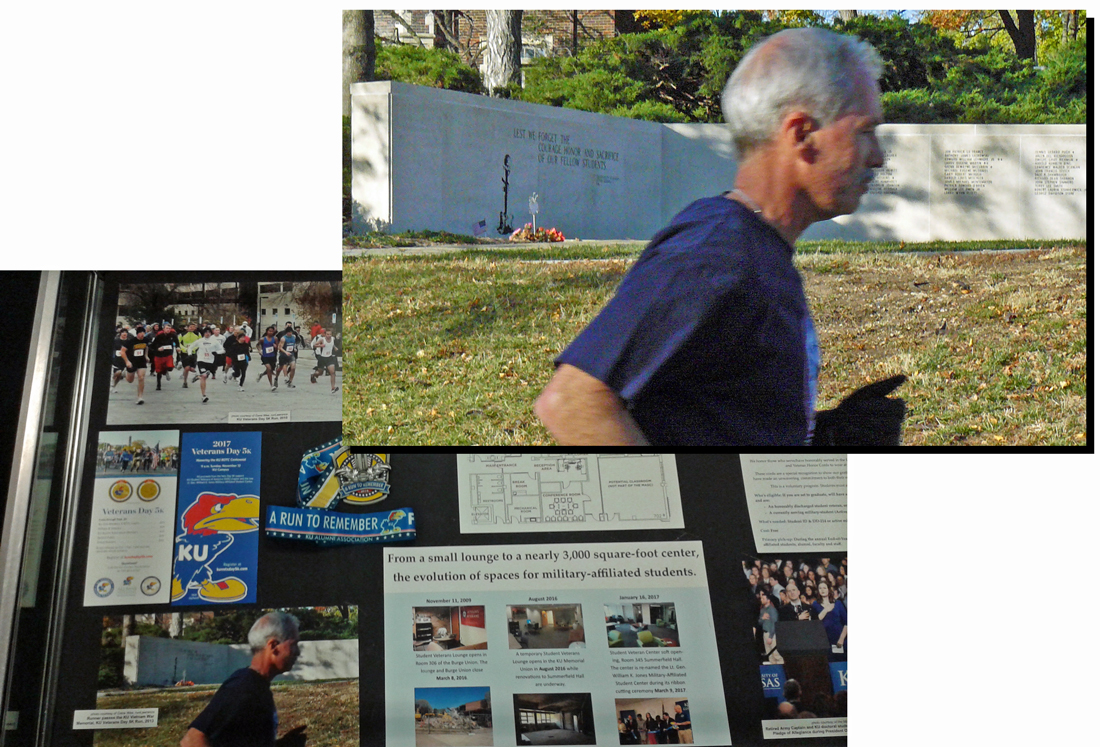 Nov 5

Photos from Sunday's Kansas Half Marathon and 5K. Results
Nov 2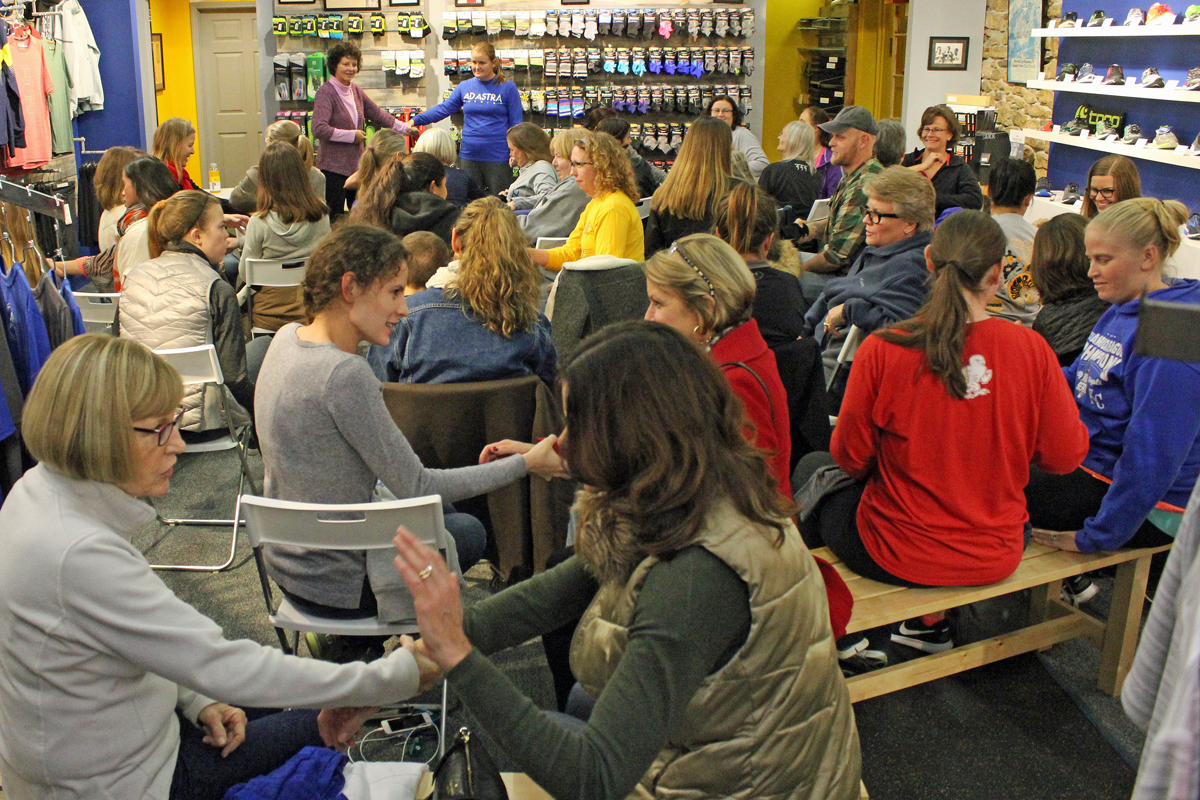 On Wed, Nov 1st, runLawrence president Brenda Groskinsky presented a talk on Self Defense for Runners at the Ad Astra Running store. She discussed techniques you can use to stay safer and feel better on runs.
Nov 1
Olympic legend Billy Mills, 1964 gold medalist and the only American ever to win the 10000 meters, will be the official starter at this year's Billy Mills 10K at Haskell University, 8 am on Nov 11th.  This race raises money for the Haskell cross country program.
Billy and his wife, Pat, will be at the finish line handing out medals to every finisher.  Free post-run refreshments, massage, and hot coffee will be provided. You can register online. And this year's race also features a virtual option for those unable to attend.  More info: J. Jenkins, Ad Astra Running, (785-830-8353).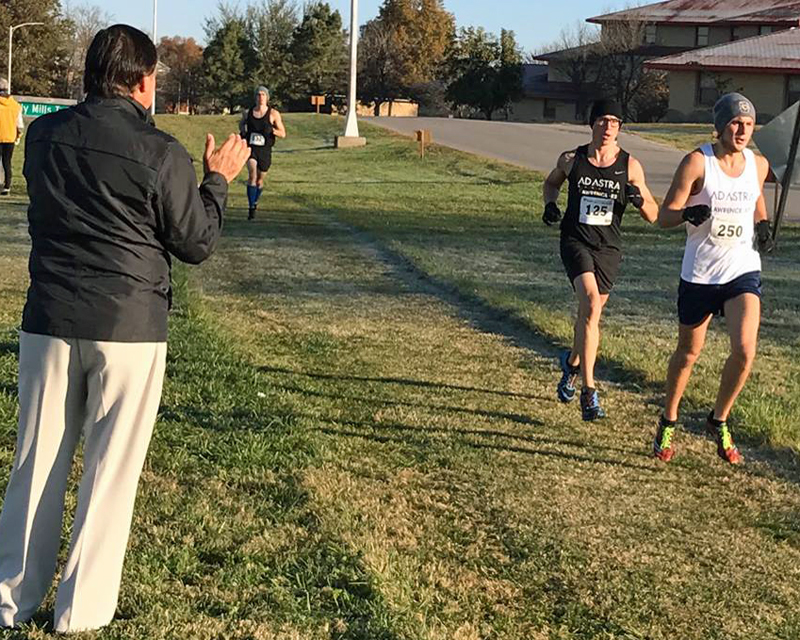 (Billy Mills cheering the runners at last year's 10K cross country race at Haskell)