News - October 2017
Oct 30
Now on display at the KU Library: "Resist and respect: Kansans respond to the Vietnam War" highlights a variety of the imagery, scholarship, and memorials generated throughout the state during and after the Vietnam War. The exhibition in the Haricombe Gallery in Watson Library is open to the public through Jan 12, 2018. Included are a couple of photos from recent KU Vets Day 5Ks. Reminder this year's KU Vets Day 5K is Nov 12.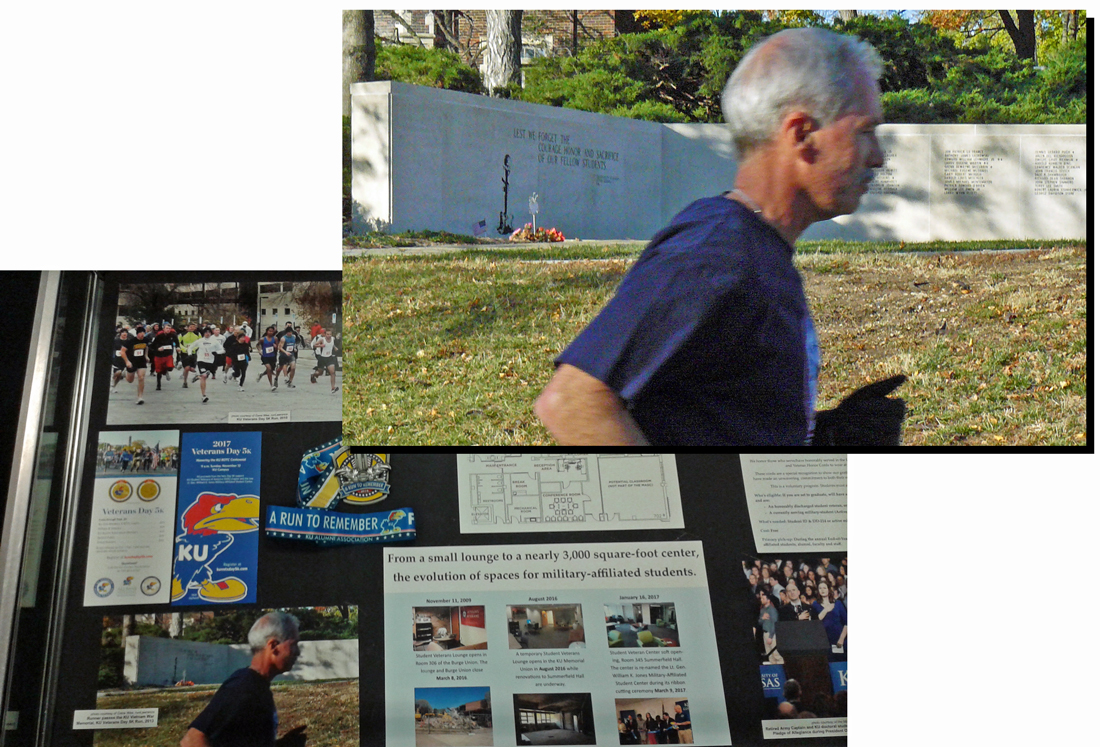 Oct 28
Kerry Kohrs, Lee's Summit, MO, finished the Cliff Hanger Run with her running partner at the 5K in Kansas City. Lawrence's Jennifer Kongs and Ryan Lister both won the 8K race. See more photos
Congratulations to the Baldwin Girls Cross Country team - 4A state champions again. And Basehor-Linwood took 4th in 4A. (Jim Beiter photo)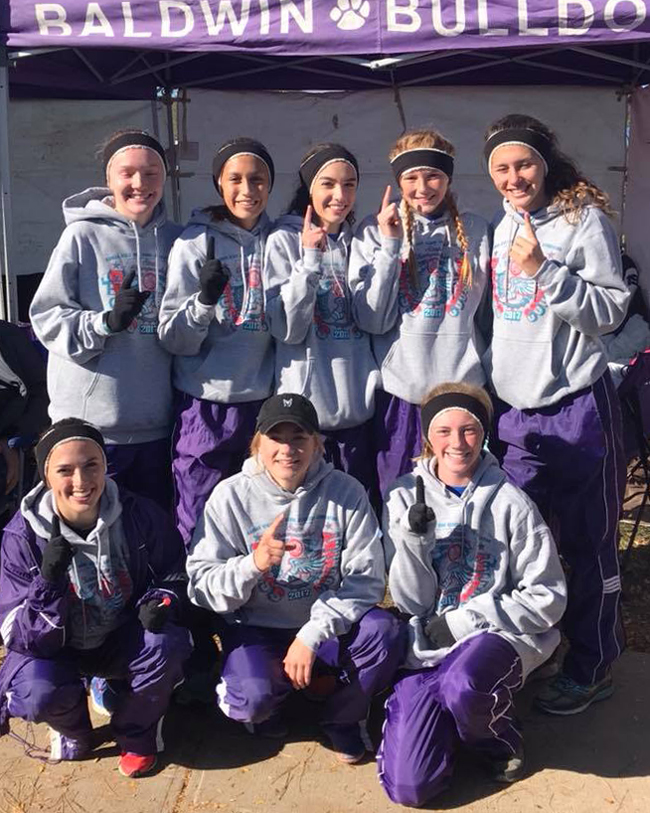 Oct 24
Here's a link suggested by Lawrence High student Jen Port to raise awareness of running safety in the area. It's entitled: Health and Safe Running: A Detailed Guide, by Summer Banks.
"While running may seem very safe, there are still some things to keep in mind. Always follow safety rules and guidelines for your specific area. Any good running program starts with running safety." more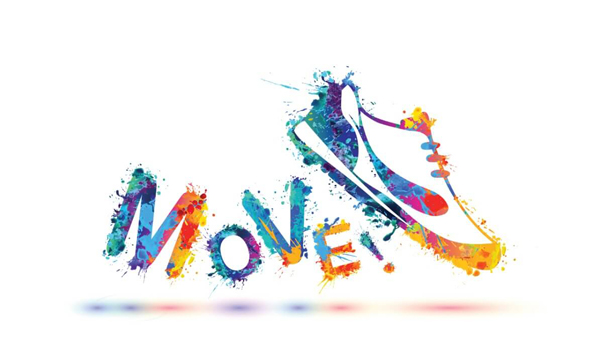 Oct 22
Running her 8th Mankato Half Marathon, Dee Boeck uses the 1:55 pace group to finish in 1:54:39.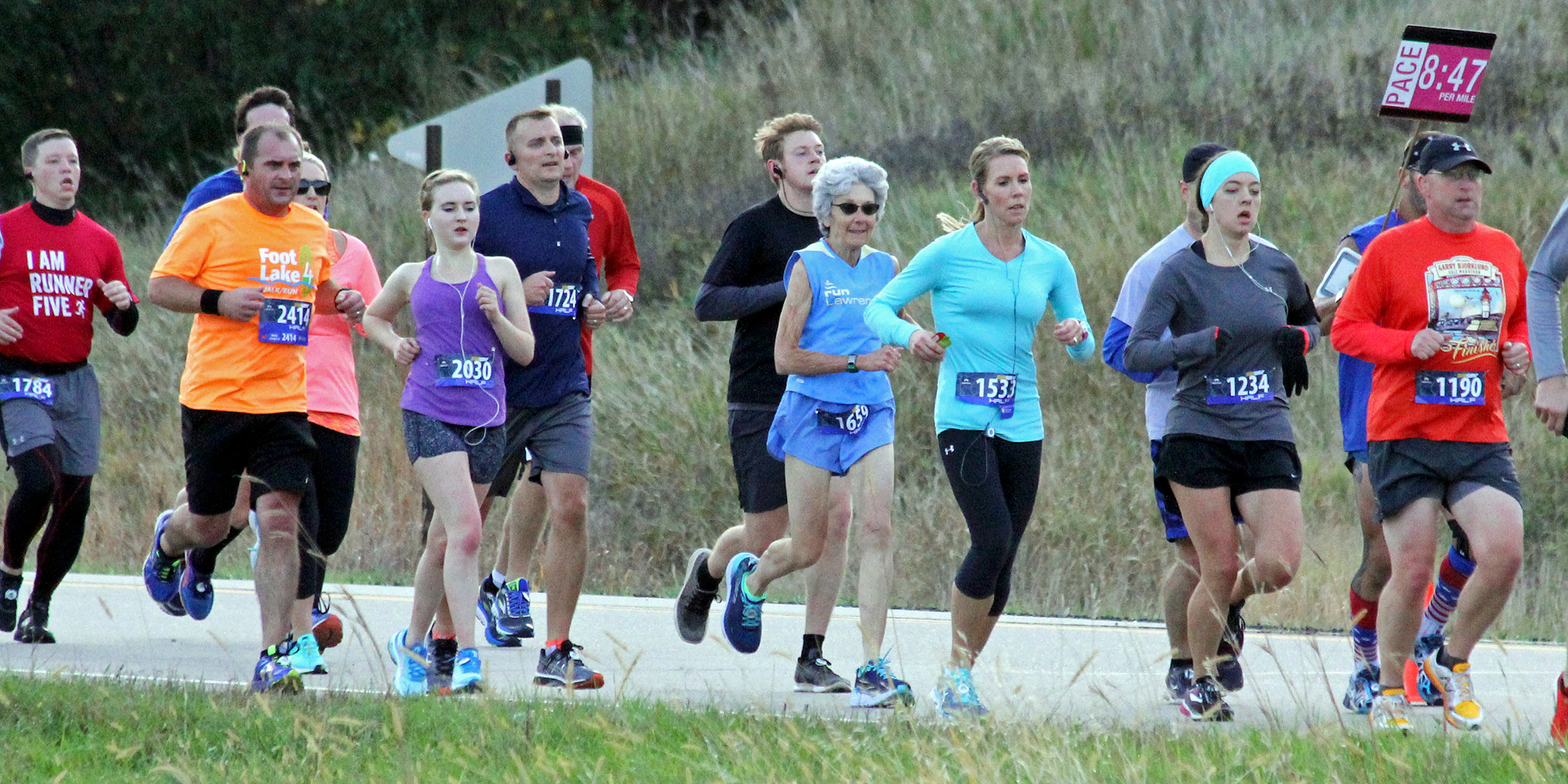 Oct 15
The Breast Cancer Awareness 5K and 10K started at Woody Park by Lawrence Memorial Hospital and was hosted by Garry Gribble's Running Sports.
Results | Photos
Oct 14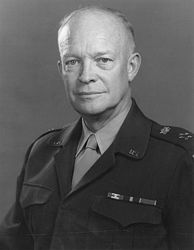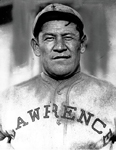 From runLawrence archives, Oct 14, 2007.
During a run on the Haskell campus in 2007, I remembered the birthdate of Dwight D. Eisenhower, and a connection with Jim Thorpe. more
Oct 11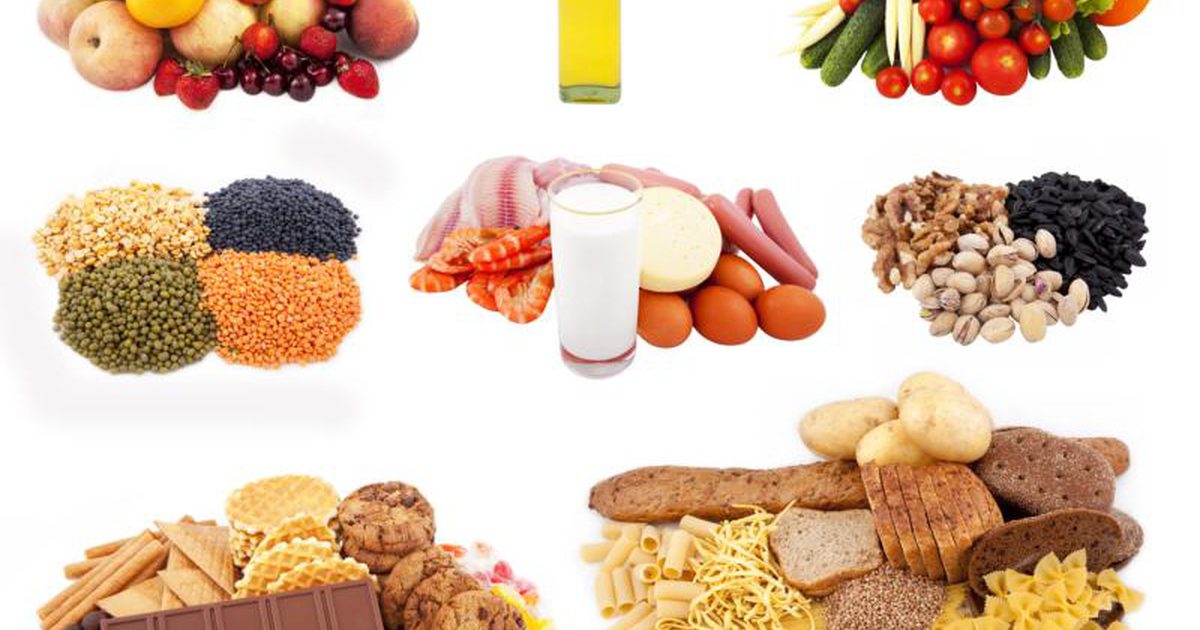 Understanding Glycogen, Your Body's High-Performance Fuel
Put 100 runners around a pre-race dinner table, and they won't agree on much. Training talk may cause shouting matches; shoe talk could cause friends to come to blows over terms like "drop" and "stack height." But one thing most would agree on is what to eat—a big pasta buffet.
Pasta has earned its vaunted place at pre-race meals everywhere because of its impact on glycogen. You have probably heard the term "glycogen" bandied about before, and you may have even used it yourself when ordering your pre-race meal. more (by David Roche, Trail Runner, Oct 10, 2017)
Oct 5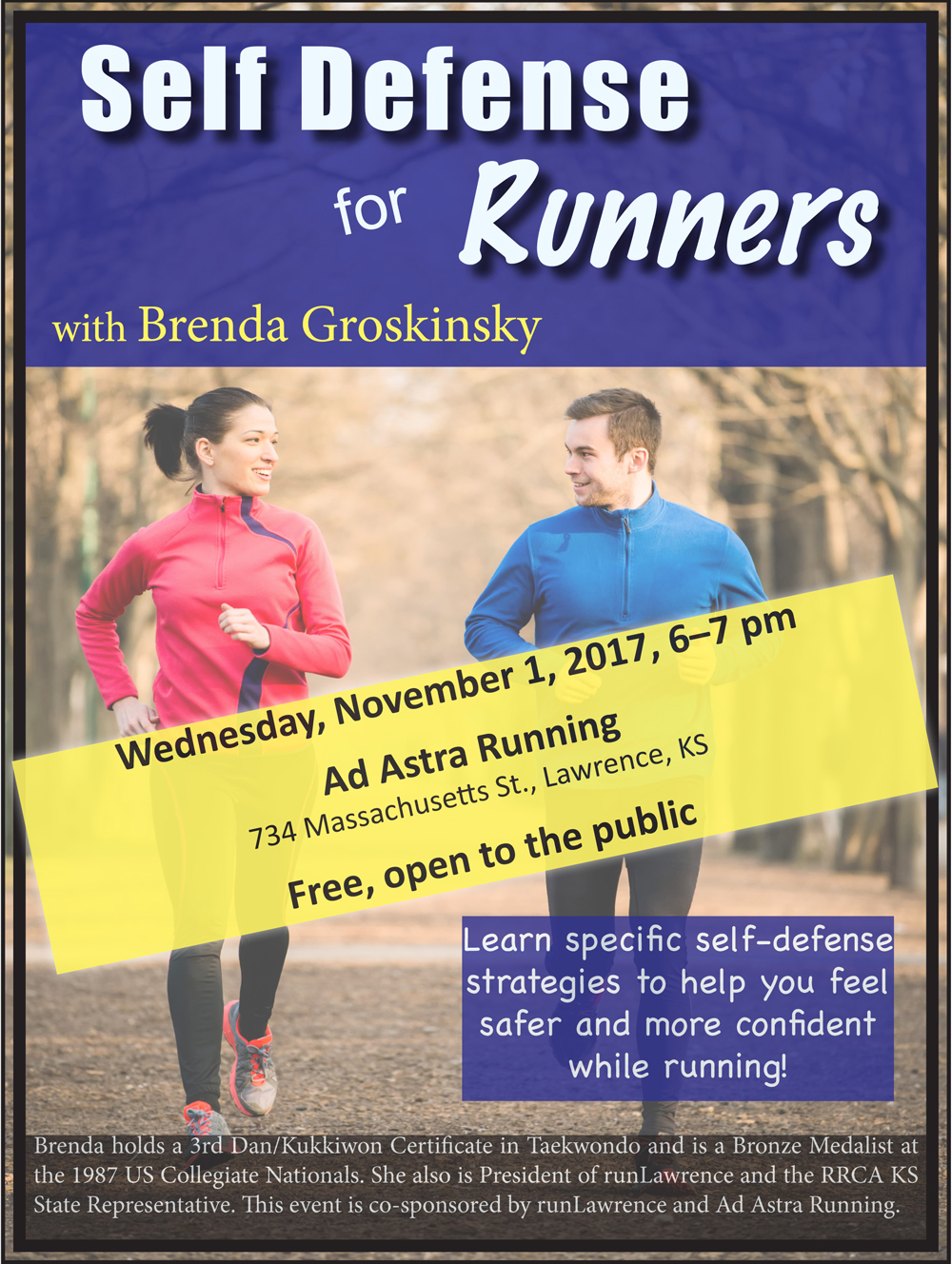 Self-Defense for Runners: Running alone or at quiet times of day or night can sometimes turn scary. On Wed, Nov 1st, runLawrence president Brenda Groskinsky will teach techniques you can use to stay safer and feel better on every run. Knowledge is power--be safe out there! 6 pm at Ad Astra Running.
Oct 3
Here's a report on the San Francisco Marathon from the Spanish language website ESPN Run. It gives you a good look on the course and people running it. A lot of comments in English.
Oct 2
How to Run Like a Girl. A women-only guide to running from the New York Times by Jen A. Miller. You'll find advice about the big and small challenges of running while female, and how women can get faster and stronger in spite of them. So ladies, grab the sports bra, lace up your sneakers and let's hit the road.
Congratulations to Greg Burger on his overall 2nd place finish at the Race to the Center Half Marathon, at Smith Center, KS on Sat, Sept 30. The first two places were claimed by M50-59 guys. Results
Oct 1
The Chocolate Festival Winged Foot 5K and 10K were held in Topeka at Forbes Field yesterday. Here's a video from last year's event. | 2017 Results |