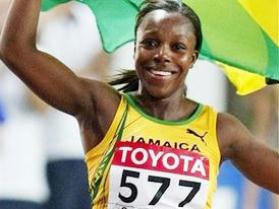 Sep 3 - Another former KU Relays performer wins gold at the world champs. Veronica Brown-Campbell (Jamaica) out-dueled Carmelita Jeter and Allyson Felix for gold in the women's 200m final. VBC ran for Barton County Community College around 2005. You can catch videos of all the event finals at Flotrack.
Sep 2 - A great day for U.S. track at the World Champs in Daegu, South Korea. During a 32-minute span, LaShinda Demus set an American Record in the women's 400m hurdles, Jesse Williams ended a 20-year drought by Team USA in the high jump by winning gold, and Jenny Simpson won the first American gold medal in the women's 1,500m since 1983. more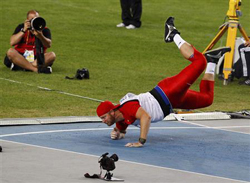 Scott Russell of Canada (& KU alumnus) falls as he competes during the men's javelin throw qualifying event at the IAAF World Championships Sept 1, 2011. REUTERS/David Gray
Sep 1 - The KU cross-country team has a home meet this Sat, with the first race starting at 9:00 am. The meet is at Rim Rock Farm, the course created by Bob Timmons. It's a challenging course for the runners but laid out in a way that is very friendly for spectators. The 1998 NCAA championship meet was held there and many of us remember an exciting race won by Adam Goucher over Abdi Abdirahman.
If you're considering the Dr. Bob Run 5K on Sept. 17, this would also give you a chance to preview the course. Map to Rim Rock - Dick Lipsey

Aug 31 - ARLINGTON, Virginia – The Road Runners Club of America, the oldest and largest distance running organization in the United States, is pleased to announce the second round of selections for the Runner Friendly Community designation. Those communities are: Allen Park, MI; Carson City, NV; Decatur, IL; Knoxville, TN; Lawrence, KS; Lynchburg, VA; Missoula, MT; Reading, PA; Salem, MA; and The Woodlands, TX.
The goal of the Runner Friendly Community program is to shine a national spotlight on communities that standout as runner friendly and to provide incentives and ideas for communities to work towards becoming Runner Friendly Communities. Runner friendly communities can increase the quality of life, can improve physical activity for residents as outlined in the National Physical Activity Plan, and can provide for increased economic impact for the community.
"Each organization that completed our detailed application, on behalf of their community, clearly outlined how their community is meeting and in many ways exceeding our criteria," said Jean Knaack, RRCA Executive Director.
While runLawrence is recognized, the designation is possible only through the many new and long-time existing programs, services and businesses that promote or encourage running. And it is a recognition of each individual in this town who simply just gets out and runs.
Aug 30 - The inaugural 2011 Heartland Youth Cross County Fall Meet Series: 6 cross country meets for athlete's ages 6-14 will begin Sept 10 with a meet at Swope Park. These meets will introduce youth to cross country running by providing an experience that is fun, competitive, social, and informative about the sport. The season will end with the Heartland Youth Cross Country Championships on Nov 19, at Loose Park (KCMO). Boys and girls in each of the five age divisions will be crowned champions. more
And from Ethiopian TV, the exciting finish of the men's 10000.


Aug 26 - A belated congratulations to two Lawrence Trail Hawks on their spectacular accomplishment finishing the tough Leadville 100 last weekend:
Brad "Pastor Hawk" Bishop and Laurie "Pixie Hawk" Euler. Now, all that stands between Brad and the Grand Slam Eagle Trophy is the Wasatch Front 100 next month. One of the toughest hundreds of all! (Gary Henry)


The world track & field championship starts tomorrow in Korea with the women's marathon. Here's the schedule for broadcast TV coverage:
| | | |
| --- | --- | --- |
| 8/27/11 | 12:30 PM | NBC (ch: 8, 14, 208, 214) |
| 8/28/11 | 11:30 AM | NBC (ch: 8, 14, 208, 214) |
| 9/3/11 | 1:00 PM | NBC (ch: 8, 14, 208, 214) |
| 9/4/11 | 12:30 PM | NBC (ch: 8, 14, 208, 214) |
Universal Sports will be providing daily coverage. You can see the full schedule at: http://www.usatf.org/calendars/TVSchedule.asp
Aug 22 - John J. Kelley, a former high school English teacher who won the 1957 Boston Marathon and eight consecutive national marathon championships, died Sunday in North Stonington, Conn. He was 80. more (from the New York Times)
Aug 21 - This morning Dee Boeck joined new member Jim Knight on his long run training for the New York Marathon. She noticed his choice of drink was coconut water and plain water. What are the benefits over Gatorade or Nuun? See Joe English's article: Is Coconut Water a good drink for athletes?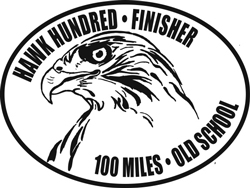 Aug 11 - One month from today for the Hawk Hundred 100-Mile Trail Run. For some reason, this race worries me more than Leadville or Ozark Trail; maybe because I know the course so well. I know we're accustomed to reading race reports after the race – here's my brief pre-race report on the Hawk Hundred – "Why it scares me." - Gary Henry
Aug 10 - Hello runners! I'm trying to make contact with any and all runners about an event in Lawrence on Sept. 18. A friend of mine is running across the country and will stop here then. I've rented South Park for a reception and Health Fair that afternoon. Runners could join Dennis at any point of his historic run. Check out TheRun.org. Tim O'Brien, 832-0942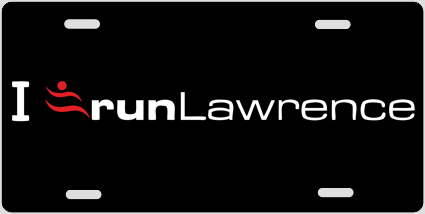 Aug 4 - If interested in getting the license plate below, come to the club social (pot luck dinner) this Sunday to place your order. Or email Gene. The locally produced plate is also available in black ink on a white background. Price: $10.
Archives
2011: Jan Feb Mar Apr May June July
2010: Jan Feb Mar Apr May June July Aug Sep Oct Nov Dec
2009: Jan Feb Mar Apr May June July Aug Sep Oct Nov Dec
2008: Jan Feb Mar Apr May June July Aug Sep Oct Nov Dec
2007: Jan Feb Mar Apr May June July Aug Sep Oct Nov Dec
2006: Jan Mar Apr May June July Aug Sep Oct Nov Dec
2005: Oct Nov Dec