Club Meeting Minutes
Sun, May 7, 2017

(approved June 11, 2017)
4:30 pm, Lawrence Memorial Hospital -
Present:  Brenday Groskinsky, Gene Wee, Dee Boeck, Becky McClure, Don and Lori Cackler, and Karen Hyde
Brenda called the meeting to order.
We reviewed the minutes from the April meeting.  Dee moved to accept the minutes; Becky seconded, and all approved.
Gene gave the treasurer's report.  As of May 6th, the club had a balance of $18,017.25.  Membership dues worth $45.00 were deposited and Broken Arrow PTO cashed its check.  So far in May, a check has been issued to Brenda to reimburse her for the expenses for travel to the RRCA convention and for convention fees, and Schwegler Marathon Club has cashed its check.  As of May 7th, the club has a balance of $16,075.20.  Dee mentioned that we will no longer receive a paper copy of the account's balance sheet because the bank has been charging us $5.00 each month.  We have access to the document on-line, and Gene can print a copy for the board to see.
Brenda gave a report on the sessions that she attended at the RRCA Convention.   Please see the attached Brenda's RRCA Convention Notes(right column).
During Brenda's presentation, we had discussion about RRCA's recommendations concerning race waivers.  It was noted that the children in a jog stroller are NOT covered under our current RRCA insurance.  We discussed whether to discourage or ban strollers from our race.  No definitive decision was reached; Brenda suggested that we need to get more information from RRCA before making a final decision and before deciding on the exact language to use on the waiver.  It was also noted that RRCA wants us to discourage bib swapping (even though it is covered by the insurance).  We will be considering whether and how to state this information on the entry form for the T-Day race.
Also concerning the T-Day race, we will need to purchase a music license in order to have a DJ play music.  RRCA is working to set up a relationship with BMI, a company that sells the licensing, so that we can then obtain the license from RRCA.  The cost is expected to be approx. $100.00.
Brenda stated that she has been selected to be the Kansas representative to RRCA.  She made it clear that her duties as president of runLawrence and state rep. are separate, and that she is not in a position to ask for help from club members to do things on behalf of RRCA, although she will welcome feedback or help when it is offered voluntarily.
Dee gave the marathon club update.  We issued the check to Woodlawn Elementary, so all beneficiaries have been issued their checks but not all have been cashed.  The celebratory run with students from the clubs that was to be organized by Denise Johnson, the wellness coordinator for USD497, was cancelled.
Brenda briefly reviewed the strategic plan.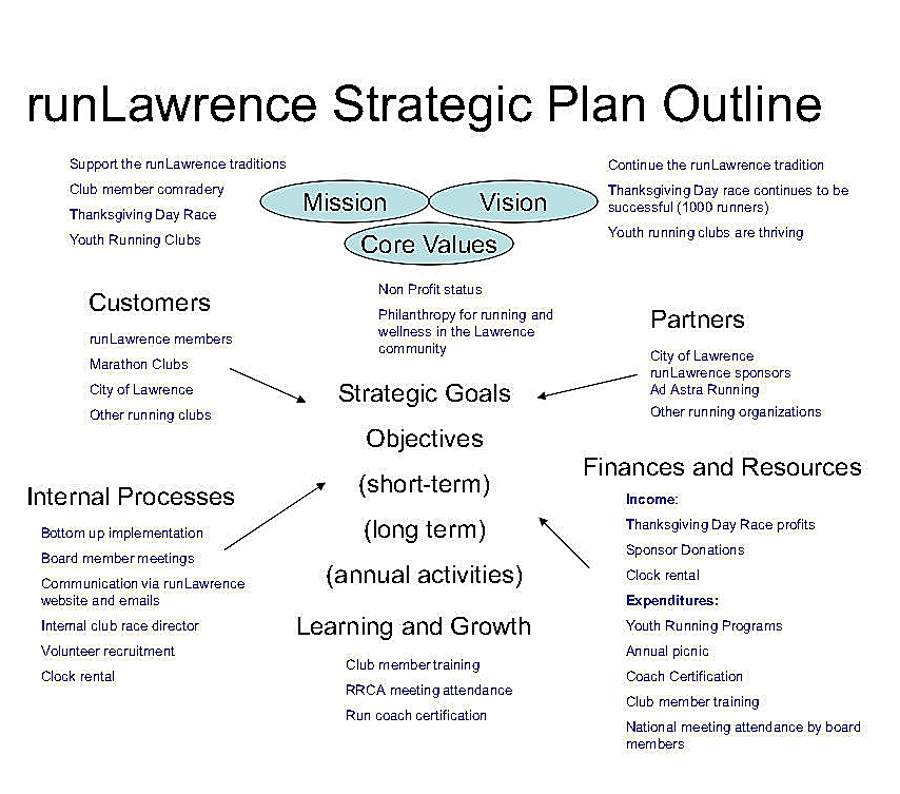 She added the following definition for 'partner': Those who participate in activities to either help sponsor or support runLawrence traditions such as the annual T-Day race and Lawrence Public Schools' Marathon Clubs.  We also  discussed how or whether to pursue a mutually beneficial relationship (or partnership?) with Ad Astra and Gary Gribbles Running Stores.  More discussion might occur at a later meeting.
She also reviewed the club's strategic plan road map.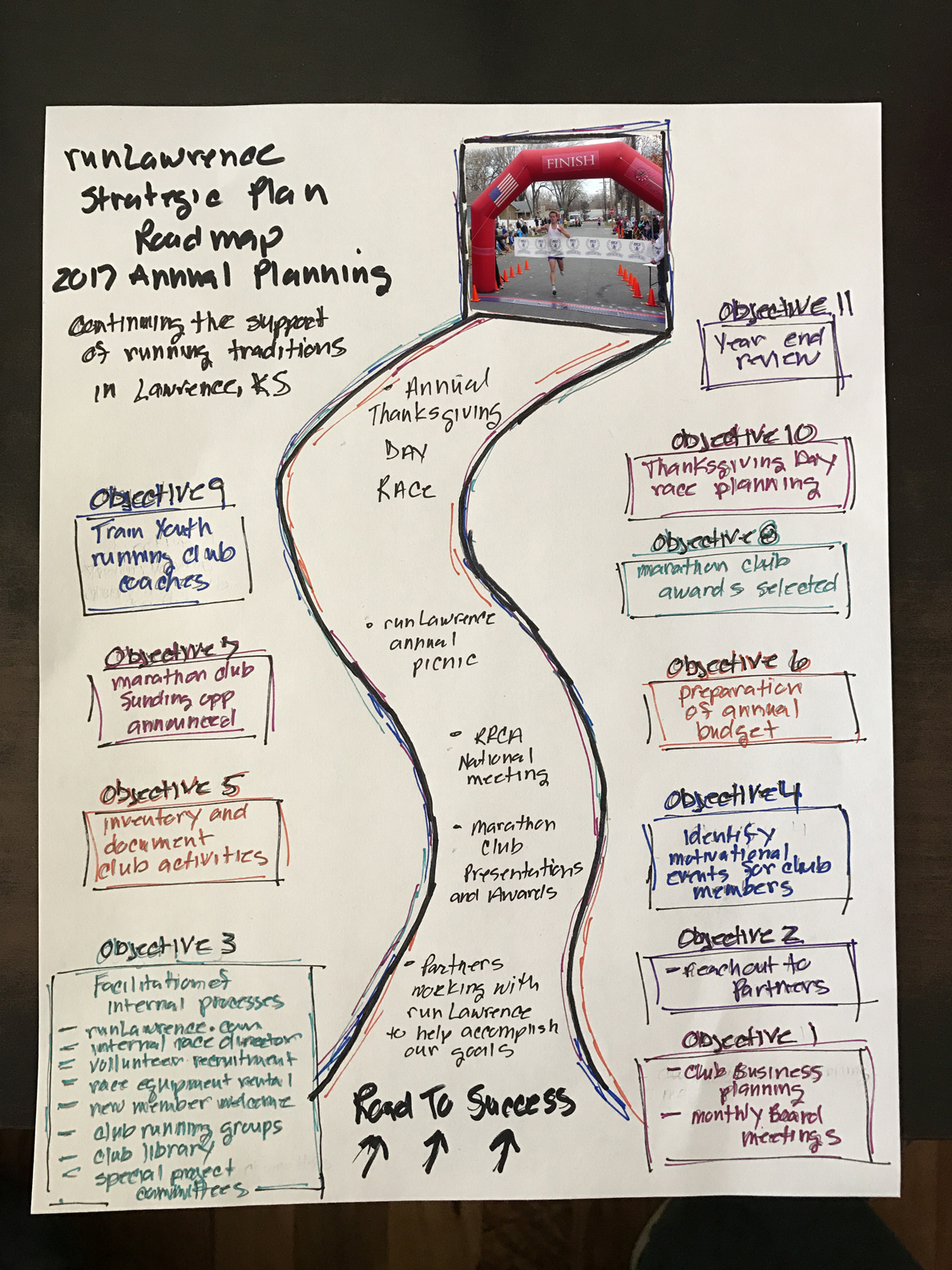 She asked that we review the road map before the next meeting to decide whether we agree with it or want to make changes.  We will be reviewing the activities in the middle of the road map to estimate how much each will cost so that we can prepare a budget that will promote the club's sustainability.
Dee gave a brief report on preparations for the T-Day run.  The design for this year's participant shirts will be the same as last year's volunteer shirts.
The meeting was adjourned by consensus.
The next meeting will be Sunday, June 11th at 4:30 pm at the Lawrence Public Library.
Submitted by Karen Hyde