Apr 29 - Citius, Altius, Fortius. On Saturday, we ran swifter at the Hilltop Hustle. Stronger were the 100K runners at the Free State races at Clinton Lake. Higher meant 62 stories at the LA Climb California race where Lawrence's Keith Dowell, wearing bib #1 (did he sign up really early?), placed 6th overall among 186 finishers and easily winning the M50 category. results
He's definitely ready for the Empire State Building. Here's a link to a guy Keith met that runs buildings and is on a raw vegan diet. Tim Van Orden finished 2nd in LA.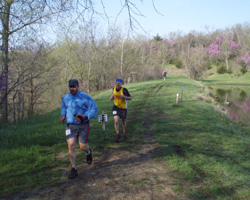 Apr 28 - Gary "The Luddite" Henry has started a website, UltraStory.com. A Luddite with a techno page? This will be interesting. Gary says he's just getting started and the site isn't quite ready for prime time. "Beyond 26.2 miles, there is a world literally breathtaking in its beauty, majesty and implications for human potential. UltraStory.com is for those of us who live there; those who would like to; and anyone who seeks a glimpse into a place unlike any other. " He invites contributions. On the left is one of his photos from the Free State Trail Runs. We've shared many of Gary's fine race reports and now can go to the source of Ludditedom. Free State Race Results.
Reminder: next runLawrence club meeting is Sun, May 4, 4 pm at Lawrence Memorial Hospital.
Apr 27 - Lawrence results: Benson Chesang had the 4th best male time and Connie Abbott the 3rd best female time in today's Trolley Run 4 Mile in Kansas City. Other top 3 finishers were Moni Spinger (2nd F25-29) and Teri Oberzan (2nd F60-64). Results
Overall winners at yesterday's Hilltop Hustle 5K were Ginny Kinnebrew (22:19) and Chris Ronan (16:51). An interesting finish was the one with Rhonda LeValdo who's always like the run because of the family atmosphere. She pushed a running stroller with her two daughters and right before the finish Winona, wearing Mom's race number, jumped out of the stroller and ran the last 10 yards. Results
Apr 24 - Here's a great story on Marathon beginners from KTKA (49), Topeka, including scenes from several local races and training sites as well as the Boston finish.
Jorge Carvajal's Boston 08 report: My half splits told almost everything: 1st half 1:38:15; 2nd half: 1:51:34. A huge, horrible 13 min positive split. I bonked hard between miles 15 and 21, which include the Newton hills. On the positive side, I sort of salvaged the race after mile 21 where I was able to pick up the pace to the finish and still got a Boston Qualifier (BQ) and a course PR. more
Apr 23 - We'd like to recognize the runLawrence members who ran the TherapyWorks races:
Half Marathon: roses to all the finishers - Dennis Anthony, John Frydman, Denny Gayton, Kelly Gunn, Jon King, Heather Krase-Minnick, Paul Patterson, Kurt Schueler, Coco Tieghi, Elizabeth Weeks, Susan Young;
bronze stars to Mary Bennett (3rd, F50-54), Keith Dowell (3rd, M50-54), gold star to Dee Boeck (1st, F55-59)
5K: roses to all the finishers - Gary Bennett, Don Cackler, Lori Cackler, Yvette Desrosiers-Alphonse, Janet Huchingson, Sandra Wright;
bronze star to Michael Bennett (3rd, M13-19), silver star to Stacy Riggins (2nd, F45-49), gold star to Ignacio Carvajal (1st, M13-19).
Here's a YouTube clip of the Lawrence Half Marathon start:
Apr 22 - More races yet to be run in April - four this weekend! Go out and support those who have put in the time and effort to make it all happen. Also, a date correction: the Pod Trod MP3-Mile Challenge is on June 14, not in May as we had listed. Thanks to Liz Smith (Topeka) for catching that. Liz mentioned she's new to running. Here are a few basics on road racing from Beth Salinger, Hospital Hill race director.
Apr 21 - Results of local runners from Boston.
Full results from yesterday's half marathon and 5K races are now available. Now on to Boston. . . Why doesn't Lawrence get Patriots Day off?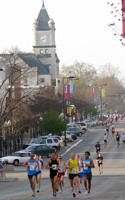 Apr 20 - Here are some photos from today's TherapyWorks Lawrence Half Marathon.
From USA Today, the results of the Olympic Team Trials for the Women's Marathon. In the end, Magdalena Lewy Boulet succumbed to fatigue and Deena Kastor's closing speed on a flat, four-lap course the day before the Boston Marathon. Kastor won the race in 2 hours, 29 minutes, 35 seconds with Boulet second (2:30:19) and Blake Russell third (2:32:40). They earned spots on the U.S. Olympic team for the Beijing Games in August. more
Apr 19 - The Olympic Team Trials for the Women's Marathon will be broadcast LIVE at nbcolympics.com/marathon Sunday, April 20 at 7 am. NBC Sports commentator Al Trautwig and 10-time NCAA All-American Ed Eyestone will provide commentary for the wire-to-wire coverage. (I watched the men's trials in November by webcast. It was very well done, with continuous coverage and no commercial interruptions. - Dick Lipsey)

Finish of the men's hurdles race, Sat, Apr 19.

(gmw)
Apr 16 - The KU Relays get underway today. Today's Journal-World has a great home video on the '57 high jump featuring Wilt Chamberlain (we did mention he wanted to be a track star) and Bud Smith, now 73 and will be attending the Relays this weekend.
This starts six days of running events of interest to Lawrencians. First, the Relays go through Saturday which includes a couple world class athletes along with the high school and college competitions. Then the TherapyWorks Half Marathon and 5K is on Sunday with an anticipated record crowd running around town. Another crowd en Mass. Then look for Jorge Carvajal (a runLawrence member) to represent us at the Boston Marathon on Monday along with seven others from the town settled by the New England Emigrant Society.
Apr 15 - The Journal-World put in a plug for Marsha Odgers' Run-Girl business and it's support of this weekend's Lawrence Half-Marathon. more
Apr 14 - Mission accomplished, just got back from the Winding up the Wachovia in Miami. After climbing the Wachovia financial tower - 56 stories in 8:23. I qualified for an elite position on the Empire State Building stair climb in 2009, and the Sears Tower race, 103 floors in November 2008. Top 25 male and females qualified. - Keith Dowell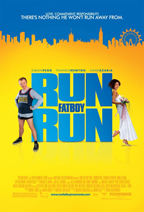 Apr 12 - Now showing at Liberty Hall: Run, Fatboy, Run. Check out this comedy by David Schwimmer with the London Marathon a key part of the story. New training tool: spatulas. Review
"DENNIS did something that wasn't so nice. On his wedding day to his pregnant fiancé LIBBY (Thandie Newton), Dennis did a runner. He just couldn't go through with it. He didn't think he was good enough for Libby, so instead of ruining her life, he ruined her big day.
"Five years later, Dennis realizes he made a big mistake. He's still in love with Libby. . . In a last-ditch effort to prove to Libby that he's changed his ways, Dennis impulsively he will run in the London Marathon. But does Dennis have the stuff to trade his cold feet for running shoes? RUN, FAT BOY, RUN is a romantic comedy that affirms that true love isn't a sprint, it's a marathon." - Picturehouse
Apr 11 - A couple of offers from Great Plains Running Co in Topeka -
| Apr 11-13 Pearl Izumi | Apr 26: Muzino |
Congratulations to Thomas McKenna (Lawrence) on setting a new course record (8:03.51) at the Apr 5th Rockin K 50 Mile trail race at Kanopolis KS. Other local runners included Willie Lambert (Topeka, 11:52:19), Greg Burger (Lecompton, 12:13:55), & Gary Henry (Lawrence, 12:23:39). Finishing the marathon distance (26.3 mi) were L Allen Smelser (McLouth) and Ed Payne (Lawrence). full results
Apr 8 - The Mass Street Mile: look at the crowd we had for our fun run last night. If you have to ask, read today's Lawrence Journal, world. [click on the photo to get into the crowd, video by Matt Lehrman]
Apr 7 - This is Lawrence, Kansas - basketball town USA with THE game tonight. Another look from the past: Today's Journal-World photo of the Brew-to-Brew Run showed Jackie Stiles (from Wichita) crossing the finish line accepting a healthy can of beer. Is this THE Jackie Stiles? The one basketball fans think of who attended Southwest Missouri State in 1998-2001. Stiles became the first and so far only NCAA Division I women's player to score more than 1,000 points in a season, scoring 1,062 in her senior year. That year, she won the Wade Trophy, which honors the best women's basketball player in the college ranks, as well as the Broderick Cup, which honors the Collegiate Woman Athlete of the Year. The photo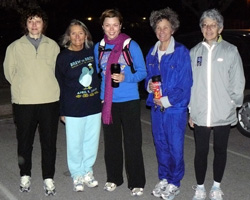 Apr 6 - The runLawrence Brew-to-Brew team of Brenda Groskinsky, Ellen Young, Kat Lynch, Lori Cackler and Dee Boeck, assembled at the Lawrence Visitors Center at 5:30 am before heading to the Boulevard Brewery to begin their 40+ mile relay back to the Free State Brewery.
The Longest Walk will be coming to Haskell April 29. They are walking from San Francisco to DC to raise awareness about sacred sites and environmental concerns affecting Native American people. For Lawrence, this is the Haskell Wetlands/Lawrence SLT issue. Haskell will be hosting the walkers (about 70 people) at the campus where they will be camping out. more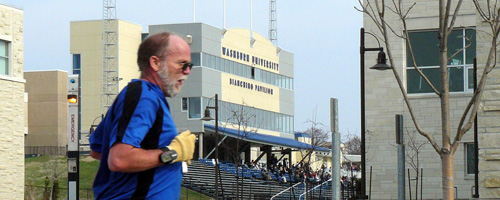 Run for Life 10 Mile: Bob Wenger (Topeka) nearing the finish

(gmw)
| | |
| --- | --- |
| | |
| | |
Apr 5 - Results from the Run for Life 10 Mile in Topeka. The top winners, Joseph Gray (Lakewood WA) and Melissa Todd (Kansas City MO), also set new course records. Many runners posted fast times to make the state honor roll. more photos
The June 7 Hospital Hill Run will not be part of the MARA Grand Prix Series for this year due to a variety of safety concerns. Even with race director Beth Salinger's reversal of banning the use of headphones, MARA officials state other safety concerns still warrant excluding Hospital Hill from this year's series.
The ban on headphones complies with USATF and RRCA regulations for 2008. If you enter any race affiliated with USATF or RRCA, the ban should be enforced. The rules may change in 2009.
Apr 4 - A video of the 2007 Psycho Wyco trail races was created and posted by Mark Koester on YouTube. Sorry about bringing up winter scenes again when we all want spring weather to finally get here, but it's a fun record of what made Wyco so psycho. Thanks to Dick Ross for forwarding the link.
Apr 2 - I'm "Climbing California!" and I need YOUR help to prevent lung disease and promote lung health . . . - Keith Dowell more info
Apr 1 - From the quotes below can you identify the runner of the week?
He was a skinny fourth-grader running the final 75-yard lap, leading his team to victory. 'The applause made me tingle all over,' vowing then and there to become a track star.
In 1957, in the Kansas Relays he placed second in the high jump, at 6'6".
. . .friends marvel at his ability to keep obscure track statistics in his head and also his proficiency in converting meters to yards, sometimes faster than the electronic apparatus at the meets.